Things to Do in Troy, MI: Your Best Guide to Outdoor Fun, Shops & Culture
Posted by Michael Perna on Monday, October 18, 2021 at 5:59 AM
By Michael Perna / October 18, 2021
Comment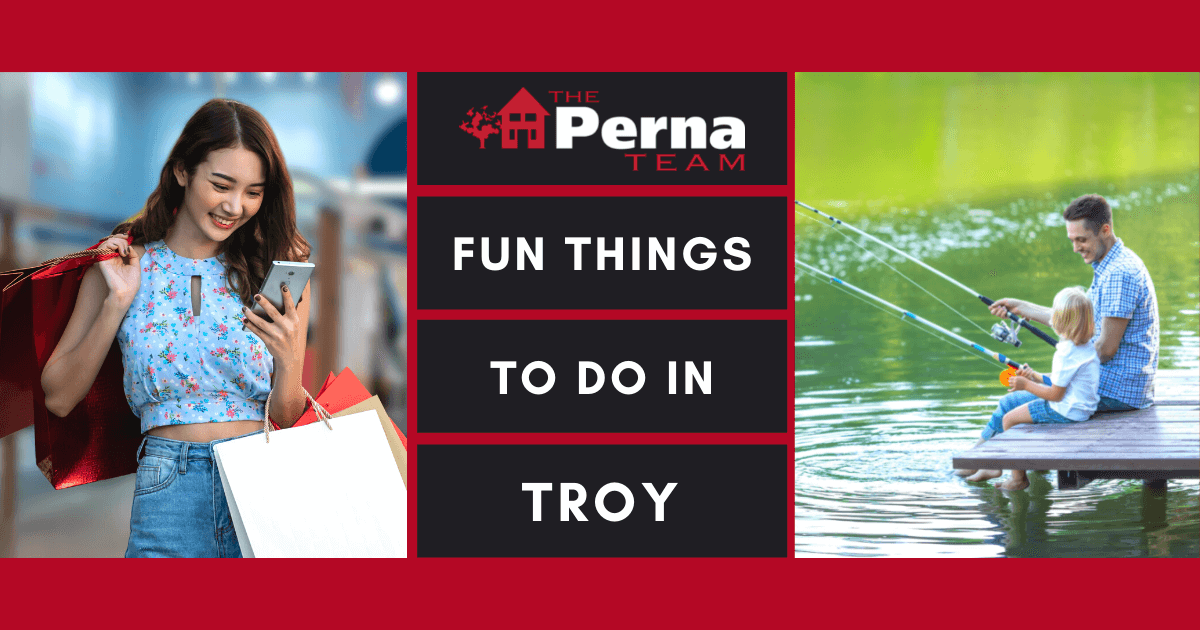 With a population of almost 86,000 permanent residents, people who buy homes for sale in Troy have no trouble finding fun things to do on the weekends. Troy boasts an abundance of entertainment venues, parks, walking trails, museums, shops, and restaurants.
The convenient drive times to Detroit and the desirable new construction homes for sale in Troy draw people from all across the country. Additionally, the robust local economy provides plenty of jobs in Troy. However, living here isn't all work. Looking for something to do this weekend? Keep reading to find out what to do in Troy, Michigan.
Outdoor Adventures in Troy
Getting outdoors is a huge part of most locals' lives here in Troy. They frequent the various local and state parks and hiking trails year-round, while lake action dominates in warmer weather. Here are some top outdoor adventures in Troy.
Troy's Top Parks
Sylvan Glen Lake Park at 5501 Rochester Road offers 40 acres of recreational space and is the largest neighborhood park in Troy. Here, visitors are invited to cast a fishing line from the banks of the 16-acre lake.
Firefighters Park at 1300 W. Square Lake is situated upon 96 acres of Rouge River shoreline. It offers fishing and vast wooded areas to explore. The open spaces are mixed-use and include soccer fields, ball diamonds, sand volleyball courts, and an 18-hole disc golf course.
Proximal to several waterfront homes awaits Bay City State Park, located on the shores of the Saginaw Bay. Known for incredible bird sighting opportunities, this special place is one of the biggest remaining coastal freshwater wetlands along the Great Lakes.
Water Recreation in Troy
Lake St. Clair is a "you can do it all" marshland park that boasts an abundance of waterfowl and migratory birds. Visitors can fish, swim, boat, and even play golf on the par-three course here. An on-site marina offers rental boats and equipment in this 770-acre park.
Cass Lake is a big deal for boaters and anglers and is home to the Pontiac Yacht Club. Summers see the beach fill up with groups and families looking to kayak, canoe, or enjoy a nice hike or picnic. Fishing is year-round here, and ice fishing is widely popular.
Hiking & Biking Trails in Troy
Stage Nature Center offers four short hiking trails within 100 acres of preserved wet and dry forest land and meadows. Numerous boardwalks cross the waters, allowing for the viewing of many species in their natural habitats. People come here in the summers to skate, bike, and jog the trails, while winters see many cross-country skiers.
The Clinton River Trail is an extensive trek of 16 miles along an old abandoned rail line. This path is excellent for those wanting to traverse several communities, such as Pontiac, the town of Rochester Hills, and Sylvan Lake. Dogs are welcome on leashes.
These are just a few of the best outdoor pursuits in Troy, so be sure to take time to pursue all that this vibrant, nature-loving community has to offer.
Top Shopping Destinations in Troy, Michigan
The first of its kind in the nation, Somerset Collection shopping destination is two malls that conjoin into one, connected by a massive 700-foot Skywalk. There are over 180 specialty stores that cater to both high-end shoppers and browsers alike.
Address: Somerset Collection, 2800 West Big Beaver Road, Troy, MI 48084
Phone: 248-643-6360
The Oakland Mall offers almost 120 shops for patrons as well as a food court. Anchor stores include At Home, Macy's, JC Penney, and Dick's Sporting Goods here. Visitors can snap photos with fun storybooks and movie characters, and there are several special presentations and events held annually at the mall.
Address: The Oakland Mall, 412 W. 14 Mile Road Troy, MI 48083
Phone: 248-585-6000
Restaurants in Troy
There's no shortage of restaurants in Troy, Michigan, and hungry locals tend to head to the lodge-style restaurant Camp Ticonderoga. This establishment serves wild game and eclectic eats alongside favorites like pulled pork and Black Angus steaks. Rumor has it that the homemade chocolate chip cookies are so good, many take a dozen or two home after dinner.
Address: 5725 Rochester Road, Troy, MI 48085
Phone: 248-828-2825
Voted as the best food truck in Metro Detroit, Estia offers a healthy, Greek-inspired menu to the folks around Troy at their brick-and-mortar restaurant. They use local ingredients along with authentic spices from Mediterranean areas and avoid unnecessary additives when possible. Top selections include their mouthwatering beef and chicken pitas and pasta bowls. Delivery, take-out, and call ahead service are available at Estia.
Address: 2897 W Maple Road. Troy, MI 48084
Phone: 248-537-2050
The Arts and Culture Scene in Troy, MI
Theatre and dance productions, museums, and art galleries are plentiful around Troy. Locals and visitors can enjoy a continually changing selection of things to do and see at these locations. These are some of the best places to immerse oneself in the rich culture and artistic talent in the region.
Troy's Top Museums
The Troy Historic Village sits in the city center of Troy and lets visitors see and experience what life was like in the Township back in the 1800s. Through historical reproductions and tours of the property, the educational programs here are tailored to the age of guests to ensure all have fun.
Address: 60 W. Wattles Road, Troy, Michigan 48098
Phone: 248-524-3570
Hours - Monday - Friday 10am - 3pm
Dinosaur Hill Nature Preserve encompasses 18 acres in the city of Rochester and provides classes, field trips, on-site demonstrations, and online videos for the enjoyment of dino lovers. Come out to the preserve to explore the grounds in person, where remains, bones, and dig sites can be viewed.
Address: 333 North Hill Circle, Rochester, MI 48307
Phone: 248-656-0999
Art Galleries in Troy
The Belian Art Center boasts an extensive collection of paintings, raku pottery, and mixed medium pieces from several internationally renowned artists such as Emil Kazas and Richard Hunt. There are also art classes available for nominal fees for those who want to pursue their creative talents.
Address: 5980 Rochester Road, Troy, Michigan 48085
Phone: 248-828-1001
Hours: Noon - 5 p.m. Monday - Saturday and by appointment
The Hill Gallery in the city of Birmingham is open for patrons who enjoy 20th-century contemporary and modern American folk art. There are paintings, hand-made crafts, sculptures, and other fine crafts from this fascinating era in the nation's history.
Address: 407 W. Brown Street, Birmingham, MI 48009
Phone: 248-540-9288
Dance & Theatre in Troy
The Village Players is a youth and adult-based theatre program that promotes musicals and high-quality, diverse plays. Everyone works as a team for both productions, direction, set displays, and other behind-the-scenes work. There are around eight shows from the adult theatre and two from the youth annually, so book tickets or season passes early.
Address: 34660 Woodward Avenue, Birmingham, MI 48009
Phone: 248-644-2075
The Dinner Detective is one of America's top interactive murder mystery and comedy dinner theatre shows. While feasting on a five-course menu, guests are challenged to solve a hilarious mystery, and one never knows when the culprit is 'hidden' right in plain sight. A guest might even find themselves to be a prime suspect without even knowing it. Tickets sell fast, and reservations are required.
Address: 850 Tower Dr, Troy, MI 48098
Phone: 866-496-0535
The Vibrant Nightlife in Troy, Michigan
Nightlife options in Troy range from laid-back pubs to live music venues. Renshaw Lounge offers the best beer selection in town, and patrons love to sit back and enjoy a few brews over superb pizza and burgers. Rumor has it their calzones are the best, and people come here with friends and family just to hang out, enjoy the lawn games, or watch sporting events on the big screens. The jukebox keeps the festivities lively long after the sun goes down.
Address: 210 E 14 Mile Road, Clawson, MI 48017
Phone: 248-616-3016
The Yard House in Troy, Michigan, is located near the Somerset Collection Mall. The establishment offers more than 100 varieties of beer on tap along with over 100 menu items that will satisfy every tastebud guests need to appease. Those who love classic dishes and good old-fashioned rock music will find a new passion at The Yard House.
Address: 950 W Big Beaver Road, Troy, MI 48084
Phone: 248-273-0126
Weekend Fun Is Easy to Find in Troy
Between the various outdoor pursuits, fantastic opportunities for cultural and artistic immersion, and the desirable luxury homes in Troy, this city is by large considered one of the best places to live in Michigan. The city rolls out the welcome mat to anyone interested in finding a community with fantastic local amenities, a thriving economy, and plenty of entertainment options. Troy locals agree that living here is always fun.
If you're planning to move to the Detroit metro area, contact The Perna Team of Keller Williams at 248-886-4450 to get in touch with experienced local real estate agents who can help you find your perfect Troy home today.