Troy Public Transportation: How to Commute with SMART & Troy R.Y.D.E.
Posted by Michael Perna on Monday, November 8, 2021 at 11:30 AM
By Michael Perna / November 8, 2021
Comment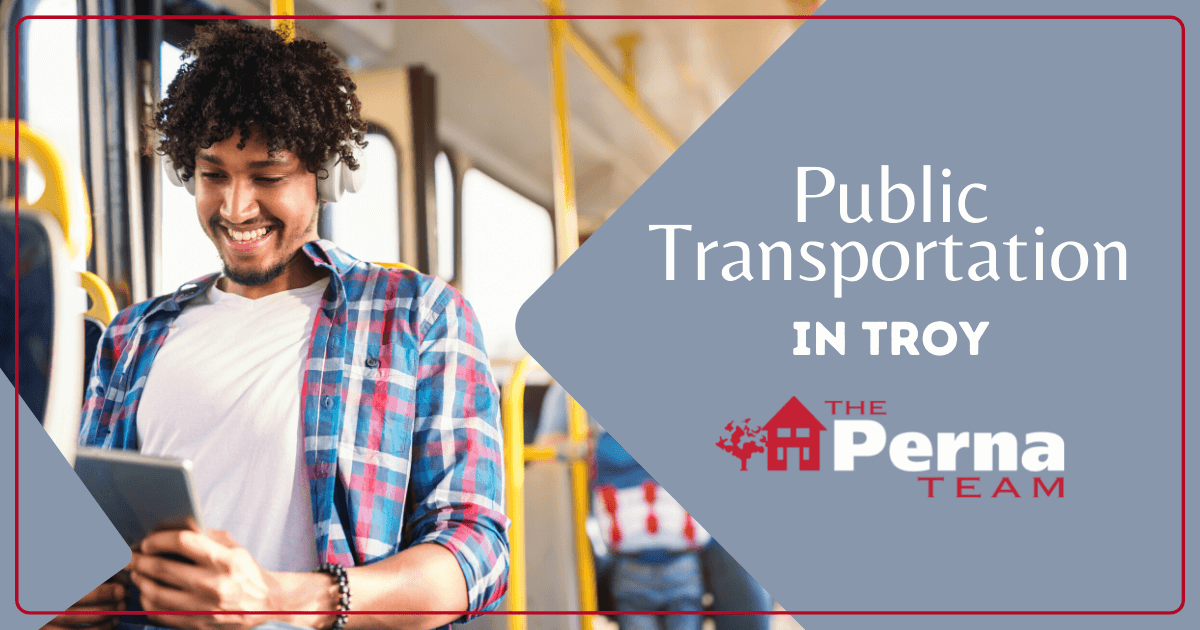 Knowing that you can walk out the front door of your home, grab a cup of coffee from the corner cafe, and take a bus or train to work or school can be a huge factor when deciding to move to Troy. Improvements in public transportation in Troy and other Detroit suburbs have led to steady increases in ridership. Often, riders will use a combination of buses, trains, rideshares, and other options to get to and from their destinations. These options, used together, can help new residents of Troy real estate get wherever they need to go.
SMART
The Suburban Mobility Authority for Regional Transportation (SMART) was first established back in 1967 as SEMTA. SMART provides service in Macomb, Wayne, and Oakland Counties. Troy is served by fixed SMART routes. These include local service routes that can take residents around Troy. There are also FAST routes that can be used for commuting between Troy and Detroit.
SMART has partnered with the Detroit Department of Transportation (DDOT) to provide a unified payment system known as Dart. This system eliminates transfer fees between the two systems, making it more affordable and convenient to ride.
Riders can purchase passes in person when they board the bus or through the Dart app. Fareboxes on the bus can't give change; however, change cards can be issued to use on future rides.
Frequent passengers can also purchase monthly or value passes.
SMART Ticket Costs
$0.50 for youths, seniors, and riders with disabilities
$2 per four-hour base fare for adults.
Troy R.Y.D.E.
Reach Your Destination Easily (R.Y.D.E.) is one of Troy's transportation options for riders who are over 60 or over 18 with disabilities. This service can get riders to medical appointments, work, shopping, errands, and recreational activities. All R.Y.D.E. vehicles are wheelchair accessible.
Troy R.Y.D.E. operates Monday through Friday from 8:00 a.m. to 4:00 p.m. The service is closed on weekends and holidays and doesn't operate on days that Troy public schools are closed due to weather conditions.
The R.Y.D.E. service is free of charge. There is no set riding schedule; riders call for an appointment or reservation on a first-come, first-served basis. The system gives priority to medical appointments. Standing appointments are available for both medical appointments and employment. When passengers have appointments that run past Troy R.Y.D.E.'s scheduled hours, they will need to arrange alternate transportation to get back home.
Troy R.Y.D.E. goes to all grocery stores in Troy and the Meijer locations in Madison Heights and Royal Oaks. Grocery trips are available on Wednesdays and Fridays. Trips can be reserved seven days in advance for recreational purposes like going to the movies, the mall, or visiting friends. They do not allow standing appointments for recreational purposes.
Troy R.Y.D.E. provides door-to-door service. While drivers cannot help with groceries or packages, they can help out with arm guidance and wheelchair assistance when passengers are getting on or off.
FAST
Many people living in Detroit's suburbs commute to Detroit for work, with one in four people in the region going 50 miles or more. Options like FAST can help riders get from their home to downtown Detroit destinations.
Frequent Affordable Safe Transit (FAST) runs seven days a week. Tickets can be purchased in person or through the Dart app.
Consult the bus schedule before planning a trip, especially on weekends. Many buses run less frequently on Saturday and Sunday than they do on weekdays.
The Woodward line takes passengers from Troy and Pontiac to downtown Detroit. This line has a number of transfer stops along its route, with access to Amtrak, People Mover, and local Bike Share.
FAST Ticket Costs
$0.50 for youths, seniors, and disabled riders
$2 per four-hour base fare for adults.
Taxis and Rideshares
Where fixed bus routes don't cover, taxis and rideshares bridge the gap. They can be especially helpful during times of the year when cold weather makes long waits for public transportation less desirable.
Troy has access to several airport shuttles that can be reserved to get passengers from their home in Troy to the airport in Detroit. These include:
Troy Taxi & Airport Service
Rochester Hills Taxi & Airport Service
Metro Airport Sedan Service
Taxis can also be called to take passengers to work, shopping, the movies, or other destinations. Fares vary and are usually charged by the mile or by waiting time.
Both Lyft and Uber are available in Troy. Rates on these rideshare options can vary depending on current rider volume and the number of drivers available.
Some options include vehicles like SUVs for larger groups.
Uber and Lyft Ride Costs
$4.00 for Low Cost Lyft
$6.00 for Lyft XL economy cars.
$6.90 for UberX
$7.00 for Lyft Lux
AMTRAK
Amtrak has a station at the Troy Transit Center at 1201 Doyle Drive. This multimodal center, which opened in late 2014, brings together services that include Amtrak, SMART buses, and taxis. The station waiting room is open seven days a week during the following hours:
12:01 a.m. to 2:00 a.m.
5:00 a.m. to 6:30 a.m.
10:00 a.m. to 6:30 p.m.
The station provides both same-day and overnight parking. Travelers can either drive to the station or arrive by SMART bus or taxi. Fares are variable and based on seasonal factors.
It's Easy to Get Around in Troy, Michigan
With a bit of planning, it's easy to get to and from your destination by Troy's public transportation. Public transit offers the benefit of allowing riders to avoid hunting for a parking space at their destination or fighting traffic along the way when driving in Troy.
If you're planning to move to the Detroit metro area, contact The Perna Team of Keller Williams at 248-886-4450 to get in touch with experienced local real estate agents who can help you find your perfect Troy home today.