Best Jobs in Troy, MI: A 2022 Guide to the Local Economy & Business Opportunities
Posted by Michael Perna on Monday, October 4, 2021 at 1:04 PM
By Michael Perna / October 4, 2021
Comment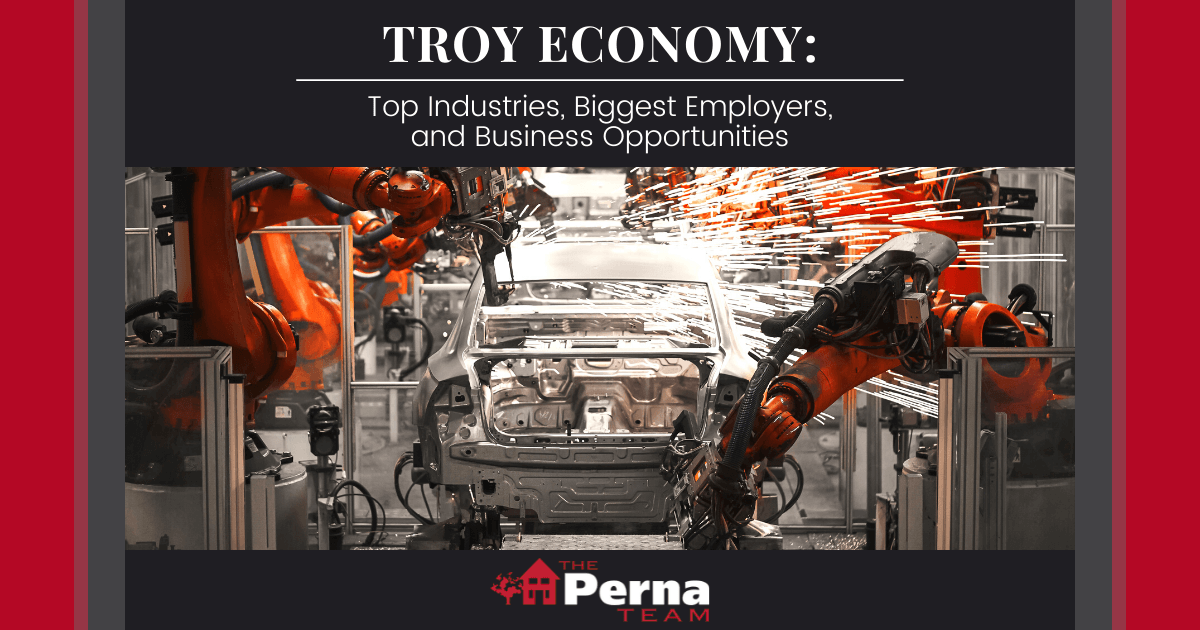 Nestled in the heart of Detroit's northern suburbs, the Troy community offers a thriving manufacturing industry supporting Fortune 500 companies, lower than average unemployment and taxes, and higher than average job growth and salaries.
While it's not the only factor to consider when deciding where to move, knowing the economic opportunities available in an area can help ease the transition to a new place. Read on to learn about Troy's biggest industries, largest employers, and other aspects of Troy's economy.
Troy Industries
With Troy real estate so close to Detroit, well-known for its historic role in the American automotive industry, it's no surprise the manufacturing industry dominates Troy's economy as well. Like Detroit, much of the manufacturing in Troy is automotive-related, but some companies also produce parts for other industries, such as construction.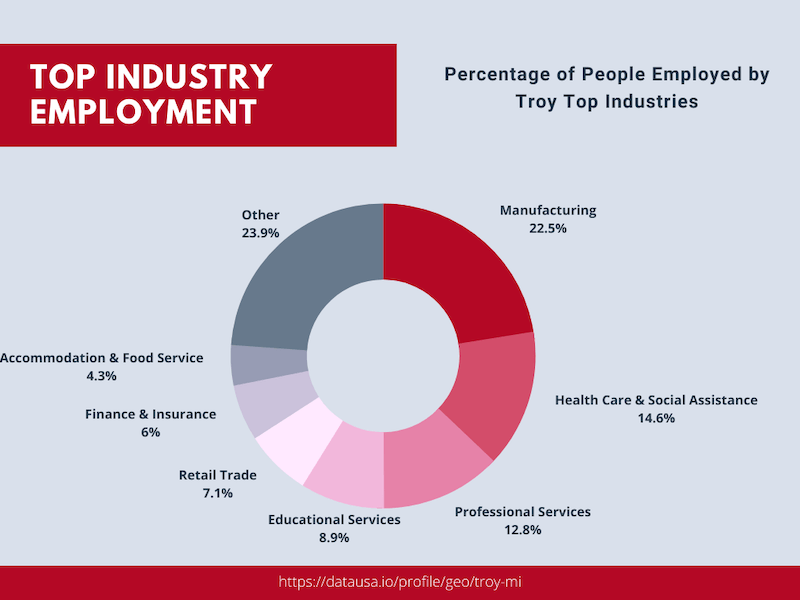 Troy's health care industry is only slightly larger than usual relative to other American cities, even though it makes up a sizable portion of the city's economy. Troy has just one hospital, a local branch of Beaumont Health's hospital system, but the city also has plentiful physicians, home health agencies, and other health care services.
The professional, scientific, and technical services industry is incredibly diverse, covering services ranging from photography and advertising to veterinary work and legal representation. As with the manufacturing industry, much of the work in this industry relates to automobiles. Thus, many of the research, engineering, and technical jobs in the area are automotive-related.
Home to several universities, colleges, and technical schools, Troy has a thriving educational services industry. In addition to these schools of higher learning, Troy also has numerous public and private schools and tutoring services to support them.
Troy proudly boasts Somerset Collection, an upscale mall on the southwest side of town. The Oakland Mall, a super-regional shopping center, also attracts customers from the surrounding area. Additionally, numerous other retailers, including familiar chains like Target and Nordstrom, have a presence in Troy.
While the manufacturing industry dominates the Troy, MI, economy, the city's other major industries thrive too.
Top Industries in Troy
Manufacturing
Health Care and Social Assistance
Professional, Scientific, and Technical Services
Educational Services
Retail Trade
Top Employers in Troy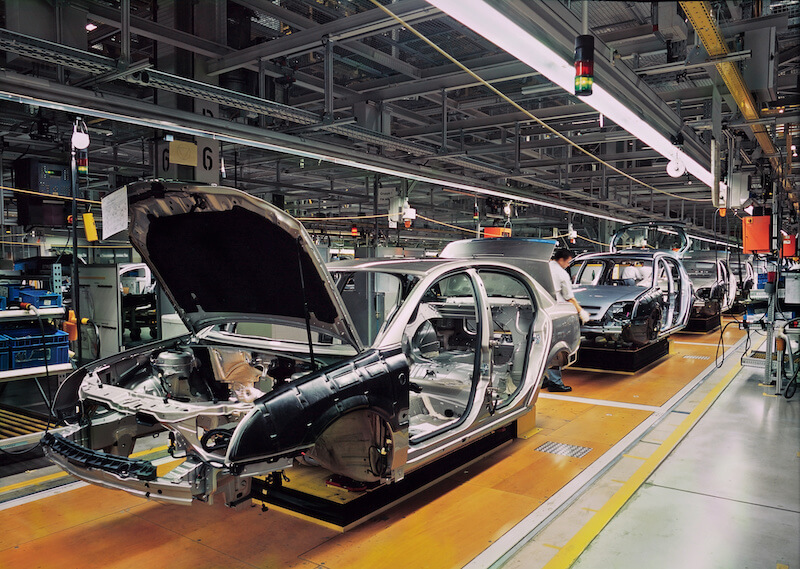 Troy's top employers reflect the city's dominant industries. These include manufacturers, such as Inteva Products, Meritor, and Toyoda Gosei Co, the non-profit organization Beaumont Health, and staffing company Kelly Services.
First launched in 2008, Inteva Products designs and supplies interiors, closures, motors, and electronics to automakers across the globe. While the forward-thinking company emphasizes innovation, it also stresses the need for a safe work environment.
Meritor was once part of Rockwell International, but it became a spin-off business for automotive parts in 1997. Since then, the company joined the Fortune 500 and became one of the world's leading suppliers for original equipment manufacturers and aftermarket parts.
The first Toyoda Gosei plant in North America opened in Missouri in 1986, although the Toyoda Gosei group previously operated in Japan. In 1999, the company shifted its headquarters to Troy, MI, where it now manufactures functional components, interiors, exteriors, safety systems, and weatherstrips for the automotive industry.
As Michigan's most extensive health care system by inpatient admissions and net patient revenue, Beaumont Health dominates the health care industry in Troy, MI. The health organization provides the city's only hospital, which boasts nearly 7,000 employees. At Beaumont, patients can receive various health care services, including pediatric care, lab work, and pharmacy services.
First founded in Detroit in 1946, Kelly Services now has its corporate headquarters in Troy. Kelly Services helps connect professionals from industries like science, engineering, and education with managers in their industries. According to the company, 90 of the world's top 100 brands hire talent through Kelly Services, making it a key player in the global and local economies.
While these brands have the most employees locally, 6,000 businesses with over 129,000 employees call Troy, Michigan, home.
Additional Large Companies in Troy
Champion Enterprises
Dayco
Flagstar Bank
Chinia Automotive Systems
SRG Global
Empire Electronics
Jack Christenson
Information via Zippia.com
Troy Economy Facts and Figures
The economy of Troy thrives with low unemployment rates and better than average future job growth, taxes, and income. While Troy's economy relies on many of the same industries Detroit's economy does, salaries in Troy tend to be higher than in neighboring Wayne County.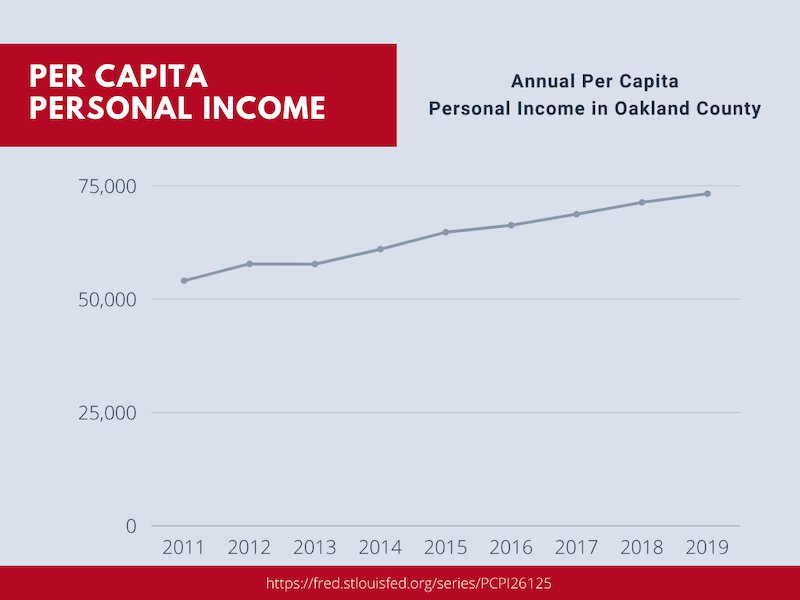 Compared to the national average unemployment rate of 6%, Troy's 3% unemployment rate is outstanding. Economists now predict a 40% growth in jobs in Troy over the next ten years, a bit higher than the U.S. average of 34%.
Taxes in Troy are lower than average. Sales tax within the city is 6%, compared to the national average of 7%. Additionally, income taxes in Troy are at 4%, a bit lower than the 5% U.S. average. Although these differences may seem modest, tax rates can dramatically affect the cost of living in an area.
Meanwhile, salaries in Troy tend to be higher than the national and state averages. The average income is $40,000, significantly higher than the U.S. average of $29,000. For median incomes, the gap is even more significant, with $84,000 compared to $53,000. Looking at the income per capita, Troy also fares better than average. While the U.S. income per capita is $31,000, Troy boasts an income per capita of $44,000.
With low unemployment and taxes and high job growth and salaries, Troy's economy tends to be better than average in every way.
Troy is More Than a Manufacturing Powerhouse
Although manufacturing makes up a significant part of Troy's economy, the city has much more to offer with its sizable health care industry, numerous major employers, including Fortune 500 companies, and incredible economic opportunities.
When considering moving into new construction homes or one of the cozy Troy townhomes, understanding the economic data can be an enormous help in deciding if an area is a good fit. However, economic details are hardly the only factor in choosing where to live. When looking for a home, real estate professionals can help provide a wealth of advice and additional information about the area, including more facts about the local economy.
If you're planning to move to the Detroit metro area, contact The Perna Team of Keller Williams at 248-886-4450 to get in touch with experienced local real estate agents who can help you find your perfect Troy home today.