5 Things to Do in Troy Michigan With Kids: All-Ages Fun in Troy
Posted by Michael Perna on Tuesday, March 8, 2022 at 7:45 AM
By Michael Perna / March 8, 2022
Comment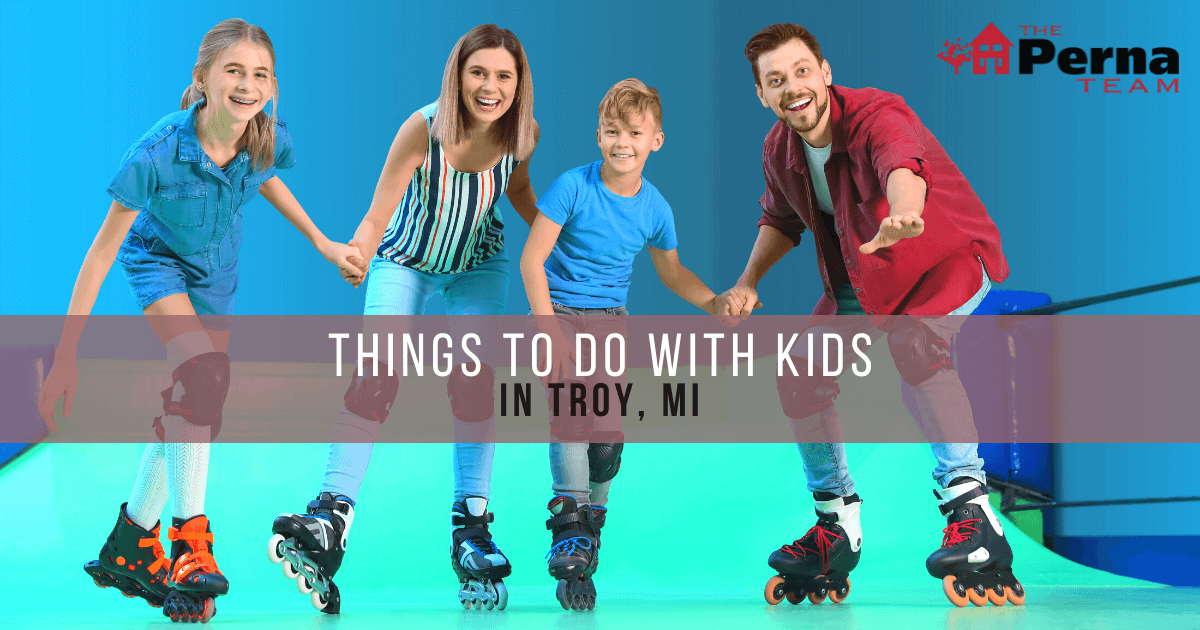 Troy is a charming suburb about 20 miles north of downtown Detroit and is one of Michigan's largest municipalities by population. It is a premier Metro Detroit destination with many jobs and economic opportunities and trendy retail centers like the Sommerset Collection Mall.
Recognized as one of the best places to live by People's Magazine and several other publications, the city of Troy also boasts miles of beautiful parks, museums, walking trails and is full of fun things to do for people of all ages.
Visiting with young ones soon? Keep reading to learn about a few of the best things to do with kids in Troy, Michigan.
Find the Nearest Community Park
Enjoying the best outdoor activities in Troy is a fun and affordable way to pass the time with kids. The Firefighters Park, one of Troy's five main parks on W Square Lake Rd, offers 96-acres of open space and wooded areas for relaxation. Adults can fish or enjoy views of the Rouge River, which runs through the park, while kids will enjoy spending time at the playground area, which features slides, climbing equipment, and ADA swings.
There's a pavilion and a separate picnic area complete with tables where visitors can relax after exploring what this park has to offer. Firefighters Park also has baseball, soccer, volleyball fields, and even an 18-hole disc golf course. It opens from 7 a.m. to 10 p.m., and swimming or boating in the river is prohibited.
If looking for a park with even more kid-friendly amenities, check out Jaycee Park north of Long Lake Road. The 45-acre community park has a play area with mommy, swings for the toddlers, slides, and even a gaga ball court. For older, soccer-loving kids, the six-small soccer fields will provide endless entertainment, while for adults who'd like to sit and watch, there's a picnic shelter.
Jaycee Park also has two full-sized soccer fields, two ball diamonds, a volleyball court, restrooms, and a huge paved parking area with a capacity of up to 200 vehicles. Like most community parks in Troy, it also opens daily from 7 a.m. to 1 p.m. If weighing options, check out Boulan Park on 3671 Crooks Rd, Raintree Park at 3775 John R, or the Donald J. Flynn Park on 1710 E. South Blvd.
Visit Skate World of Troy
Skate World of Troy is one of the few remaining skating rinks in the city of Troy. The facility features a vast 185x90ft wooden floor, perfect for skating in groups, and offers rentals for quad and inline skates. There's even a complete skate shop where enthusiasts can get all the gear they need. Fun music plays in the background, further enhancing the relaxing ambiance of the skating rink.
For those that have never tried on a pair of skates but are interested in the activity, The Skate World of Troy offers classes. Guests can also host a birthday or private parties here. A two-hour regular birthday party costs $15 per skater, while a private one goes for $25. For non-skaters, the facility has an arcade room with plenty of seating and fun things to do.
There's a snack bar, too, serving classic snacks like hot dogs and pizza that kids will love munching on in between skating. Admission costs vary based on the time of day or ongoing activity. For instance, on Saturday and Sunday afternoons and Tuesday evenings, tickets go for $7, while on Saturday mornings and Wednesday afternoons, they cost $6.
Skate World of Troy Additional Information
Address: 2825 E Maple Rd, Troy, MI 48083
Hours: Hours subject to change. Check website or call ahead.
Explore Troy Historic Village
Spend the day with little kids at the Troy Historic Village for a fun and interactive history learning experience. The village features a collection of buildings from the 1800s and the 1900s. It's an opportunity for kids and adults to experience life in the Victorian era.
Try out the various arranged children's activities and programs to ensure kids make the most of their day here. Kids aged two to five will benefit from Cheddar's preschool storytime, which occurs at Niles-Barnard House from 10:30 a.m. Cheddar, the village mouse, and his companion, Mrs. Laura, often read educative stories, discuss one artifact found in this historic village, and indulge in a single activity with kids for an interactive learning experience about the village. For members, Cheddar's Preschool storytime tickets cost $5 for kids and $3 for adults. For non-members, they start at $6 for kids and $4 for adults.
The new Digger's Detective program will undoubtedly be fun for kids between five and ten. With assistance from staff, Digger an adventurous Groundhog shows kids how to co-ordinate tools and their senses to observe and learn about the village's artifacts. Other fun kid-friendly activities at Troy's historic village include Game night, spies, lies, and mysteries during the family program and mini-workshops. Note costs for each kid-friendly program vary. Be sure to check the website first before you head out.
Troy Historic Village Additional Information
Address: 60 W Wattles Rd, Troy, MI 48098
Hours: Monday–Friday, 10 a.m.–3 p.m.
Check Out the Giggle Gang at Oakland Mall
Looking to entertain kids in Troy on a budget? Check out the Giggle Gang at Oakland Mall. It is a kids club that hosts countless fun free events for kids aged ten and below, such as Cinderella and Belle, Meet the Avengers, and for kids who are big Star Wars fans, Meet the Mandalorian and Baby Yoda. Bring or buy a costume at the mall to make the experience even more exciting for the little ones.
And to take it a notch higher, consider signing your child up for the Giggle Gang Club to unlock the array of great discounts at kid-friendly stores in the mall and restaurants. For instance, signing up gets you 10% off at Charley's Grilled subs, $2.99 off kids' meals at A&W restaurants, and even a free kid meal for every adult entrée you purchase at Macy's Lakeshore Grill.
Oakland Mall Additional Information
Address: 412 W 14 Mile Rd, Troy, MI 48083
Hours: Monday–Thursday, 11 a.m.–7 p.m.; Friday–Saturday, 11 a.m.–8 p.m.; Sunday, 12–6 p.m.
Splash Around at Troy Family Aquatic Center
Looking for ways to break the summer heat with kids in Troy, Mi? Then the Troy Family Aquatic Center at 3245 Civic Center, Dr is the perfect destination.
The massive aquatic center has a large, 11,000-square-foot main pool with zero-depth entry to maximize the safety of every user. The pool has a smaller waterslide and splash area with foot showers where younger or amateur kid swimmers can splash around. Life jackets and floatation devices are offered in both pools, and there are always lifeguards on standby. The Aquatic Center boasts thrilling tubes, body slides, and a 20-foot wide waterfall.
There are plenty of picnic tables where kids can dry off as they munch on the classic array of snacks sold at the concession stand. Even better, the aquatic center hosts birthday parties and private events. Try the indoor heated therapy pool and leisure pool with slides kids splash around in the gigantic or small pool.
Generally, resident tickets cost $10, while non-residents pay $5 extra. The Troy Aquatic Center opens from 11:30 a.m. to 7:30 p.m., but this is subject to changes on holidays and special days. Note one must be at least 42" tall to ride the body or tube slides. Also, kids under ten are expected to have adult supervision at all times, and no outside food or drinks are allowed into the aquatic center.
Troy Family Aquatic Center Additional Information
Address: 3425 Civic Center Dr, Troy, MI 48083
Hours: See website or call ahead for updated hours.
Find Fun For All Ages in Troy
Troy has so much to offer for people of all ages looking for fun things to do. The city has five community parks and countless neighborhood parks equipped with play areas and professional sports fields to ensure both adults and kids have a good time. The charming suburb is also home to numerous kid-friendly attractions and activities, such as Cheddar's preschool story hour at the Troy Historic Village. Simply put, there are virtually infinite fun-filled things to do with kids in Troy, MI.
If you're planning to move to the Detroit metro area, contact The Perna Team of Keller Williams at 248-886-4450 to get in touch with experienced local real estate agents who can help you find your perfect Troy home today.