Best Things to Do With Kids in Detroit: Detroit, MI Family-Friendly Activity Guide
Posted by Michael Perna on Monday, February 1, 2021 at 12:09 PM
By Michael Perna / February 1, 2021
Comment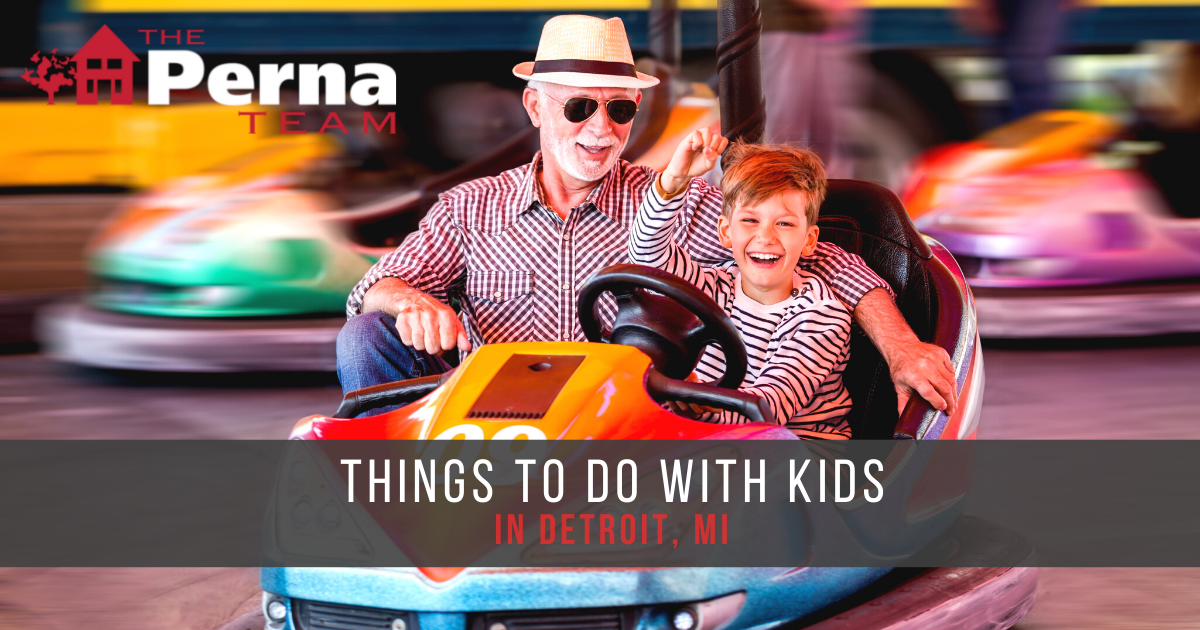 For years, Detroit's two main claims to fame were for being the birthplace of the automotive industry and the classic Motown sound. But today, this city is going through a major transformation. It's burnishing its image and striving to become known as a city where families want to live and play. And all of Detroit's hard work is really starting to pay off. New restaurants and businesses are popping up near homes in Detroit, and Travel & Leisure recently recognized it as being one of America's most underrated cities. Families who are thinking about moving to Detroit can rest assured they'll always have family-friendly activities to do, and these six things to do with kids in Detroit are just the tip of the iceberg.
Detroit Zoo
Detroit Zoo Exhibits
Outback
Asian Forest
African Forest
Artic Ring of Life
Holden Museum
Penguinarium
African Grasslands
Mardigan Otter Habitat
Located outside Detroit in Royal Oak, the Detroit Zoo is a must-see for animal lovers young and old. This 125-acre facility houses more than 2,000 creatures in habitats designed specifically for each species. A 1.7-mile trail leads visitors past the various exhibits, including but not limited to ones for animals from Africa, the American Grasslands, and Asia.
The Detroit Zoo is also home to two special attractions. The first is the 33,000-square-foot Polk Penguin Conservation Center. This exhibit, which is home to about 75 penguins from four different species, was designed to mimic the natural habitat of the flightless birds. This gives visitors a rare peek into how these birds would behave in the wild. The second special attraction is a giraffe encounter. Here, guests can pay an extra fee to stand on an elevated viewing platform and feed these beautiful creatures.
The facility also hosts zookeeper talks and animal feedings that give visitors more insight into the care and behavior of the creatures in the zoo's care. For an extra fee, visitors can attend a show at the zoo's 4-D theater or take a ride on a carousel or a miniature train. The Detroit Zoo is open 362 days a year (closed on Thanksgiving, Christmas, and New Year's Day), and it's located at 8450 W. 10 Mile Road in Royal Oak.
Detroit Zoo Additional Information
Hours: Hours vary by month
Ticket Costs: Ticket prices start at $10 when purchased in advance or $15 at the gate
Recommended Ages: All ages
Yates Cider Mill
Yates Cider Mill Attractions
Frankenmuth Fudge Shoppe
Apple tent
Pony rides
Petting zoo
River walk
Yates Cider Mill is the perfect place for a little outdoor fun in the country. Opened in 1863, this mill is still used to press apple cider, and visitors can watch as this delicious beverage is being made. Visitors are free to explore the grounds of this historic site, feed and pet farm animals—such as goats, sheep, and occasionally a llama—or stroll along a 3/4-mile-long trail along the Clinton River. For a small fee, youngsters can also enjoy pony rides during the fall months.
After an invigorating day in the great outdoors, families can shop for edible souvenirs. The mill sells a dizzying array of goodies, including homemade fudge, cider donuts, apples, saltwater taffy, and caramel corn. During the summer months, visitors can cool off with a treat from the Ice Cream Shoppe. The Historic Yates Cider Mill is open during the spring and summer, and it is especially popular during the fall months. The mill closes for the winter near the end of December.
Yates Cider Mill Additional Information
Hours: Monday–Friday, 8 am–6 pm; Saturday–Sunday, 9 am–6 pm; closed during winter
Ticket Costs: Free
Recommended Ages: All ages
Marvin's Marvelous Mechanical Museum
Marvin's Marvelous Mechanical Museum Attractions
Pinball machines
Neon signs
Coin-operated machines
Arcade cabinets
When the Beatles talked about a "magical, mystery tour," they could have been describing Marvin's Marvelous Mechanical Museum. Every nook and cranny of this 5,000-square-foot venue is crammed full of oddball items as well as an eclectic mix of games—everything from vintage coin-operated machines dating back to the early 1900s to old-fashioned fortune-telling machines to the latest and greatest video games. From the ceilings hang model airplanes, and the walls are graced with an eye-catching array of cool posters and neon signs.
This unique attraction didn't start out life as a museum. In fact, when Marvin's Marvelous Mechanical Museum first opened in 1932, it was actually a drug store (which is still in operation). So, this collection of oddities and games were compiled over the ensuing decades. Not surprisingly, this deliciously odd little museum has attracted media attention and has been featured on several TV shows such as American Pickers and also in magazines like US Magazine.
Marvin's Marvelous Mechanical Museum is located in Farmington Hills and has a café for visitors to grab a bite to eat and also has free Wi-Fi. Although there is no fee to enter this site, the arcade games do cost money to play. Children can earn tickets that can be turned in for cool prizes.
Marvin's Marvelous Mechanical Museum Additional Information
Hours: Monday–Thursday, 10 am–9 pm; Friday–Saturday, 10 am–11 pm; Sunday, 11 am–9 pm
Ticket Costs: Free
Recommended Ages: Five and up
Greenfield Village
Greenfield Village Districts
Working Farms
Liberty Craftworks
Railroad Junction
Edison at Work
Porches & Parlors
Greenfield Village is a local favorite among history buffs and curious kids. Part of The Henry Ford Museum, this open-air historical village in Dearborn is set on 80 acres and is home to almost 100 historic buildings that were transported to the site from their original locations. Some of the buildings that can be found in Greenfield Village include the birthplaces of Henry Ford and Wilbur and Orville Wright, as well as a replica of Thomas Edison's Menlo Park laboratory.
In total, Greenfield Village is made up of seven historic districts, including one where children can learn what it was like to live on a 19th-century American farm. Visitors will also want to check out Liberty Craftworks, where they can watch artisans blowing glass, weaving, and demonstrating how to make pottery.
First opened to the public in 1933, Greenfield Village is part of the Henry Ford Campus, which also includes the Henry Ford Museum of American Innovation and the Ford Rouge Factory Tour. Greenfield Village also offers visitors a few rides. They can, for instance, go for Model T rides, hop aboard a horse-drawn carriage, or enjoy a round on the park's carousel.
Greenfield Village Additional Information
Hours: Thursday–Sunday, 9:30 am–5 pm
Ticket Costs: Tickets start at $21
Recommended Ages: All ages
Ann Arbor Hands-on Museum
Ann Arbor Hands-on Museum Exhibits
Michigan Nature
Concourse
All About You
Media Works
Lyons Country Store
World Around You
A recent study showed that children tend to learn better when their bodies "become part of the learning process," especially when it comes to math and science. Fortunately for Detroit's children, the Ann Arbor Hands-on Museum provides an excellent opportunity for them to learn new concepts, especially about STEM. Visitors to this museum can check out interesting exhibits on Michigan's native creatures and plants, simple machines, or pretend to be on TV. The Ann Arbor Hands-on Museum also contains a country store exhibit where kids can see the type of things a shopper in the 1930s might find.
Children can also work off some of their extra energy by tackling the small climbing wall in the World Around You exhibit. As for younger visitors, this museum in Ann Arbor offers a fun, interactive gallery that has been designed specifically for preschool-aged children. Here, kids can splash on water tables and pretend to be a firefighter. The museum also offers special programs, workshops, and events on weekends and during the evenings.
Ann Arbor Hands-On Museum Additional Information
Hours: Hours vary
Ticket Costs: $12.50
Recommended Ages: All ages
Belle Isle Aquarium
Belle Isle Aquarium Exhibits
North American gar
Pufferfish
Catfish
Electric eels
Lined seahorse
Pipefish
Like a phoenix, Belle Isle Aquarium has risen from the ashes. Built in 1904, this 10,000-square-foot aquarium is the oldest in the United States. Sadly, though, there was a period of time when Detroit was deprived of its aquarium. In 2005, the building was forced to close due to economic recession, and it remained shuttered for seven years.
Fortunately for the city of Detroit, the Belle Isle Conservancy took over the reins and reopened the aquarium on September 5, 2012. Today, Belle Isle Aquarium is entirely run by volunteers, and it contains fish and other creatures from the world's lakes and oceans. Belle Isle Aquarium also takes pride in having one of the largest collections of air-breathing fish in the world, including the only known collection of all seven gar species in North America.
The Belle Isle Aquarium's building itself is well worth a visit. Designed by famed Detroit architect Albert Kahn, this structure features a Beaux Art-style entrance and a vaulted ceiling lined with stunning green opalite glass tiles.
Belle Isle Aquarium Additional Information
Address: Belle Isle Aquarium
Ticket Costs: Free
Recommended Ages: All ages
Enjoy Fun With the Kids Today
According to the American Heart Association, the average child between the ages of 8 and 18 spends more than seven hours a day looking at or using a screen of some sort. That's why it's so important to make an effort to get children out of the house and away from those mesmerizing screens. Fortunately for Detroit residents, exciting adventures and learning experiences can be found throughout Detroit and its suburbs. The best part of these outings? Households are sure to create cherished memories that will last a lifetime.
If you're planning to move to the Detroit metro area, contact The Perna Team of Keller Williams at 248-886-4450 to get in touch with experienced local real estate agents who can help you find your perfect Detroit home today.