Most Popular Detroit Tourist Attractions - 2022 Guide
Posted by Michael Perna on Wednesday, July 14, 2021 at 8:20 AM
By Michael Perna / July 14, 2021
Comment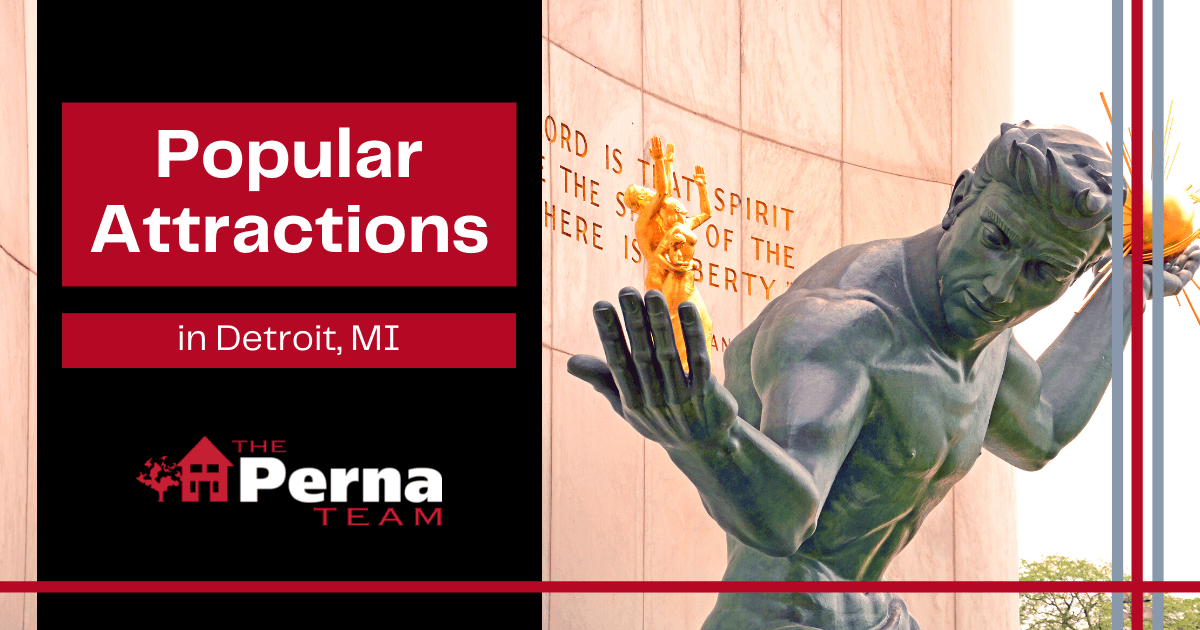 Those who visit or live in homes in Detroit certainly don't lack entertainment options and things to do. From annual festivals, 1,200 miles of trails and bike paths in Detroit's parks, museums, and a lively art and culture scene, attractions abound in Motor City.
Beyond its muscle car past and rich Motown roots, Detroit beckons to adventurous spirits, curious explorers, and those who love a big-city feel. Keep reading to discover the most popular attractions in Detroit this metropolitan area is best known for.
Detroit Institute of Arts
Located midtown on Woodward Avenue just off Interstate 94 in the Art Center District, the Detroit Institute of Arts has over 100 galleries and dozens of interactive programs. Amid over 650,000 square feet of space, visitors can explore one of the nation's most significant collections of art.
With admission, free daily tours or the art galleries are offered as well as audio-assisted self-guided tours. Many attractions and activities at the museum are free throughout the week. There are gallery games daily and live Friday night music.
Visitors can also view international and art cinema films in the theatre, participate in drop-in workshops, or reserve seats for various lectures and conversations on art and culture. Some of these events have a small charge in addition to museum fees, but many are also free.
Belle Isle
For an entire day filled with opportunities to embrace nature, there's no better place to visit than Belle Isle. Known as the 'Jewel of Detroit,' the island park features seven miles of shoreline and nearly one thousand acres of land.
Here, visitors can experience a rare wet-mesic forest representing the ecosystem of centuries ago amid 130 acres of wetland forests. Three lakes and a lagoon grace half the island, making it a natural respite for birds and small mammals. Other attractions include:
Anna Scripps Whitcomb Conservatory
Belle Isle Nature Center
Dossin Great Lakes Museum
James Scott Memorial Fountain
Belle Isle Aquarium
Annual Chevrolet Detroit Grand Prix (June)
Getting to Belle Isle via Detroit's public transportation is simple. Just take the #12 Conant bus line, provided by the DDOT, which stops right in front of the Conservatory complex. Much of the park is also wheelchair accessible, including the pathway gardens, picnic areas, and green spaces.
Detroit Art & Architecture
There's no shortage of fascinating architectural and sculptural installations in Detroit. This city's rich history as a central hub across the country attracted artists in droves during its heyday. Here are some must-see artistic and architectural structures to check out in town.
Michigan Central Station
The 18-story Michigan Central Station is an iconic train depot constructed in 1913 to take soldiers, citizens, and visitors in and out of town. However, the Beaux-Arts-style structure shut down train operations in 1988. Ford Motor Company took on a major renovation to transform it into a walkable Detroit community space in 2018.
The Spirit of Detroit
The Spirit of Detroit is a nine-ton bronze monument created by Marshall Fredericks in 1958. This statue was designed to represent Detroit's local sports teams and is often dressed in jerseys to commemorate teams participating in the playoffs.
Monument to Joe Louis
This impressive bronze monument to honor Joe Louis has been on display since 1986. The Fist of Joe Louis is a 24-foot long arm with a mighty fist that's suspended from a pyramidal support and weighs an astonishing four tons. Artists from Venice, California, conceived and created it, taking time to inscribe a moving tribute to the boxer along the forearm.
Fox Theatre
When the Fox Theatre was constructed in 1928 by film pioneer William Fox, it opened with accolades as the largest of the Fox Theatres ever built, the second-largest theatre globally, and the first to feature movies with sound. As the largest movie palace from the 20s that remains today, it's listed on the National Register of Historic Places and still fills its 5,048-seat capacity with amazing shows.
Historically, the Fox Theatre has also seen countless talents take the stage, including Shirley Temple in the 30s, Elvis Presley in the 50s, and Motown legends in the 60s and beyond, and hosted glorious concerts, comics, and dance acts in between. Today, the Fox Theatre is commonly known by locals as the "Temple of Amusement" and is easily accessible via public transportation.
Eastern Market
The Eastern Market is a year-round haven for those looking for local and unique goods, fresh foods, art, clothing, and much more. Locals love this venue, as do travelers from around the world looking for a great way to spend the day and peruse a vast selection of just about anything one can imagine. The Eastern Market has three distinctive shopping days: Saturday, Sunday & Tuesday.
Saturday Market
The market is open on Saturdays year-round, with more than 200 vendors offering produce to tens of thousands of guests each week. Opportunities abound at the Eastern Market to bring fresh goods to locals and visitors alike.
Sunday Market
Unlike Saturday's foods, the Sunday market is seasonal and brings out vendors who showcase their art, jewelry, music, and much more. Cooking lessons are offered, custom pieces can be made, and each week sees the arrival of new events to bring the festivities to life.
Tuesday Market
Open during warmer months, Tuesday market days are the perfect time to pick up fresh meats and baked goods and produce grown regionally. There are also free 11 a.m. yoga classes and noon Zumba classes at the Tuesday market.
Motown Museum
Step back in music history by walking into the historic Motown Museum in downtown Detroit. The sense of significant history resounds throughout the museums' various displays, exhibit halls, and studio rooms. Every tour treats visitors like a VIP, with guides or interactive solo options available. However, the guided tours are the tours of choice for history buffs and music aficionados.
Beyond the gold records, instruments, and other artifacts, one can see sites like Studio A, where more equipment and treasure sit. During the 50s, 60s, and 70s, legendary recordings and some of the greatest songs of all time were cut here. If arranged in advance, guests can make their own recordings for fun at Studio A!
The two-room flat belonging to the founder of Motown Records, Berry Gordy, is also up for viewing. Here is where he opened up the retro-style Hitsville U.S.A. offices, and his family lived here during the early days of the label. Tours allow visitors to see original furnishings and stand amidst spaces where legends once stood, sang, and collaborated.
Comerica Park
Situated in downtown Detroit right next to Ford Stadium is Comerica Park—home to the Detroit Tigers baseball team. This unique venue features a center field "liquid fireworks" water feature and a Ferris wheel that often runs during special events and certain games. Comerica Park has a fun decade-by-decade museum throughout the main concourse filled with sports memorabilia.
Catch a game or come out for a public tour any day from June through September. Tours take visitors through the dugouts, clubhouses, batting tunnels, the Ernie Harwell Media Center, and the Champions Club. Of course, no visit is complete without a peek at the Detroit Tigers Walk of Fame.
Looking for Unique Attractions in Detroit?
There's something entertaining and engaging for everyone here in Detroit. Whether stadium tours or photo ops at statues and structures are in order or if a visit to historic museums piques the curiosity, Motor City has it all. Visit, explore, or move to Detroit to make this vibrant community home and enjoy all Detroit has to offer for a lifetime.
If you're planning to move to the Detroit metro area, contact The Perna Team of Keller Williams at 248-886-4450 to get in touch with experienced local real estate agents who can help you find your perfect Detroit home today.