Our KW Mobile App
Posted by Michael Perna on Monday, October 5, 2015 at 9:27 AM
By Michael Perna / October 5, 2015
Comment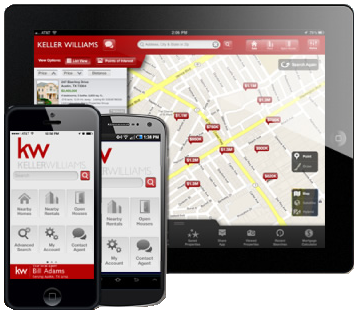 With the Keller Williams Realty Mobile Search app, finding the right home for you is as easy as drawing a circle on a map. Designed for today's tech savvy home buyers, this easy-to-use GPS-powered app puts you in control of your real estate search. This free app was recently updated and rolled out September 9, 2015 with stability enhancements and bug fixes. The app is available for iPhone and Android users. In order to download and use the app, you need to create an account and enter your agent's code.
How to download:
Ask your KW Real Estate agent for the website link to download their app directly from your smartphone or tablet. Depending on your device, choose the Apple App Store or Google Play Store to download. Then enter their personal code to make him or her your Keller Williams agent within the app.
Or text "kw" to 87778 to download the Mobile app
iPhone screenshots: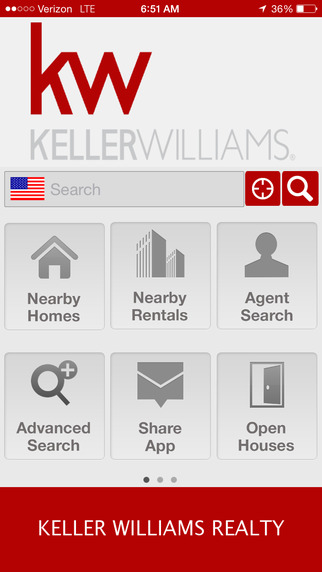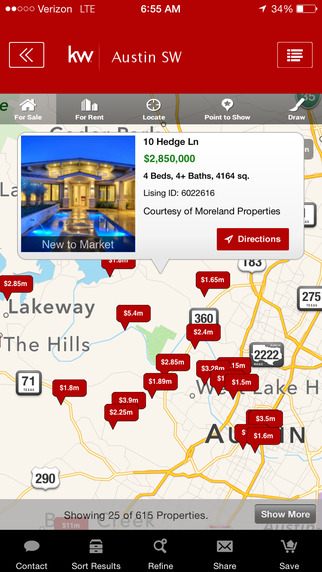 KW App Features:
The dynamic map feature allows you to add a pinpoint or draw a perimeter to see nearby homes for sale, open houses, or rental properties. You can do this whether you are searching for homes in Ann Arbor or condos in Northville.
The KW app allows you to search nearby homes by GPA location. You can also search by additional features such as filters like price, neighborhood, number of beds, open houses, and more.
See what schools and other points of interest are nearby.
Full screen photo gallery
Scroll through vivid, full-screen photos of homes.
Save searches and listings, including notes or added property photos, across all your devices.
If you're not already working with The Perna Team the app helps you find a KW agent who you can send property inquiries to instantly.
Easily share listing information through text, email, Facebook, or Twitter.
This app also includes a free mortgage calculator to estimate home loan and monthly payments based on sale price, down payment, mortgage length, and interest rate.
KW App Reviews:
"Best app in real estate. I can search for properties all over U.S. and Canada. Awesome! Love that it immediately shows the nearest property wihtout having to click one button."
-KW App Reviewer





"I love how the app brings up properties closest immediately. When I'm using a mobile search it's because I'm looking for more information about a home I see as I drive by."
-KW App Reviewer





"This app beats the heck out of any of the other real estate apps I've tried, I LOVE the map function and being able to do so much without leaving the screen. Elegant, clean design, wish all my apps were this intuitive."
-KW App Reviewer





"I've used lots of different "home finding" apps in the past and what makes this one my favorite is how quickly you're able to slide through the pictures of each home in Novi. Faster than any other app I've seen. Love it!"
-KW App Reviewer