Northville Park Place signs 11th retailer and restaurant
Posted by Michael Perna on Thursday, January 29, 2015 at 7:17 AM
By Michael Perna / January 29, 2015
Comment
Northville Park Place in 2nd Phase of Completion
11 leases signed so far and more to come
In the 2nd Phase: The second phase of Schostak Brothers & Company joint venture with REI Investment Group based out of Bloomfield Hills is under way. The second phase includes 65,000 square feet of mixed use restaurants and retail and one stand alone restaurant adding to the expanding corridor on Haggerty between six and seven mile roads. College Park was a hit with restaurants moving in quickly including Mitchells, the Claddagh, Bravo, Flemmings and more. The second phase will cover 22 of the 82 acres and is expected to be complete by the end of the second quarter 2015. Sachse Construction and development has been secured to develop the new building.
Restaurants moving in that have signed to move into Northville Park Place:
Granite City Food & Brewery: Featuring an onsite brewery and with an additional location in Troy
Rusty Bucket Restaurant: Currently has a location on Sheldon Road in Northville
Chipotle Mexican Grill: Currently operating 1600 locations and features organic ingredients and operating LEED certified buildings
BurgerFI: Currently closest location Ann Arbor. An burger chain focused on all natural beef selection, hot dogs, craft beer and wine
Jimmy Johns: The sub chain that expanded into Metro-Detroit almost as fast as they make their subs
Tom + Chee: A gourmet grilled cheese and tomato soup restaurant
Red Olive: Mediterranean fare with banquet space
MOD Pizza: Artisan-style pizza currently operating in Washington, Oregon, California, Arizona, Colorado and Texas.
Retailers that have signed with Schostak Brothers to move into Northville Park Place:
Sherwin Williams: Residential and Commercial paint seller
Sports Clips: A sports themed barbershop with tv's to watch and massaging chairs
Gazelle Sports: A sports retailer with a focus on running, soccer, fitness and operates several leagues, running camps, running clinics and more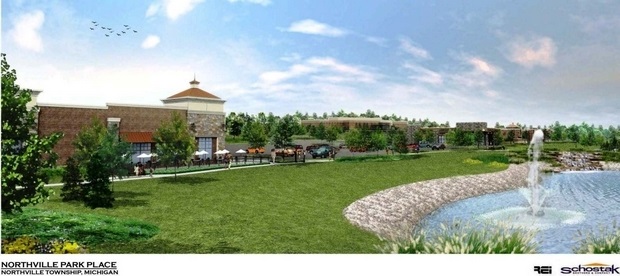 First Phase Complete: The first phase of the project was to purchase the 82 acres from the State of Michigan for $31.5 Million in 2007, in a court ordered split from the 400 acre Northville Psychiatric Hospital Parcel. The first phase of the Northville Park Place development was completed with construction of a 100,000 square-foot facility for the University of Michigan Health System. U of M built the facility in Northville Park Place in 2014 to supplement the two Livonia clinics (Livonia Center for Specialty Care and the Livonia Health Center) extreme overflow of patients. It's estimated the clinic receives 715 patient visits per day and currently has approximately 60 physicians on site. There are 110 exam rooms and is the third largest property U of M leases for it's medical operations. Radiology services including X-ray, ultrasound, MRI and a gym for physical therapy was moved and brought together in the location. In addition U of M has brought to The Northville Health Center medical procedures for GI, pain and PM&R. Cardiology, hematology, oncology, hepatology, neurology, neurosurgery, OB/GYN services, opthamology, pathology. rheumatology, urology, and an infusion clinic for cancer and non cancer patients. The therapy section of the Northville Health Center includes physical therapy, occupational therapy, and speech therapy.
The decision was made by the U of M health system to bring a large operation to Northville Park Place as many patients of the U of M system have to make the drive into Ann Arbor to see specialists. As time goes on U of M has indicated they want to continue to expand services to serve patients closer to their homes as well.
The balance 300+ agres of land is still owned by Northville and has been approved for an $83 Million dollar park development to include bike paths, pavilions, baseball and soccer diamonds and more.
The development of the land came under fire from two groups.
The first critics of U of M accusing the health care system of egregious overspending costing taxpayers and patients millions. The Health system is paying a base rent of 27.25 per rent-able square foot with five percent increases every five years over the term of the twenty five year lease. This is on top of a $39 million dollar build cost The Northville Healty Center (aka U of M) foot the bill for. This makes it a $75 million dollar lease and $39 million to finish the build out
The second group that was not pleased with the decision to build Northville Park Place are environmental activists citing the land as one of the last large wetland parcels in the area and that it should have been built on as it disrupts the fragile area ecosystem. A similar debate was had when AMC 20 movie theaters was constructed just to the north on the Livonia side of Haggerty Road in the 90's.