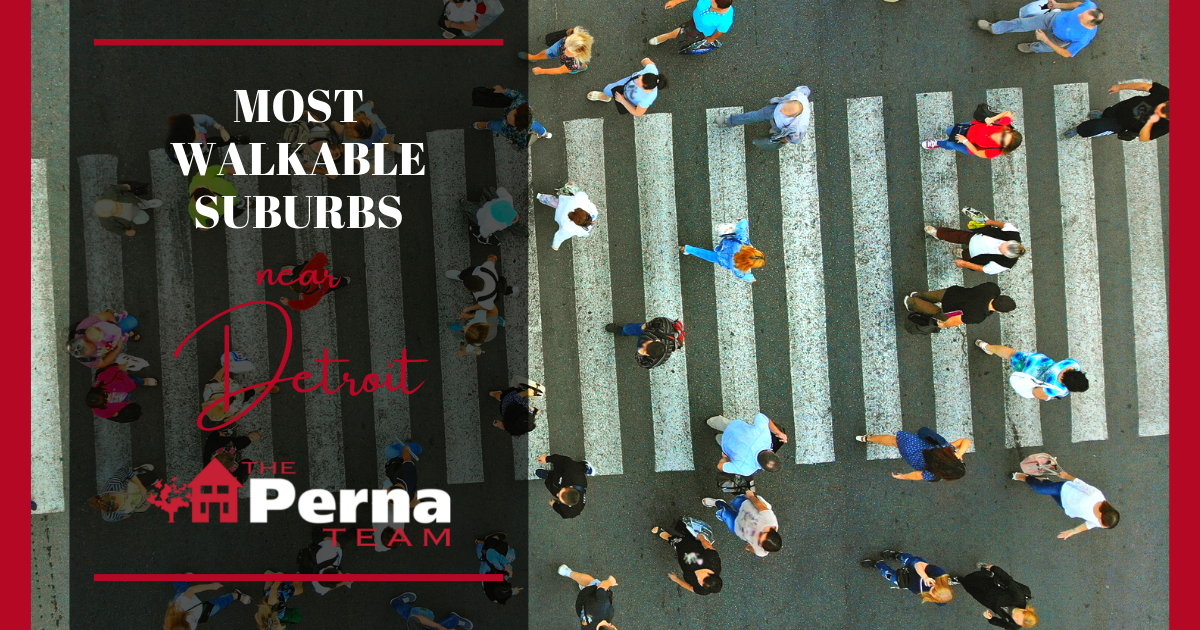 Detroit is well known as a busy industrial area, so many people are pleasantly surprised to hear the city has several highly walkable suburbs. Whether someone is considering moving to Detroit or just visiting, knowing ahead of time when they're less likely to need a vehicle when leaving their Detroit home is essential. The following most walkable suburbs are near Detroit, Michigan, and here's what residents will find in each community.
Clawson
Clawson Amenities
Large city park and a second, smaller park
Clawson Stadium
Community center with robust programs
Clawson is a beautiful neighborhood and suburb of Detroit located just west of I-75. It has a population of over 12,000 residents and sits in the Southern corner of Oakland County.
Clawson boasts a rich native history and was once the home of the Potawatomi tribe before its European American founding in 1829 by John Lawson, with Clawson a misspelling of the name. The area was incorporated as a village in 1921 and again as a city in 1940.
Although the city is populous, it's small at just 2.2 square miles. Everything residents need is within walking distance in Clawson. Clawson Public Schools are in the community, but Japhet School is housed in the former YMCA building if private school is preferred. Preschool is available at Gateway Country Day School.
Birmingham
Birmingham Amenities
Birmingham is a walkable Detroit suburb that sits in the southern corner of Oakland County near Clawson. In the 19th century, the city served as a stagecoach stop between Pontiac and Detroit. The area is still quite popular for trains today, with Amtrak stopping six times per day in Birmingham, three times in each direction.
The city is nearly five square miles and has a population of over 20,000 people. It is home to many notable figures, such as Tim Allen, David Spade, Sam Raimi, and Meg Oliver.
Ann Arbor
Ann Arbor Amenities
Ann Arbor is perhaps one of Detroit's most well-known suburbs and is the University of Michigan's home. The last recorded population in 2010 was 113,934 over nearly 29 miles. Much of Ann Arbor's space is dedicated to the Huron River, which runs through the entire city from northwest to southeast. Because the town is about 40 miles west of Detroit, it can be a long drive between the two locations.
Ann Arbor has a robust downtown area with numerous shops and restaurants, including the Kerrytown Shops, the State Street Business District, the Main Street Business District, and the South University Business District. In the late spring, summer, and early fall, the Kerrytown district offers a farmer's market with fresh fruits, vegetables, and handcrafted wares made by the area's residents.
Berkley
Berkley sits in the northern part of Oakland County and has a population of approximately 15,000 people. The area was primarily forested and dotted with patches of swampland before it was settled.
Berkley has a beautiful downtown area lined with boutiques and retail shops. The area hosts a yearly Art Bash, where artists from all over the state come to display and sell their jewelry, paintings, pottery, and other types of handcrafted art. Berkley also participates in the Woodward Dream Cruise every year and puts on a parade of classic cars downtown. Summerfest and Winterfest are also popular events in Berkley that draw participants from across Michigan.
Royal Oak
Royal Oak Amenities
Royal Oak is one of the larger cities in Oakland County, with a population of over 57,000. It sits just three miles north of Detroit proper and was named by Territorial Governor Lewis Cass after the English folk story of the Royal Oak. As Detroit became a major worldwide industrial player, Royal Oak grew with it to the bustling suburb known today.
Royal Oak has the distinction of being named "Tree City USA" by the National Arbor Day Foundation every consecutive year since 1976 due to the city's dedication to the preservation and planting of trees. The largest employers in the area include the William Beaumont Hospital, Royal Oak Public Schools, The City of Royal Oak, the Detroit Zoo, Consumers Energy, and Oakland Community College.
Hamtramck
Hamtramck Amenities
Almost entirely surrounded by Detroit, Hamtramck is a city of about 22,000 people that sits in the northeast corner of Wayne County. Hamtramck takes the title of being the most densely populated city in Michigan, and nearly everything residents could need is conveniently located nearby. The city hosts many annual festivals enjoyed by residents from across the state, such as the Hamtramck Music Festival, Pączki Day, the St. Florian Strawberry Festival, and the Hamtramck Labor Day Festival.
Ferndale
Ferndale Amenities
Harding Park
Wanda Park
Donald Red Geary Park
Ferndale is part of the Northern Detroit metropolitan area and has around 20,000 people across 3.88 miles. The city grew after the start of the modern automotive industry and became a bedroom community.
The area has a public school district. Notable figures from the area include jazz musician Ron Carter, heiress Elena Ford, and MLB pitchers Rob Welch and Ken Rowe.
Dearborn
Dearborn is the eighth biggest city in Michigan and is home to nearly 100,000 residents. The town spans almost 25 square miles, so while some errands require a vehicle, the city's more populated areas are highly walkable.
Dearborn's largest employers include Ford, ADP, Oakwood Health System, Percepta, and the Dearborn Board of Education. The city is home to Henry Ford College and the University of Michigan-Dearborn.
Discover Detroit's Most Walkable Suburbs
Walking through the suburbs of Detroit is easier than people might expect, and it can help save time instead of sitting in traffic and save money on gas. Living in any of these suburbs provides residents with many amenities, things to do, and conveniences that do not require them to go too far from their homes.

Posted by Michael Perna on