Luxury Awaits: 8 Most Expensive Troy, MI Neighborhoods
Posted by Michael Perna on Wednesday, December 1, 2021 at 8:17 AM
By Michael Perna / December 1, 2021
Comment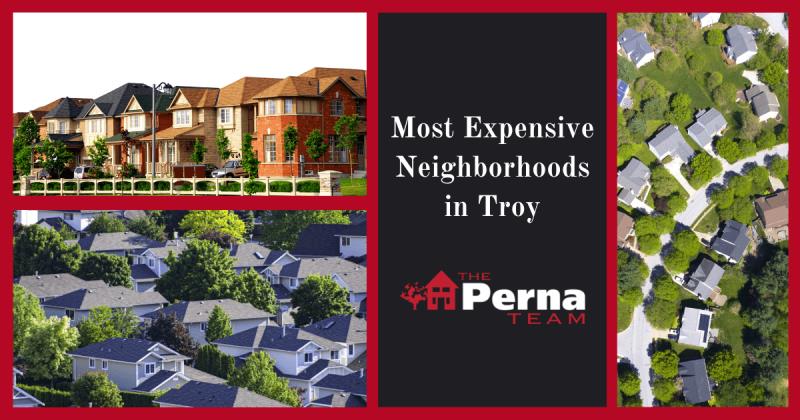 Ranked among the best places to live in Michigan for its excellent economic strength, Troy is a well-developed city just six miles from Detroit. Troy boasts a lively arts and culture scene and is a leading shopping destination thanks to retail spaces like the Sommerset Collection luxury mall.
As one of the most populated towns in Oakland County, Troy also has a diverse real estate market. It is characterized by condos and new construction homes built to accommodate the growing population of people moving to Troy. With such a wide range of homes for sale in Troy, prospective homebuyers can make a real estate purchase at any price point in the market, from affordable single-family homes to sprawling luxury estates. Read more to discover some of the most expensive neighborhoods in Troy.
Baileys Vineyards
Baileys Vineyards Amenities
Clubhouse
Tennis courts
Clubhouse
Baileys Sports Bar
Baileys Vineyards is one of Troy's most high-end suburbs. It is located on the West of Coolidge Highway, just south of route 1-75. It is an affluent neighborhood distinguished by luxury homes of all styles and sizes, ranging from split-level colonial-style houses, ranch-style homes built in the late 90s to new construction homes with modern features. Most homes in Baileys Vineyards have three to five bedrooms and are equipped with modern gourmet kitchens, three-car garages, finished basements, grand staircases, and private yards with security alarms and automatic lighting.
Homes range in square footage from 4,900 square feet to over 8,600 square feet, with the median home price falling between $850,000 and $1,350,000. Like most luxury homes in Troy, those in Baileys Vineyards are managed by a homeowners association and features communal amenities such as a clubhouse, pool, and tennis court. The average HOA cost varies but is typically about $700 annually. The HOA covers regular neighborhood maintenance, landscaping, and all communal amenities.
Beach Forest
Beach Forest Amenities
Beach Road neighborhood park
Hamilton Elementary School
Grand Tavern restaurant
St. Joseph Mercy Oakland
Located south of W Square Road and Arlund Way Road near Beach Road, Beach Forest is one of Troy's most luxurious and affluent neighborhoods. The community has about 230 homes and comprises three, four, and five-bedroom luxury houses with multiple garage arrangements, full basements, and well-landscaped yards with motion-activated lighting.
Homes in Beach Forest range in size from 5,300 square feet and 7,400 square feet. As one of the most sought-out neighborhoods in the area, Beach Forest boasts the highest median price in home property values for nearly three decades, with the average home price ranging between $770,000 and $1,399,000. In addition, Beach Forest features a range of communal amenities, including the Beach Road Park, one among nine neighborhood parks in the Troy suburb. The park is located on the west end of Beach Road and is spread on 10-acres of open space, featuring a play area with swings and a soccer field. It's open to the public every day from 7 a.m. to 10 p.m. and includes free parking for all.
Hickory Heights North
Hickory Heights North Amenities
Neighborhood park
Swimming pool
Hickory Heights North is a quiet suburban neighborhood just nine minutes northwest of the city center of Troy. It's located just off Beach Road between Adams and Squirrel Roads. Hickory Heights North is HOA managed neighborhood made up of about 144 homes ranging from colonial, ranch, and Tudor styles, and recently, modern and new construction homes. Typical of homes managed by HOA, most of the beautiful homes in Hickory Heights North feature large, well-maintained private yards and pathways.
Most homes in Hickory Heights North are single-family residences with three to five bedrooms with space ranging between 3,800 square feet and 4,900 square feet. They feature huge foyers, multiple bathrooms, multi-car garages, libraries, and a glass sunroom overlooking each lot. Hickory Heights North is a beautiful neighborhood characterized by tall trees and a high standard of living.
The HOA manages things like house color and landscaping feature changes, common areas, neighborhood parks, and community activities to ensure the look and feel don't deviate from the original design. This goes a long way in improving property values, and homes here have an average value between $565,000 and $779,000.
Heatherwood Estates
Heatherwood Estates Amenities
Near Hamilton Elementary, Boulan Park Middle, and Troy High schools
Close to Firefighters Park
Heatherwood Estates is one of Troy's many subdivisions and affluent neighborhoods. It is located east of Coolidge Highway, just south of W Square Lake Road. There are about 105 homes in the neighborhood, but new construction homes are consistently coming up. Most homes have a square foot range of 1,800 square feet to 4,500 square feet and feature large floor-to-ceiling windows that provide natural light, master bedrooms with large walk-in closets, multiple baths with dual sinks, hot tubs, 2-3 car attached garages, and large yards.
Heatherwood Estates homes usually have four bedrooms and feature various styles ranging from modern to colonial-style houses featuring brick exteriors. Homes in Heatherwood Estates have a median value of $515,000 to $750 000 and are run by a homeowner association responsible for managing garbage collection, lawn maintenance, and other general maintenance tasks. All exterior improvements, from fence to deck renovations, must be pre-approved by the Heatherwood Board.
Oak River West
Oak River West Amenities
Two children's libraries
Three common area bridges
Located just minutes off West Long Lake Road, between Beach and Coolidge Roads, Oak River West is a suburban neighborhood near Troy. The subdivision was established in the 1980s and includes about 230 homes. As with most expensive areas in Troy, the Oak River West community is also HOA-managed. Homes vary in square footage but typically fall between 4000 square feet and 6,300 square feet. The median home value in Oak Rivers is between $620,000 and $650,000.
Since it's one of the oldest neighborhoods in the Troy area, some homes in Oak River West date back to the 1980s, but you'll also find newer houses featuring four- to five-bedroom floor plans, multi-car garages, and full basements. Some homes even feature lake views.
Thanks to the Oak River Subdivision Association Board of Directors, Oak River West is a beautiful, well-maintained neighborhood. In the past five years, the Oak River West HOA has overseen the installation of new lighting and the refurbishment of estate stone walls, entrance signs, and its three common-area bridges. The HOA committee even set up two children's libraries in the neighborhood.
Oak River East
Oak River East Amenities
Schroeder Elementary School
Deerfield Elementary School
International Academy
Troy High School
Oak River East is a great suburban community in West Troy. It is adjacent to the Oak River West neighborhood and is located just south of West Long Lake Road, between Northfield Pkwy and Coolidge Highway. It is a large community with about 234 homes that feature brick exteriors giving the nod to colonial and ranch home styles, but unique architecture is consistently coming up.
It is divided into 12 drives and courts for easier management. Homes in this neighborhood range in size from around 2,000 square feet to 5,000 square feet, with an approximate price range of $200,000 to $900,000. Homes in Oak River East are designed in a park-like setting and feature massive family rooms, private libraries, and patios. Master bedrooms boast large walk-in closets with a dressing area and separate shower and bathrooms, while the kitchens are spacious with modern granite countertops. It's also one of the most expensive neighborhoods built between 1980 and 1990.
Oak River East is also an HOA-managed neighborhood where annual HOA dues are cleared by April 30 each year. Chelsea Village is also just a short drive away.
Somerset North
Somerset North Amenities
Bemis Elementary School
Somerset Golf Course
Kim's Restaurant
Boulan Park
Charing Cross
For those who love the convenience of living near a mall, the Sommerset North neighborhood on W Big Beaver Road is often the best option. The area was established in 1989 after a partnership between Somerset Collection Mall limited and the City of Troy.
The partnership was approved to allow the mall's expansion and the construction of a residential area. Today, Sommerset North has about 1,000 residents and 142 homes built between 1991 and 1995, featuring colonial to ranch styles with brick exteriors. Most of them feature 3 and 4 bedroom floor plans with a space of about 5,500 sq.-ft and a median list price of $346,000 to $675,000.
Most homes in Somerset North have open floor plans with modern, granite-counter-topped gourmet kitchens, large master suites with his-and-her closets, master baths with a separate shower and tub, 2–3 car garages, and even libraries. Homeowners also get large, beautifully landscaped yards with motion-activated lighting.
Sommerset North is managed by the Sommerset North Homeowners Association, which oversees general maintenance, social affairs, and neighborhood finances. They also enforce deed restrictions. SNHA oversees any architectural improvements made by the residents and charges a $200 annual fee due every October 1.
Cedar Ridge
Cedar Ridge Amenities
Dollar Tree 4061 grocery store
Beaumont Health System
Pembroke Elementary School
Derby Middle School
Seaholm High School
There are only 38 homes in Cedar Ridge, making it an ideal neighborhood for those interested in a community with space for new construction homes. The neighborhood is located south of W Big Beaver Road, just east of North Adams Road. The median listing price for a standard three-to-five-bedroom home is approximately between $200,000 and $870,000, depending on the exact features one wants.
The majority of the homes in Cedar Ridge offer 2,200 square foot to 3,600 square foot floor plans and were built between 1980 and 1983. They feature colonial and Tudor architectural styles and are set up on well-maintained lots with lawns, covered and paved patios, and large private backyards. Homes here also boast excellent natural lighting thanks to the large windows in all rooms.
Living rooms are equipped with a fireplace, while the gourmet kitchens feature gorgeous granite countertops. Master bedrooms are spacious and feature walk-in closets and large bathrooms. Most homes have 4 or 5 bedrooms, with a 3-car attached garage and outfitted basements. Cedar Ridge is conveniently located near Pembroke Elementary School, Seaholm High School, and Oakland University, just 13 miles away. Cedar Ridge schools are part of the Birmingham school district.
Explore the Best and Most Expensive Neighborhoods in Troy, MI
As a mid-sized city just a few miles away from Detroit, Troy is one of the best places to live for anyone looking for growth opportunities. With multiple Fortune 500 companies and multiple global companies calling it home, there are plenty of opportunities awaiting exploration for job seekers and entrepreneurs alike.
The cost of living is pretty affordable, and there are several nearby schools, an unbeatable retail experience thanks to facilities like the Sommerset Mall, excellent dining, and countless great neighborhoods in Troy to call home. But it's also more fast-paced, which is why the surrounding suburbs, such as the ones listed above, make a great place to live. They are within a short drive from the city center and offer a laidback, homey feel, giving residents a much-needed break from the bustling heart of Detroit.
If you're planning to move to the Detroit metro area, contact The Perna Team of Keller Williams at 248-886-4450 to get in touch with experienced local real estate agents who can help you find your perfect Troy home today.