7 Troy Neighborhoods With the Best Bang for Your Buck
Posted by Michael Perna on Monday, November 29, 2021 at 11:27 AM
By Michael Perna / November 29, 2021
Comment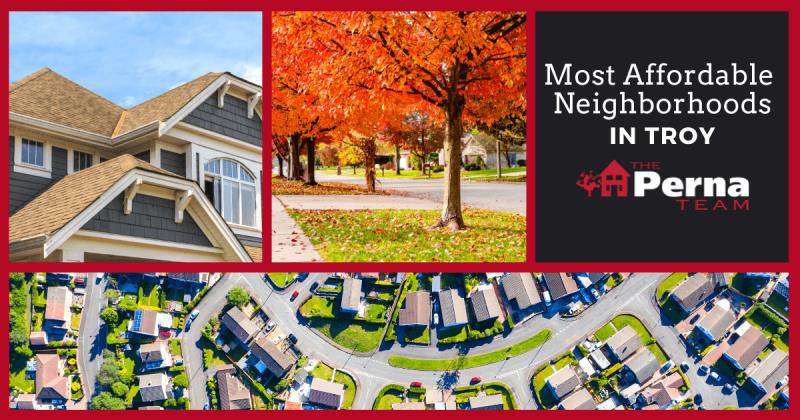 Troy, MI, located north of Detroit, Michigan along Interstate 75, is a densely packed suburb in Metro Detroit. Troy real estate comprises many different neighborhoods, and the area is considered one of the best places to live in the Detroit area. There's something here for every price point with property styles that range from Troy condos to luxury homes. Are you moving to Troy and looking for a community that offers the best bang for your buck? Keep reading to learn about the most affordable neighborhoods in Troy.
Bayberry Place
Bayberry Place Amenities
First Watch
Saks Fifth Avenue
Macy's
Kura Revolving Sushi Bar
Bayberry Place is a condominium complex found in the southwestern section of Troy. Built in 1967, Bayberry Place comprises several two-story condo buildings. There are a total of 44 units in the complex. Situated near Interstate 75, Bayberry Place provides short Downtown Detroit driving times from the suburbs.
Bayberry Place homes for sale boast a variety of amenities, including an outdoor pool, fitness center, and clubhouse. Tree-filled walkways connect each building, and there is some covered parking available. Costs for the units at Bayberry Place range from around $82,000 to $200,000.
Nearby amenities include the Somerset Golf Club, a 9-hole course that is open to the public; Oakland/Troy Airport, Oakland County's executive airport; and Boulan Park, a 63-acre outdoor area that has 1.25 miles of paved walkways, two play structures, and a variety of sports facilities.
Local restaurants include Grape Leaves, serving Middle-Eastern cuisine and a variety of juice drinks; Romira's City Grill, including a menu filled with gourmet burgers, breakfast favorites, deli sandwiches; and Shield's Restaurant Bar Pizzeria, a local favorite lauded for its deep-dish pizza.
Bars include The Hideout in the nearby Clawson community; CJ Mahoney's Sports Bar and Grille, offering sports on one of its 32 TVs; and Granite City Brewery, which has a wide selection of signature and seasonal beers to choose from, as well as a full menu.
Northfield Hills
Northfield Hills Amenities
Café Immortelle
Madhouse Bar & Grill
Java N Byte
The Dinner Detective Murder Mystery Dinner Show
Northfield Hills is a small community in the western part of Troy, MI, directly adjacent to Troy High School. Northfield Hills real estate options consist of 600 townhouses and ranch-style units within the community that offer a variety of floor plans for potential homebuyers. Northfield Hills is also within easy driving distance of Interstate 75.
Homes within the Northfield Hills community run from around $168,000 to $250,000. When it comes to space, the floor plans range from about 1,200 to 2,200 square feet, depending on the size of the home. Neighborhood amenities include an exercise area, pool, tennis courts, and clubhouse.
Local landmarks include the White Chapel Memorial Park Cemetery to the east, which is renowned for its architecture, tranquil gardens, and inspirational sculpture. Firefighters Park, located to the north, is an ample space that offers various sports fields, a playground, and fishing along the banks of the River Rouge. One of the best parks in Troy, 63-acre Boulan Park is to the south of Northfield Hills.
There are also many restaurants within a close drive of the Northfield Hills neighborhood, such as Red Robin, with a menu full of some of the best gourmet burgers; Kerby's Koney Island, offering a variety of freshly cooked hot dogs and other menu items; and Cedar Grille, serving Mediterranean cuisine.
Wexford Parkhomes
Wexford Parkhomes Amenities
Mon Jin Lau
Nicky D's Sports Bar & Grill
Oakland Plaza
Hola! Seoul
In the southeast corner of Troy, MI, the Wexford Parkhomes community lies to the east of I-75 as it makes its way south to Detroit. To the north of the homes for sale in Wexford Parkhomes is Big Beaver Road, the main thoroughfare connecting Troy to the eastern edge of the bigger city of Detroit.
Homes within the neighborhood range from $142,000 to $228,000 in price and offer a variety of floor plans spanning from 930 to 1,500 square feet. The community is filled with many one-story homes, with a few scattered two-story houses, in a typical suburban neighborhood setting.
Nearby locations include Brinston Park, which features 18 acres of sports fields, a playground, and a picnic area; Skate World of Troy, a traditional skating rink where residents can host birthdays and skate parties; and the Cricindo Indoor Sports Arena, which hosts cricket, soccer, baseball, and other sports.
Other area hotspots include Hummus Palace Restaurant, with authentic Lebanese and Mediterranean food; Joe Kool's Bar & Grill, serving locally sourced menu items; and The Edge, selling women's clothing in various styles. People who live in the Wexford Parkhomes community can also visit the Under the Sea Playground, which provides a safe and fun environment for play, parties, and food.
Vineyards South
Vineyards South Amenities
Hub Stadium
X'press Fashion
Pine Trace Golf Club
Northfield Commons
Found on the outskirts of northwest Troy, Vineyards South is a small community that features mainly brick, colonial-style homes in a quaint neighborhood setting. The homes for sale in Vineyards South community sit on well-manicured lawns and are within easy driving distance of the Stage Nature Center.
House prices within Vineyards South vary between $330,000 up to $1 million. Home sizes in the Vineyards South neighborhood range from about 1,500 square feet to over 5,700 square feet. Vineyards South is also just to the north of Interstate 75, giving residents easy access to the rest of the area.
Some local hotspots include New York Burgers and Grill, a restaurant that serves authentic home-style cooking; Haus of Brunch, lauded for its breakfast to lunch brunch menu; and The Macomb Symphony Orchestra, which has been performing for over 40 years.
Residents can also visit some of the area's bars and taverns, such as Duffy's Pub, which has food, drink, and entertainment; Muldoon's Tavern, a local tavern serving Irish fare and beverages; and the Grand Tavern in nearby Rochester Hills to the north.
The Village at Midtown Square
The Village at Midtown Square Amenities
Ocean Prime
Dick O' Dows
The Original Pancake House
Fleming's Prime Steakhouse & Wine Bar
Found in the very southwest corner of Troy, The Village at Midtown Square is within a few minutes drive of the Oakland/Troy Airport. The Village at Midtown Square condos for sale come in various styles, all tucked away in their own little neighborhood.
Home prices in the neighborhood start at $238,000 and go up to $315,000. When it comes to square footage, condos in The Village at Midtown Square begin at around 1,300 and go up to 2,300 square feet.
The community is within a short drive of Pembroke Park to the north in the town of Birmingham, and Adams Park to the west, a 1.7-acre park featuring a play area, soccer field, and plenty of green space. When it comes to the latest movies, residents can take in a show at the local MJR Troy Grand Digital Cinema 16.
Area restaurants and cafes include Big Rock Chophouse, serving steaks and chops and other fresh cuisines; Cannelle, a local bakery specializing in pastries, croissants, and other baked favorites; and Osaka Japanese Steakhouse, offering sushi and hibachi. When it comes to shopping, residents also have a Target and Kohl's nearby.
The Townes of Northwyck
The Townes of Northwyck Amenities
Escape
Emagine Movie Theater
Sanctuary Lake Golf Course
The Magic Soiree
The Townes of Northwyck homes for sale are located on the northern border between Troy and the town of Rochester Hills. The Townes of Northwyck community is close to Seven Lakes State Park in the Holly community. Here, residents can find boating, camping, hiking, and other outdoor activities.
Costing anywhere between $195,000 and $460,000, the homes within The Townes of Northwyck are all two stories with built-in garages. Home sizes range from 1,300 to 2,200 square feet, with homes coming with two beds, two baths or three beds, three baths. The community also has an outdoor pool, clubhouse, and plenty of surrounding trees that give residents plenty of privacy.
The closest restaurant to the community is Alibi Family Dining & Spirits, a local pizza place that sells a variety of pizza, sandwiches, and other menu items. Another nearby location is Oberweis Dairy, serving a wide selection of ice cream treats. Meanwhile, Shine Café to the south sells lunch and brunch items.
Shopping opportunities near The Townes of Northwyck run the gamut from the shops at Venus Plaza to the south; the local Meijer, known for its groceries, apparel, and electronics, to the north; and Kroger and other shops within Northfield Commons to the west.
Houghten Acres
Houghten Acres Amenities
Crispelli's Bakery & Pizza
Sy Thai
Nordstrom Rack
Troy Marketplace
Houghten Acres is located near central Troy, MI, to the east of I-75. Nestled between Sylvan Glen Lake Park, the Sylvan Glen Golf Course, and White Chapel Memorial Park Cemetery to the southwest, Houghten Acres real estate is not to be missed.
Other area parks include North Glen Park, which is undeveloped but offers plenty of dirt trails to walk, and Jaycee Park, a 45-acre park with baseball diamonds, soccer fields, and a volleyball court. Firefighters Park lies to the west of the Houghten Acres community and is a mixture of open spaces and wooded areas.
Homes in the Houghten Acres area generally cost anywhere between $170,000 and $530,000. House sizes in the community range anywhere from a 2,000-square-foot 3-bedroom, 2-bath home to a 3,600-square-foot home with four bedrooms and four baths.
Amenities and hotspots close to Houghten Acres include Camp Ticonderoga, situated in Sylvan Glen Lake Park overlooking the golf course found there; McVee's Pub & Grub, offering a selection of drinks delicious menu items; and Riparian Grille, serving American food at the Embassy Suites.
Find Affordable Neighborhoods in Troy, MI
While Troy, MI, is rich with amenities, the city is far enough out of the city of Detroit to give its residents plenty of peace and quiet. In addition, there is a lot to do within the area, whether it's spending time outdoors, eating out, or enjoying some local entertainment.
Best of all, anyone looking to move to the area can find a variety of affordable neighborhoods to live in. Many of these neighborhoods are filled with condos and houses in a wide selection of sizes and styles, allowing homebuyers to find a perfect home to meet their needs.
If you're planning to move to the Detroit metro area, contact The Perna Team of Keller Williams at 248-886-4450 to get in touch with experienced local real estate agents who can help you find your perfect Troy home today.