Is Detroit Dog-Friendly?
Posted by Michael Perna on Tuesday, May 4, 2021 at 1:10 PM
By Michael Perna / May 4, 2021
Comment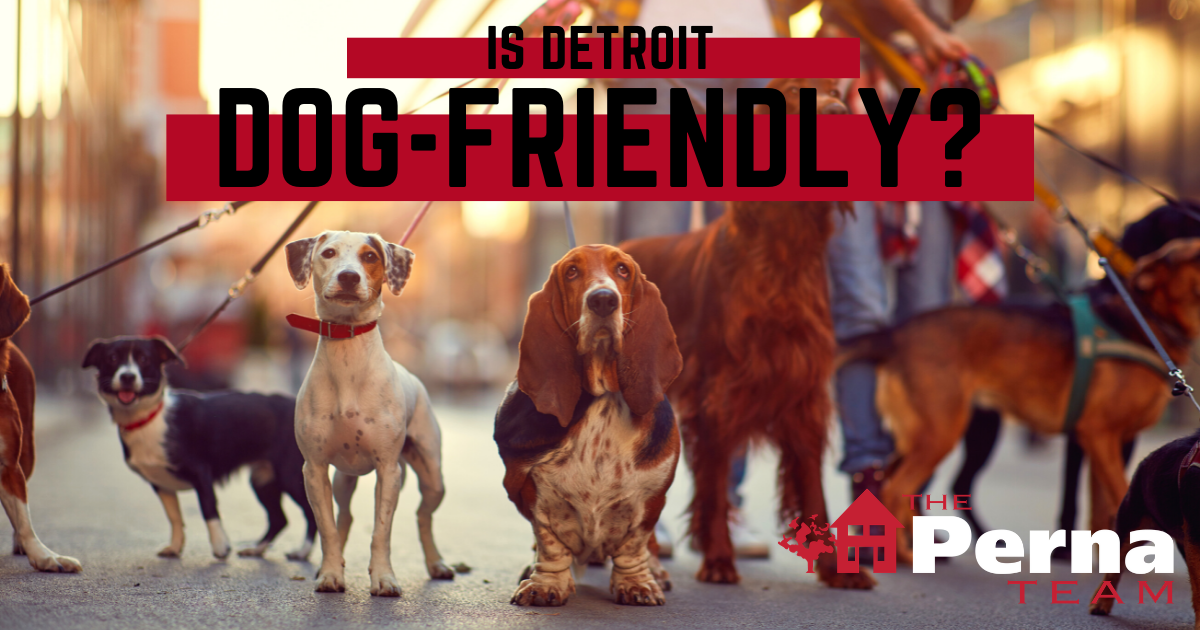 Situated amid the many homes in Detroit, many pet-friendly places welcome well-behaved canines. This big city is unlike any other, with tight-knit neighborhoods and a sense of camaraderie that makes even newcomers feel right at home.
Known best for its reputation as The Motor City, the birthplace of the Model T and where Motown Records was launched, Detroit is a proud city for good reasons. Rich in history and well known for being a haven for foodies, Detroit is bursting with energy and excitement for both humans and their four-legged companions. Here are some of the best dog-friendly places in Detroit, Michigan.
Dog-Friendly Tours & Activities in Detroit
Sharing a new experience with canine friends in Detroit is easy, as there are many activities and even tours that welcome pups. Here are two that locals and tourists alike rave about.
Detroit's Roll Through Motor City Scavenger Hunt Tour
Detroit's Roll Through Motor City Scavenger Hunt Tour is a two-mile trek through the best downtown historical sites and parks. Bring a leashed dog along on this pet-friendly tour that's app-powered to lead searchers to various landmarks to obtain clues to the next location. Prepare to spend about two hours completing the mission.
Captured Colors Visioning Experience
Create a personalized vision board with host Terri at The Parker House during a Captured Colors Visioning Experience. Book a reservation, and make sure that Fido is appropriate for the environment. The host provides supplies, but patrons are encouraged to bring their own mementos and photos to include on their boards. The average experience is around 2.5 hours.
Dog-Friendly Parks and Hiking Trails in Detroit
Getting out and about in nature on dog-friendly trails and off-leash parks in Detroit allows furry friends the chance to expend some energy and get some exercise. Several of Detroit's best parks are dog-friendly, but be sure to check individual parks' pet and leash policies before you go. Here are some top places to take dogs for an outing in town.
The Clinton River Trail
Traverse up to 16 miles on this long-abandoned rail trail that features a combination of rock and gravel along the Clinton River Trail. Nature-filled and tree-lined forests await as the trail crosses through Sylvan Lake, Pontiac, Rochester Hills, and other nearby counties.
Grand Circus Dog Park
Head out to the Grand Circus Dog Park, where several pup-friendly activities occur throughout the year. These interactive experiences are designed to be enjoyed by owners and canine companions such as a Doggy Prom, costume parties, Single Mingles, and Canine Karaoke. There are plenty of spaces for pooches to romp around both on- and off-leash, and the park features around two miles of asphalt and crushed stone trails to hike.
Dequindre Cut Greenway
Dog owners who enjoy street art will find the Dequindre Cut Greenway a satisfying place for an outing with Fido. There are nearly two miles of asphalt trails popular with bicyclists and inline skaters, and leashed dogs are welcome on the greenway. The overpasses are colorfully adorned with clever art, and benches are present along the path. During summer, a food truck offers treats and drinks.
Dog-Friendly Dining in Detroit, MI
If there's one thing dogs love doing, it's eating. Fortunately, dog-friendly Detroit has plenty of local dining places that allow dogs to accompany their owners.
Detroit Shipping Company
Detroit Shipping Company is a trendy, downtown hot spot that serves fare from various shipping container-style establishments. Dogs are welcome at outdoor seating areas, and water bowls are available.
Mercury Burger & Bar
Grab an outdoor table and let pups join in on a meal at the Mercury Burger & Bar. Don't forget to grab a dog burger for companions and a bowl of cool water offered by the staff here.
Traffic Jam and Snug
Homemade bread, desserts, cheeses, and beers back up the lanes at Traffic Jam and Snug. Outdoor seating areas welcome dogs while owners feast on the award-winning food at this pet-friendly restaurant in Detroit.
Dog-Friendly Shopping in Detroit
Want to head out for some outdoor gear or pet supplies? Many local retailers welcome leashed dogs into their stores.
Moosejaw Clothing Store
Moosejaw is an outdoor haven filled with camping gear, sporting goods, clothing, mountain boots, and much more. There is also a moderate selection of pet supplies to make their next outdoor adventure more comfortable too.
Bow Wow Baketique
The Bow Wow Baketique caters to dogs—literally! They use all-natural ingredients such as turmeric and spinach to create healthy snacks and treats dogs love. From single orders to bulk requests, Bow Wow has pet goodies that promote good behavior and dietary habits.
3 Dogs 1 Cat
3 Dogs 1 Cat is known as Detroit's hippest urban pet store, geared towards pet lovers who prefer to support local artisans and business owners. In addition to personalized shopping attention for unique pet supplies, the shop offers educational seminars. Pets are welcome.
Pet-Friendly Lodging in Detroit
One of the most popular ways to explore pet-friendly lodging in Detroit is to look into local offerings on Airbnb. From traditional homes, cozy nooks, and those with breakfast included, there are over 160 listings on the site that welcome pets. Each owner has their own policies, so read carefully before booking or inquire with the host when making a reservation.
MotorCity Casino Hotel
Bring up to two dogs 35 pounds or less to the MotorCity Casino Hotel for a night or two of luxurious lodging at this sleek downtown hotel. Dining is available 24 hours in the restaurant or amid guests' oversized rooms filled with pampering goodies for everyone. Additional pet fees are required.
Detroit Foundation Hotel
The Detroit Foundation Hotel allows up to two pets weighing 50 pounds or less for an additional fee per pet per stay. They welcome felines and canines and are among the few hotels that permit pets to be left unattended in rooms. Pets are given their own bedding, bowls, and treats when they check in. There are also convenient pet-relief stations outdoors, and cat boxes are also available.
Discover Pet-Friendly Detroit
Many are surprised to find out just how pet-friendly Detroit is, and dogs are welcome in many diners, shops, hotels. They love the outings and trails that welcome their attendance, too. There are plenty of fun things to do with canines relatively close to your neighborhood. So go ahead — grab a leash and head out into dog-friendly Detroit to see what this vibrant city has to offer.
If you're planning to move to the Detroit metro area, contact The Perna Team of Keller Williams at 248-886-4450 to get in touch with experienced local real estate agents who can help you find your perfect Detroit home today.