Commuting in Troy, Michigan: A Guide to Interstate 75 & Shortening Your Driving Commute
Posted by Michael Perna on Thursday, October 21, 2021 at 12:49 PM
By Michael Perna / October 21, 2021
Comment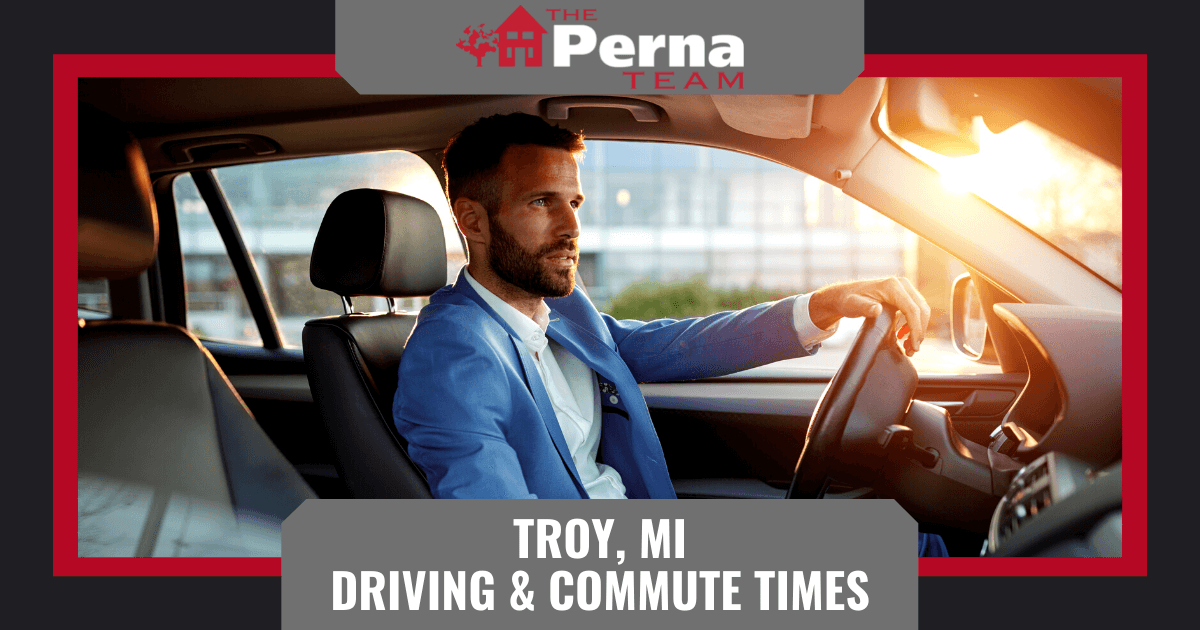 Troy is a modern, moderately sized city of over 87,000 people located in the Metro Detroit area. Many people buy homes in Troy and commute into Detroit for work as well as recreation, entertainment, and shopping. Troy is located about 6 miles north of the northernmost portion of Motor City. It serves as a popular Detroit suburb. Troy itself is a popular destination, bringing in visitors for its shopping and business districts. For those considering a move to an upscale home or condo in Troy, it's a good idea to have a solid understanding of what traffic and drive times are like in the area. Read on to learn more about commuting from Troy, Troy's major roads, and other tips for driving in the Detroit metro area.
Get to Know Your Major Roads in Troy
The main thoroughfare is I-75, which runs through the middle of the city from the north to the western corner. It travels from the heart of Troy to homes in Bloomfield Township before continuing on into Madison Heights. There are four exits off I-75 in Troy, including Exit 65, Exit 67, Exit 69, and Exit 72.
Another significant road through the city is Woodward Avenue. It, along with Telegraph Road, run along the west side of the city. Many use it to enter into the city from the suburbs to the west.
The city's main roads are set up much like a grid, in which the side streets and neighborhood drives fill each square with numerous roadways. The city uses the Mile Road System like that found in Detroit. The Mile Road System helps to make it easier to navigate through the city. Some of the other major roads in the city include the following, moving from south to north:
14 Mile Road (which is at the southern border of the city)
Maple Road (15 Mile Road)
Big Beaver Road (16 Mile Road)
Wattles Road (17 Mile Road)
Long Lake Road (18 Mile Road)
Square Lake Road (19 Mile Road)
South Boulevard (20 Mile Road, which is the northernmost limit in Troy)
What to Expect Driving in Troy at Different Times of Day
As it lies so close to Detroit, traffic can become challenging in Troy during rush hour. Generally, the most congestion, especially along I-75, occurs from 7 a.m. to 8:30 a.m. each morning Monday to Friday heading into the city of Detroit. However, even at peak times, the average commute generally only takes 20–25 minutes, though it can take as long as an hour in some situations.
As with most cities, traffic then becomes congested again in the evenings from 5 p.m. to 7 p.m., Monday to Friday. This, too, leads to longer commute times, often 45–50 minutes on the drive home.
A key concern is a traffic jam, which sometimes occurs on I-75. This can significantly slow down traffic at any exit ramps into the city and back up onto their associated routes.
Commuters should take into account that routes near Troy schools may take longer to traverse during the 2–4 p.m. period Monday through Friday. While this is nothing like the congestion that builds on the freeway, it can become frustrating getting to and from locations in the city if drivers aren't familiar with the area. Most of the major roadways through the city get some backup during rush hour, though not nearly the congestion found on the highways in Detroit themselves.
Parking in Troy
For the most part, parking in Troy is readily available. In the Downtown Detroit area, there are a few paid lots and garages, but this is limited. Most often, it is possible to find parking on the street or in parking lots associated with the business a person is using. That's a good thing for those who are traveling into the downtown area.
There are a few things to keep in mind. For example, commercial vehicles are limitedly used in residential areas. They can be present on the streets only when conducting business. If a person owns a commercial vehicle and wishes to park in their driveway, they can do so but only with one commercial vehicle present.
RVs and other recreational vehicles must be stored. They can be on personal property for up to 48 hours. After that, they must be stored inside of a completely enclosed building or located behind the front of the home so they cannot be seen. They also cannot be closer than 3 feet from the rear or side property lines. These are code laws enforced by the city. RVs cannot be stored or parked in a vacant lot, either.
Commute Times from Troy to Nearby Locations
While Troy is a thriving city that provides for the needs of its residents through various commercial and recreational areas, many people still find it necessary to travel to areas surrounding Troy. Here are some examples of commutes to the areas surrounding Troy.
Troy to Downtown Detroit
Traveling to Downtown Detroit along I-75 S is the most direct route. This takes about 32 minutes to complete. It's about 24 miles in total. There are other options—for example, taking I-75 S and then Woodland Avenue takes a bit longer at 39 minutes with average traffic. It's also 26 miles. But, it may help circumvent some of the traffic there. Both routes take you through homes in Royal Oak, which may be a popular destination as well.
Troy to Novi
Those traveling to Novi real estate from Troy have several options. The most direct route is to take I-75 S to I-696 W, which takes the driver directly through homes in Farmington Hills, another popular destination in the city. This route takes about 37 minutes to complete. It covers about 32 miles. If there's traffic or a driver is looking to stay off the freeway, another option is to take W. Long Lake Road and I-696 W. This takes about 38 minutes and spans about 25 miles. A longer route that's fewer miles takes W. Long Lake Road to Novi, which takes about 44 minutes to go the 24 miles.
Troy to Livonia
Livonia real estate is home to various shops and restaurants along with some parks. To get to Livonia from Troy, most will take I-75 S directly to I-96 W. This process takes about 44 minutes with average traffic. It's about 33 miles. A second option is to take W. Long Lake Road to US-24 S. This route is shorter in distance at 27 miles but takes slightly longer at 45 to 48 minutes. It's also possible to take I-75 S to Highway 10 and then US 24. This route is 34 miles and about 44 minutes to complete.
Troy to Canton
For those visiting Canton, MI real estate from Troy, there are a few options to take. This city is to the southeast of Troy, so the most common route is to take I-69 W. This is also the most likely route for those traveling to homes in Westland. It takes about 51 minutes to complete and spans 44 miles. Another route is to take I-275 S. This takes a bit longer at 54 minutes, but it's shorter in distance at just 37 miles. It is a better option for those who want to avoid Detroit traffic on I-75. A final option is to take I-75 S and then use I-96 W to reach Canton.
Troy to Rochester
Homes in Rochester are located to the north of Troy. It's close and a common residential area for those commuting into Troy or Detroit for work. Rochester is home to Bloomer Park and Rochester Estates, as well as the Great Oaks Country Club. The most direct route to get to Rochester is to take Livernois Road to M-150 to Rochester Road. It takes about 12 minutes to go just over 6 miles. A second route is to take Rochester Road directly from Troy. That takes about 12 minutes as well.
Troy to South Lyon
South Lyon real estate is located southwest of Troy. It's a common destination for those planning an evening out. The most direct option is to take I-696 W to get there. On an average day, it takes 50 minutes to go the 46 miles. This can be significantly higher during rush hour. Another option is to take I-75 S to I-96 W. That takes about 52 minutes and 38 miles to complete. Another option is shorter in miles because it is over side streets. Drivers can take W. Long Lake Road to I-96 W. This is about 37 miles but takes about an hour to complete in average traffic.
Troy to Birmingham
Birmingham homes are located southwest of Troy. This is another larger city in the area and offers a range of commercial and business services. It is also a big residential area. To get there from Troy, which is just a few minutes away, drivers can take W. Long Lake Road and N. Adams Road. This trip is about 15 minutes long to go the 7.3 miles. A second option is to take Livernois Road and W. Big Beaver Road. This is about 7 miles and takes 16 minutes with average traffic. A final option is to take W. Square Lake Road to N. Adams Road. It's also about 16 minutes for the 7.4 miles.
Troy to Northville
Homes in Northville are located in a larger city with much to offer in terms of commercial business, parks, schools, and residential areas. Most days, the best route is along I-75 S to I-96 W. This takes about 45 minutes to complete. Another option is to take W. Long Lake Road, taking about 45 minutes with average traffic (and much longer without). It's about 28 miles but has more lights to slow drivers down. This route may be ideal when there is a significant amount of traffic heading into Detroit on I-75.
Troy to Plymouth
Real estate in Plymouth is also located southwest of Troy. It's a larger city with a wide range of activities, parks, and schools. There are also several residential developments here. Taking I-696 W is the most common route to take. It takes about 45 minutes to complete the 40-mile trip. Another option is to take W. Long Lake Road, which is about 33 mines on side streets and roads with traffic lights. This route takes about 47 minutes to go the 33 miles. Another option is to take I-75 S.
Troy to Ann Arbor
Ann Arbor homes are in one of the largest cities in Michigan, located to the southwest of Troy and close to numerous amenities, including sports, colleges, parks, and much more. It's a common trip for those who are in Troy looking for fun experiences. To get there, the most direct route is to take I-696 W to M-14 W. It takes about an hour to complete with low to moderate traffic. It's about 57 miles this way. A second option is to take M-14 W the whole way. That takes about 1 hour and 5 minutes to complete with moderate traffic. It's about 49 miles. A final option is to take I-75 S to M-14 W. That's a few minutes longer.
Other Helpful Things to Know
Those who are living in Troy will find some unofficial rules of the road to follow. Aside from common-sense rules, such as leaving lots of distance between cars in case of fast stopping, it's also essential to pay close attention to traffic. Look both ways before crossing a street, even on a green.
Snow is a feature of winters in Troy, and sometimes it can become quite deep. For that reason, it is always wise to have good quality tires on the car. The roadways are plowed well and often, but it's still important to drive with caution due to the possibility of black ice. Water can back up onto roadways, too, which can create difficult conditions to drive through.
Choosing a Troy Home?
The more information obtained about the drive time and overall traffic in Troy, the more prepared homebuyers can be when choosing a place to live. Troy's townhomes and new construction homes for sale may be attractive options. Knowing they are in an area with a good commute time or ample parking may help some new residents understand that these properties are exactly what they need. Be sure to take a closer look at all of the options for getting around Troy, MI if considering a move. Driving into the city is just one option, though it is the most common mode of transportation in the city.
If you're planning to move to the Detroit metro area, contact The Perna Team of Keller Williams at 248-886-4450 to get in touch with experienced local real estate agents who can help you find your perfect Troy home today.