Downtown Detroit Driving Times From the Suburbs
Posted by Michael Perna on Thursday, July 22, 2021 at 3:19 PM
By Michael Perna / July 22, 2021
Comment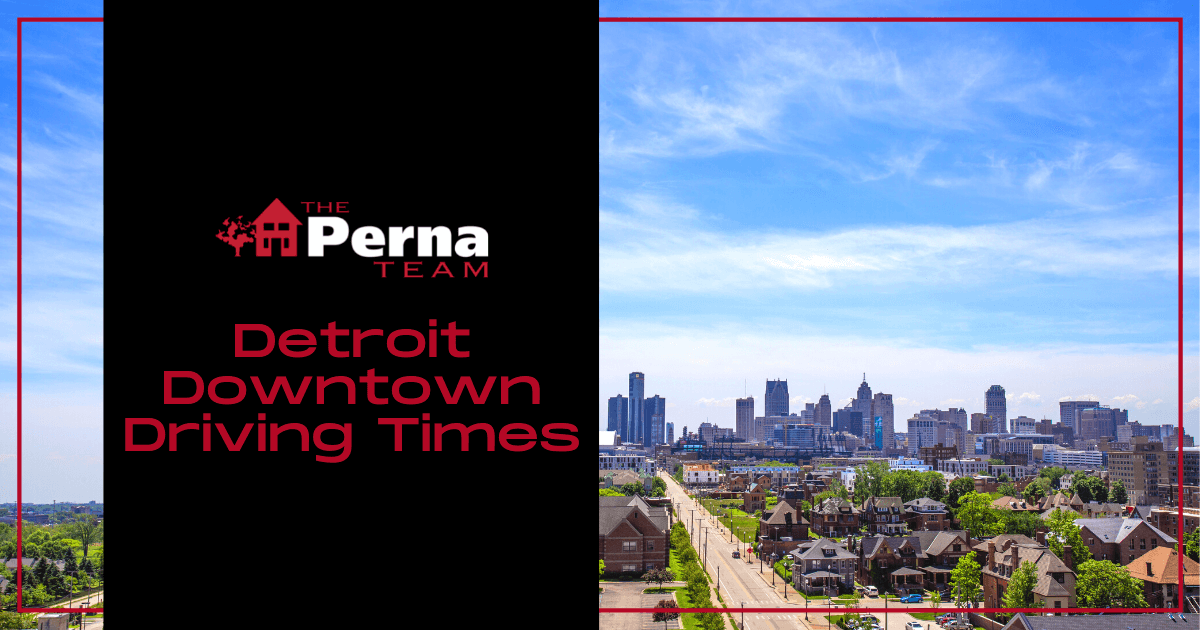 Known as Motor City, the recorded history of Detroit dates back hundreds of years. Today, more than 4.3 million people make their homes in the Detroit metro area, making it the 14th largest region in the country. From Ann Arbor's new construction homes to condos in Troy, the Detroit suburbs have various great real estate options.
Companies like Compuware, General Motors, and Quicken Loans all have headquarters in the city center. Therefore, plenty of people are commuting from the suburbs to the heart of the city. Read on to find a breakdown of what it's like to commute to downtown from a few Detroit suburbs.
Troy to Downtown Detroit
Located 23 miles north of Detroit in Oakland County, the town of Troy had a population of about 80,980 in 2010. Commuters making the trek each day generally have three different paths, the fastest being the I-75 highway. Travel time via this method is about 28 minutes in light traffic, but the evening rush can extend this to 90 minutes.
For those wishing to make the trip without using the highway, there are two surface street options. Using the Woodward Avenue route generally takes about 45 minutes. Mound Road is the other potential street marking the path with journeys ranging from 45 to 55 minutes. Travel via both surface streets can take as long as 90 minutes in heavier traffic.
Berkley to Downtown Detroit
With about 15,000 people, the city of Berkley is located north of Detroit by just over 15 miles. There are three routes that commuters take to get from Berkley to downtown each morning. The I-75 is a great option for those that need to get to the eastern part of the city center. The M-10 is a state-maintained highway moving travelers through the center of the city. The best surface street is Woodward Ave.
All three routes will take drivers from 24-28 minutes to travel during easy traffic. Rush hour commuters could spend 45 minutes driving these roads.
Ferndale to Downtown Detroit
At about 20,000 people, the Ferndale community is another small town just north of Detroit. This city is very close to the Detroit city limits and just over 11 miles from downtown. Much like other communities in Oakland County, drivers have three possible routes. I-75, M-10, and Woodward Avenue all route people about the same distance between destinations.
During rush hour traffic, traveling from Ferndale to downtown will range between 16-28 minutes no matter what route you take. M-10 and Woodward Avenue can both require as little as 18 minutes for the trip during light traffic. However, the I-75 would be the fastest travel time at about 16 minutes.
Ann Arbor to Downtown Detroit
The college town of Ann Arbor is farther away than most of the other suburbs, at about 43 miles. With about 119,000 residents, it is due west of the regional center. Travelers taking this trip have two main routes to get to the destination. The M-14 is a two-lane highway requiring a 40-50 minute travel time under the best circumstances. The I-94 highway is the other potential route, taking about 5 minutes more.
During rush hour traffic, expect the M-14 to host minimal delays most days. Even in heavier traffic, it takes about 55 minutes to get downtown. The I-94 generally has heavier traffic and can take up to 70 minutes to return to Ann Arbor after work.
Novi to Downtown Detroit
Located northwest of Detroit, the Novi suburb is in Oakland County. The community has a population of almost 61,000 people. The fastest travel route between Novi and downtown Detroit would be a combination of the I-696 and M-10. That route requires a 28-minute travel time during periods of light traffic. Taking the M-10, the entire route takes about 35 minutes, which takes the I-96 the whole trip.
While the actual distance is only about 27 miles, rush hour travel via the I-696 / M-10 combination or the I-96 will both take up to 40 minutes. Using the M-10 between 5 p.m. and 7 p.m. could add another 10 minutes to the journey.
Rochester and Rochester Hills to Downtown Detroit
Traveling north and slightly northwest of Detroit leads people to the town of Rochester and surrounding the Rochester Hills community. Both reside in Oakland County, about 27 miles from the metro center. Rochester's population is about 13,000, which is much smaller than Rochester Hills at 74,500. The two towns share a border, with Rochester Hills being slightly closer to Detroit.
Although Livernois Road can be part of the journey, the main way to travel from Rochester Hills to Detroit is I-75. During rush hour traffic, expect the trip to take between 40-60 minutes. During periods of light traffic, the trips take between 30 and 35 minutes each way.
Livonia to Downtown Detroit
Located close to the Detroit border, Livonia is about 20 miles away from the city center. The community is northwest of Detroit and hosts about 93,600 Wayne County residents. Drivers can expect to use the I-96 Express Lane to travel from their homes in Livonia to Detroit. The trip requires as little as 22 minutes in light traffic and up to 50 minutes when traveling during morning and evening rush hours.
Birmingham to Downtown Detroit
Birmingham is in Oakland County and roughly 18 miles away from the regional center. With a population of about 21,000 people, it is located northwest of downtown Detroit. During rush hour, taking the M-10 will generally require 24-45 minutes of travel. Opting for I-75 can take 26-50 minutes after work. In light traffic, the journey to downtown Detroit from houses in Birmingham should take about 28 minutes.
Westland to Downtown Detroit
Located inside Wayne County, the Westland community has a population of about 84,500 residents. The community is located due west of Detroit at a distance of about 19 miles. The I-96 and I-94 both provide service from Detroit to the Westland area. However, both require traveling 10 miles out of the way. During light traffic, I-96 will take about 30 minutes, with I-94 adding up to 10 minutes. Ford Road is the shortest distance between the two communities, but the trip still takes about 30 minutes.
Of the three options, the two highways take about the same travel time during rush hour as during lighter traffic. However, Ford Road can take as long as an hour after work.
Farmington Hills to Downtown Detroit
Farmington Hills is about 23 miles away from the metro center in a northwest direction. With a current population of about 80,600 people, the city is located in Oakland County. During rush hours, the trip in either direction can take up to 45 minutes on I-75 and up to 40 minutes on I-96. However, M-10 presents the fastest journey, at about 35 minutes during rush hour.
In light traffic, drivers take as little as 24 minutes to go between the cities using the M-10, with the longest of the other two options topping out at 30 minutes.
Bloomfield to Downtown Detroit
Bloomfield is located in Oakland County and is about 20 miles northwest of downtown Detroit. It is a tiny community with an estimated population of fewer than 4,000 residents. Traveling between houses in Bloomfield and the regional center will take between 30-35 minutes under the best conditions. Drivers can choose between I-75, M-10, or Woodward Avenue, with the I-75 being the fastest route. During rush hours, all three routes can take as long as 55-60 minutes to travel.
Northville to Downtown Detroit
The Northville city boundaries are split between Wayne County and Oakland County. The city is small, with a population of just under 6,000 people. Despite the city name, it is actually west of downtown Detroit at a distance of about 30 miles. There are generally two routes that drivers use to travel between the two areas. The I-96 is the shorter route, taking between 30-45 minutes at rush hour. The M-10 takes about the same amount of time. However, delays can add another extra time.
During the lightest traffic, both routes will require about 35 minutes to travel.
Royal Oak to Downtown Detroit
Royal Oak is a community in Oakland County with a population of about 57,236. It is northwest of downtown Detroit by about 13 miles. The most direct route between Royal Oak residences and Detroit is to take Woodward Avenue and the M-10, for a total time of 24-28 minutes at best. The fastest route is generally the I-75, requiring 20-24 minutes in heavy traffic. Taking the M-10 the entire way is actually the slowest route, requiring 26-30 minutes.
During rush hour, the I-75 can take as long as 35 minutes to travel. M-10 is the slowest route, with a driving time of up to 45 minutes.
Clarkston to Downtown Detroit
One of the smallest suburbs in the region, Clarkston has a population of just under 1000 people. It is located in Oakland County, and, at 41 miles away from Detroit in a northwestern direction, it is halfway to the city of Flint.
I-75 is the only route between Clarkston homes and downtown Detroit, with rush hour travel times between 45-75 minutes. During light traffic, the same journey can take about 40 minutes.
Move Through Motor City
No matter which community is chosen, the Detroit suburbs invite people to enjoy a laid-back lifestyle with access to the world-class amenities in downtown Detroit. Several towns have downtown-style areas that are comparable to Detroit's most walkable neighborhoods. The Detroit area is truly a region with something for everyone.
If you're planning to move to the Detroit metro area, contact The Perna Team of Keller Williams at 248-886-4450 to get in touch with experienced local real estate agents who can help you find your perfect Detroit home today.