Visiting Detroit: A Vacation Guide to Hotels & Activities
Posted by Michael Perna on Thursday, September 16, 2021 at 10:56 AM
By Michael Perna / September 16, 2021
Comment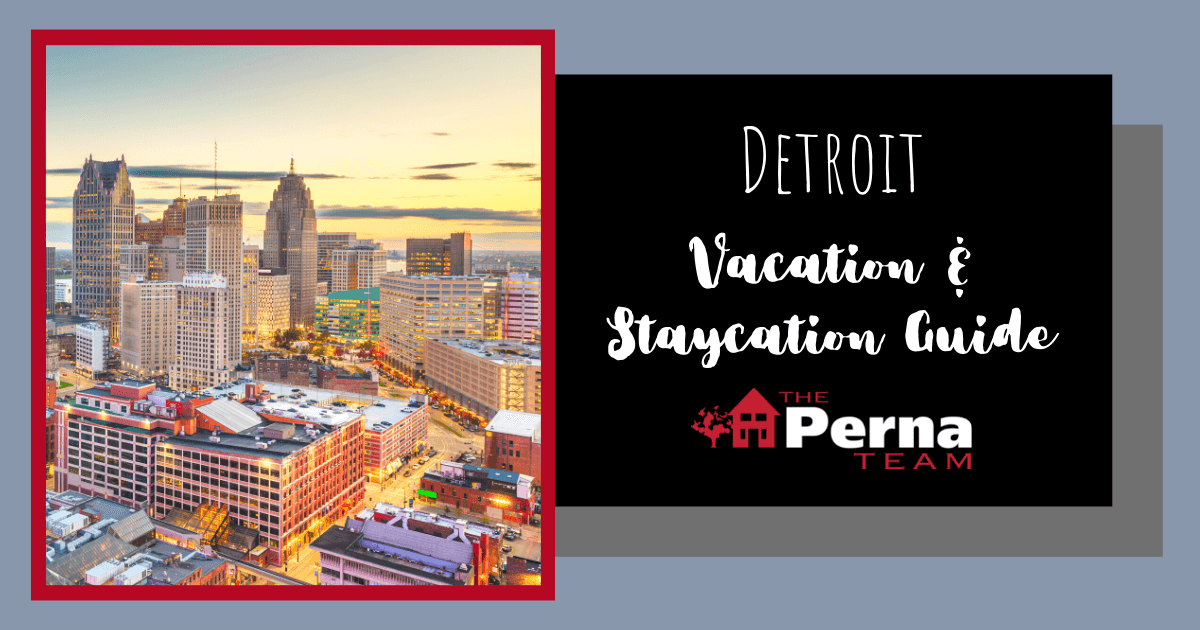 With a rich history and plenty of things to do, the city of Detroit promises exciting getaways for out-of-towners and locals alike. Old architecture with a contemporary twist, boutique inns, luxury Detroit homes, eclectic eateries, and classic landmarks make up Motor City, making it one of America's most exciting cities. Never been here before? Keep reading to find the ultimate Detroit vacation and staycation guide.
Lodging in Detroit
Whether visiting for the weekend, or a week-long vacation, a stay in any of these Detroit hotels and resorts guarantees a plush vacation basecamp.
The Foundation Hotel
The Foundation Hotel Amenities
On-site restaurant
Fitness Center
Podcast Studio
TVs with Netflix
The Foundation Hotel is one of Motown's most iconic hotels.
It's a four-star hotel housed in a former fire department headquarters building built in 1926. The arched fire engine doors, decorative terracotta panels, and terrazzo floors nod to the building's past. In contrast, the decorative lighting and industrial interior embrace the future, creating perfect harmony between old and new worlds. The five-story building has everything guests need for a comfortable stay, including a restaurant, bar lounge, business meeting rooms, and even a retail space.
It has 100 luxurious guest rooms characterized by unique local art, bright whites, metallic accents, and earthy tones that pay homage to Detroit's automotive industry. The award-winning hotel has diverse guest room options ranging from the Foundation King, a standard guest room, to the commissioner's suite, an incredibly luxurious guest room with a separate living and lounging area. The Foundation Hotel is conveniently located in downtown Detroit, on 250 West Larned Street.
The Siren Hotel
The Siren Hotel Amenities
Eight unique rooms
Pet-friendly rooms
Bar and lounge
On-site karaoke
Formerly home to the Wurlitzer Company, the Siren Hotel is a historic gem in downtown Detroit. It's named after the Siren, a beautiful half-maiden Greek folklore creature said to have lured men through enchantment. Like its name, this charming hotel draws guests with its warm Italian renaissance style architecture, exciting food and beverage programs (including a candy bar), and world-class customer services.
The Siren Hotel has 106 rooms divided across categories: the hideout, a room with bunk beds, and the parlor suite, a duplex room with a tastefully furnished living area. All rooms feature stunning Italian linen and handmade blankets and a private room with beautiful terrazzo tiles.
While there's no fitness center, guests get a small cozy restaurant, a swanky cocktail lounge, and a coffee bar on-site. Its rooftop bar offers fantastic views of Comerica Park, making it the perfect spot to end the day.
The Siren Hotel is on 1509 Broadway Street, just two minutes from Woodward Avenue, three from Vertical and Wright Company, and five from Comerica Park. It shares the block with attractions such as The Gem & Century theatres.
Food and Dining in Detroit
The most famous restaurants in Detroit serve cuisine that ranges from coney dogs to caviar. Here are a few restaurants that are perfect for memorable vacation meals.
The Whitney
Popular Dishes at The Whitney
Lobster Bisque
Beef Wellington
Wild Berry Sorbet
Black Peppered Salmon
Oyster Whitney
The Whitney is a 22,000sq.ft mansion turned restaurant. It was home to David Whitney Jr., a renowned lumber baron and Detroit's wealthiest man in the 1890s. Today, the condo has been renovated into an elegant restaurant with stained windows and wood paneling. The Whitney offers an impressive array of American cuisines, including a four-course dinner.
Whitney's beverage selection is equally impressive. The Whitney hosts Sunday brunches, garden parties, and daily events like the mansion tea service and a champagne tour.
Legend has it that The Whitney experiences paranormal activities. The hotel, however, offers a paranormal dinner tour meant to uncover the truth behind the legends and tales of the Whitney estate. The dinner starts at 5 pm and includes a four-course dinner with specified spirits and a guided paranormal tour.
American Coney Island and Lafayette Coney Island
Popular Dishes at Coney Islands
Coney Dog
Gyros
Greek Salad
Chili Fries
Homemade Doughnuts
Don't leave Detroit without a taste of Detroit's classic specialty — the coney dog. This Detroit standard is a lip-smacking hot dog topped with loads of white onions, chili, meat, and yellow mustard and served on steamed buns.
The American and Lafayette Coney Islands are the best spots to grab this tasty snack, especially since they're credited with its existence.
Restaurant-goers can even take away a Coney kit complete with the ingredients they need to make a Coney Island hot dog at home. Try Coney dogs from both joints to decide who wins the century-long American vs. Lafayette Coney Island rivalry yourself.
Buddy's Pizza
Popular Dishes at Buddy's Pizza
Buddy Bread
Antipasto Salad
Greektown Pizza
The Detroiter Pizza
Creme Puff Sundae
There's nothing better like a hot, cheese-loaded Detroit-style pizza after a day of touristy activities in Motown. Buddy's Pizza is just the place to get it.
Established in 1946, Buddy's Pizza is a chain of famous pizzerias based in Detroit. Their Pizza, the Detroit-style square Pizza, was named one of the best in the country. It stands out from your regular pizza because it's built backward. They start with the double-proofed dough, followed by toppings like pepperoni, loads of cheese, and red sauce on top hence the nickname red top pizza.
Also, instead of mozzarella, Buddy's Pizza is made using Wisconsin brick cheese, so each slice is extra cheesy, thick, and soft. Buddy's Pizza has almost 20 pizzerias in the Detroit area, so you should have no trouble finding it.
Attractions in Detroit
Like most Michigan cities, Detroit is also home to many historical, cultural, and social attractions. The following attractions ensure fun-filled vacation days.
The Henry Ford Experience
A visit to Motor City is never complete without a tour of the Henry Ford Museum. Sprawled across 250 acres of land, the Henry Ford Museum celebrates the city's innovation with four unique attractions:
The Henry Ford Museum of American Innovation
An artifact repository brimming with historic auto relics such as President's JFK limo
Greenfield Village, home to historic buildings
The Ford Rouge Factory tour
Take the Rouge Factory Tour to see how America's most famous pickup truck, the Ford F-150, is built. Stop by the Rosa Parks bus or take a spin through Greenfield village in a cool, vintage Model T Ford ride. Besides the above, the Henry Ford Museum also has a public charter high school with over 500 students. The Henry Ford museum receives over 1.7 million visitors annually, so guests might want to get there early.
The Fox Theatre
Visit the Fox Theatre and experience what it must have been like to watch films in a 1920s theatre. It's a historical landmark for all the right reasons. Built to replace an outdated theatre, the Fox Theatre in Motown was the first ever to include elevators, escalators, and a built-in system for talking movies.
The striking ten-story building was built by Charles Howard Crane, a seasoned Detroit architect known as Charles Howard Crane. Charles is credited with designing over 200 theatres in North America and Detroit. It's a truly magnificent structure featuring a six-story lobby and a pillared auditorium with 5,048 seats.
The theatre is nicknamed a temple of amusement and has hosted countless live productions and performances from artists like Elvis Presley, David Copperfield, and Chris Rock. Today, Fox still hosts kid-friendly shows such as Sesame Street Live. It opens an hour before scheduled concerts and events, and cameras aren't allowed into the premises.
Movement Electronic Music Festival
The Movement Electronic Music Festival is a must-attend event for techno fans. It's an annual three-day event featuring over-the-top performances from over 100 artists on five different stages. The Movement Electronic Music Festival happens in an outdoor setting at Hart Park, a stunning, lush-green city park along the banks of the Detroit River.
The first-ever electronic music fest happened in 2000 when Carol Marvin and the Belleville three (Kevin Saunderson, Juan Atkins, and Derrick May) organized the first show to celebrate Motown as the birthplace of techno. It has since grown into a recognized festival, attracting tourists and techno enthusiasts globally. Countless talented DJs, producers, and musicians, both local and international, have also graced the show in past years and are set to continue doing so. The event is usually open to all ages and is even free for kids under 12 as long as a paying guardian accompanies them.
Adventures in Detroit
For fun adventures in Motor City, visitors should be sure to stop by the following hot spots.
Belle Isle
Belle Isle is an adventure-filled destination by the U.S.-Canada border. It's a picturesque island-style state park on the banks of the Detroit River. The island is three miles long and perched between Michigan and Ontario, meaning visitors enjoy spectacular views of downtown Detroit and Windsor on the other.
The Isle has enough entertaining activities to keep visitors entertained all day. Play golf, visit the Nature View for an up-close view of Michigan's unique species, or let your inner child run free at Belle Isle's giant slide. Visitors can also learn about marine life at the Belle Isle Aquarium or laze around and get a tan on the island's beach.
It's a stunning, tranquil state park perfect for nature lovers and outdoor activity enthusiasts. Note, although it's free, you'll need a recreation passport to drive on the island. Alternatively, guests can turn this into a fun adventure and walk or cycle to the island for free.
Motor City Brew Tours
Motor City Brew Tours is a fun-filled, guided adventure through some of Detroit's most renowned breweries.
Organizers usually have a full day of beer tours and tastings organized. Tours are done by either bus, boat, or by walking. Private bus tours take about five hours and include stops by at least three famous breweries such as the Detroit Beer Company and Motor City Brewing Works & Winery.
Guided bike tours start downtown Detroit and end at a local brewery where tour-goers are treated to local beer, cider, and mead samples. They also include stops by popular downtown Detroit attractions and prohibition-era landmarks.
The company holds fun boat cruise events that involve sampling local beers while enjoying the spectacular views of the Detroit River. All Motor City brew tours are a day-long adventure that starts at 11 am through to 4 pm and includes a complimentary lunch, water, and snacks.
Outdoor Adventure Center
Housed in the Globe Building, the Outdoor Adventure Center is a haven for nature and outdoor lovers. It sits along Detroit's riverfront on William G. Milliken State Park and boasts plenty of fun ways to enjoy the greater outdoors. For instance, visitors can take a walk on the Dequindre trail right in its backyard, climb a massive oak tree, explore its giant aquarium, or even fish altogether. The 40,000 square foot building also hosts fun exhibits and simulators perfect for kids and adults alike.
Here's a Detroit fun fact: before becoming the OAC, the Globe Building had been vacant until the Michigan Department of Natural Resources renovated it into today's great outdoor hub. Former occupants of this industrial landmark include:
The Dry Dock Engine Works in the 1860s
The Detroit Shipbuilding Company during the early 20th century
Detroit Edison Company in the late 1920s
When to Visit the Motor City
Detroit is a beautiful, rapidly growing city with fun activities and annual festivals. Summer comes with sunny weather and warm temperatures that sometimes get as high as 80 degrees. The warm weather offers an opportunity to shop outdoors, enjoy scenic dining, go fishing, try mountain biking, or float down the Detroit River in a tube.
Despite the chilly winter weather, there are still many fun winter activities such as outdoor ice skating, snowshoeing, and winter disc golf.
There are also plenty of events all year such as:
The hockey tournament is held each January at Little Ceasers Arena
The Plymouth Ice Festival in February
An annual St. Patrick's Day parade in March
The Detroit Music awards held every April
The Eastern market flower day
A fun Chevrolet Detroit Grand Prix street racing event or the Motor City Pride parade held every June
The Concours d'Elegance every July
The Thunder Over Michigan Air Show in August
The annual Detroit Jazz Festival or the North American International Auto Show for auto-enthusiasts held every September
The Detroit Red Wings in October
America's Thanksgiving Parade every November
Henry Ford's holiday nights held each December at Greenfield Village
Discover Detroit, Michigan Today
Detroit has undergone a renaissance in recent years, making it one of the most attractive places for a Michigan vacation or staycation. The city now offers both locals and tourists an array of fun things to do and explore. Start planning your Detroit excursion today!
If you're planning to move to the Detroit metro area, contact The Perna Team of Keller Williams at 248-886-4450 to get in touch with experienced local real estate agents who can help you find your perfect Detroit home today.