Things to Do in Detroit: Detroit, MI Places to Go and Things to Do
Posted by Michael Perna on Monday, November 2, 2020 at 10:47 AM
By Michael Perna / November 2, 2020
Comment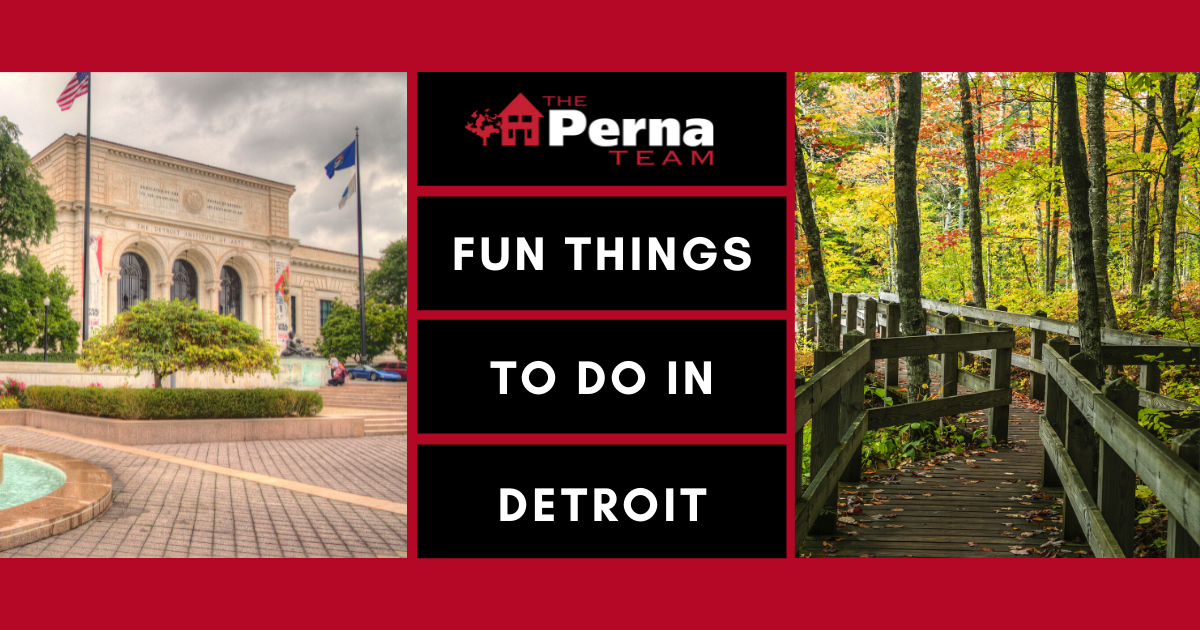 Detroit is better known as the Motor City by long-time locals and car enthusiasts around the world. With General Motors, Ford, and Fiat Chrysler all headquartered on Detroit real estate, it's easy to see why millions of locals and visitors flock to the city in order to learn everything about the history of the automobile industry. However, cars aren't the only things you will readily find in and around Detroit. In fact, the city has a plethora of indoor and outdoor activities that can keep long-time locals and those fresh to the city entertained for years to come. From outdoor adventures to shopping, dining, arts, and nightlife, Detroit has an activity for everyone all year round. Here are some of the most popular things to do in Detroit.
Detroit Outdoor Adventures
With hot summers and cold winters, locals and visitors alike can find a range of activities to complete throughout the year. It is encouraged to engage in Detroit's outdoor activities during the spring and autumn months in order to fully enjoy the activity without worry or fear of the extreme temperatures.
Parks
Detroit has a number of parks open to the public every season of the year across the city. Some of the area's most beloved parks can be found in the heart of downtown. Beacon Park, Grand Circus Park, Belle Isle, and so many more offer residents the ability to enjoy fresh air with family, friends, and four-legged companions. Most of the parks in Detroit are pet-friendly so long as the pet remains on a leash, is well-behaved, and has the owner clean up after a bathroom break.
Water Recreation
Detroit has numerous lakes with boat, kayak, and canoe access throughout the city. Whether going on for a day on the water in Lake Erie, Lake St. Clair, or taking a trip to one of the many inland lakes, Detroit has the perfect lakes for all types of water activities. Those who prefer to swim in a pool can find numerous options throughout the city as well. One of the largest and best-known areas for swimming is Rouge Park, which has not one, but two Olympic-sized swimming pools that are open daily!
Hiking & Biking Trails
When the weather is right and your gear passes all of its inspections, Detroit offers a large variety of well-maintained hiking and biking trails in the area. Dequindre Cut Greenway and William G. Milliken State Park & Harbor are just some of the hiking hubs in the heart of Detroit. Outside of Detroit, Macomb Orchard Trail and Paint Creek Trail offer serene oases. Avid bikers can enjoy light exercise on the aforementioned hiking paths. Those who are serious about adventure and getting their heart pumping can take on the Potawatomi Trail.
With so many outdoor adventures to choose from in Detroit, it can be hard to decide which activities to tackle first. Fortunately, the spring and autumn months in Detroit are long enough to allow you ample time to knock as many adventures off your list as possible every year. Detroit is always growing and changing, so be prepared to see even more outdoor activities to come to the city in the future!
Detroit Shopping
When it comes to shopping, Detroit knows exactly how to show residents and visitors a good time. The malls and outlets in Detroit have been carefully designed with convenience, accessibility, and selection in mind to provide the best experience to everyone who comes in to shop. Residents and visitors alike must visit downtown Detroit to experience the hustle and bustle of the city. From the GM Renaissance Center to Eastern Market, the heart and soul of Detroit can be felt on every street as you go in and out of stores. Exceptional malls and areas to visit in the area for shopping include the Somerset Collection, Birmingham Principal Shopping District, and Twelve Oaks Mall.
Detroit Restaurants
Detroit welcomes millions of visitors into its city every year, which means there is something for everyone in and around the area. Whether you are seeking a high-class, 5-star meal or the fastest, easiest, and cheapest meal you can find, Detroit has that and everything in between. If you can think of a dish, you can find a restaurant in Detroit that is serving it up at the highest quality possible. Some of Detroit's most famous restaurants include Giovanni's Ristorante for the best Italian you can find, Fishbones for authentic Creole dishes, Green Dot Stables for sliders, Lafayette Coney Island for a Coney dog, and Joe Muer Seafood for seafood dishes and amazing views of the Detroit River.
Arts & Culture in Detroit
The arts and culture scene in Detroit is bold and powerful. Artists are revered for their ability to express themselves through art without fear of sticking to cultural norms or societal rules. Viewing arts and culture in Detroit can be a moving experience for many. With the number of open art galleries and walks, it is incredibly easy to get a taste of what the scene is all about.
Museums
When it comes to museums in Detroit, they are built with more than just elementary school field trips in mind. Whatever your interests, Detroit likely has a museum for it. Of course, the Motor City has a number of car museums around the city, such as the Henry Ford Museum. Those who love Motown will be ecstatic to find the original Motown House right in Detroit. Art, science, nature, and African American culture museums are strategically placed all around the city to ensure everyone can access the museum of their choice. If you're walking around the city, make sure you make time to see the Spirit of Detroit and the Monument to Joe Louis.
Art Galleries
Art galleries can be found in every cardinal direction of Detroit. You could throw a stone and hit an art gallery's door just as easily as you could hit a restaurant. Every artist featured in these galleries has a different style, which makes the art scene in Detroit vivid and enticing. No two galleries are the same. Each one transports its visitors into a different emotion and attempts to create conversation on various topics. Every neighborhood in Detroit has at least one gallery, and many are open to the public. The largest cluster of art galleries can be found in Midtown, Eastern Market, and Downtown. The most famous art gallery in Detroit is the Detroit Institute of Art, you would be remiss to skip the Lincoln Street Art Park.
Dance & Theater
Those who enjoy a night out on the town with a tad of sophistication can enjoy mature and professional theatrical performances in and around Detroit's downtown area. The Fox Theatre is the most iconic theater in all of Detroit, and it hosts a wide variety of musicals, musical acts, and entertainment shows. The Detroit Opera House is another iconic theater where you can see operas and ballets such as Madama Butterfly or Swan Lake, and even some Broadway musicals like Sweeney Todd.
The arts and culture scene in Detroit is something that truly should be taken in by everyone living in or visiting the city. From 2-D paints and prints to live performances, there is a piece of art and a bit of culture that can be enjoyed by everyone.
Detroit Nightlife
With its large bustling city, Detroit has become home to some of the country's best nightlife. Long-time residents and visitors have a number of options to choose from almost every day of the week to blow off some steam from work. Clubs, casinos, bars, and rooftop parties are all easily accessible throughout downtown Detroit. Popular nightlife options include the Greektown Casino, Bleu Detroit, and Exodos Rooftop Lounge, and these are only a tiny selection of all the options available. Whatever your taste in music or size of the crowd, there is a venue for you in Detroit that will make the night memorable.
Never a Dull Moment in Detroit
While Detroit may be known as the Motor City, it has a lot more to offer its residents and visitors than just cars. The number of attractions in Detroit continues to increase year after year to meet the ever-growing needs of the city. From new rooftop bars to larger art galleries, Detroit truly has the ability to serve the needs and tastes of every individual walking around the city.
Whether you are trying to relocate to Detroit or are a Metro Detroit native looking for some new things to do, you can find it in the city. Thousands of restaurants, museums, and activities are just waiting to be discovered in Detroit.
If you're planning to move to the Detroit metro area, contact The Perna Team of Keller Williams at 248-886-4450 to get in touch with experienced local real estate agents who can help you find your perfect Detroit home today.