Best Annual Festivals in Detroit, MI
Posted by Michael Perna on Tuesday, August 17, 2021 at 8:57 AM
By Michael Perna / August 17, 2021
Comment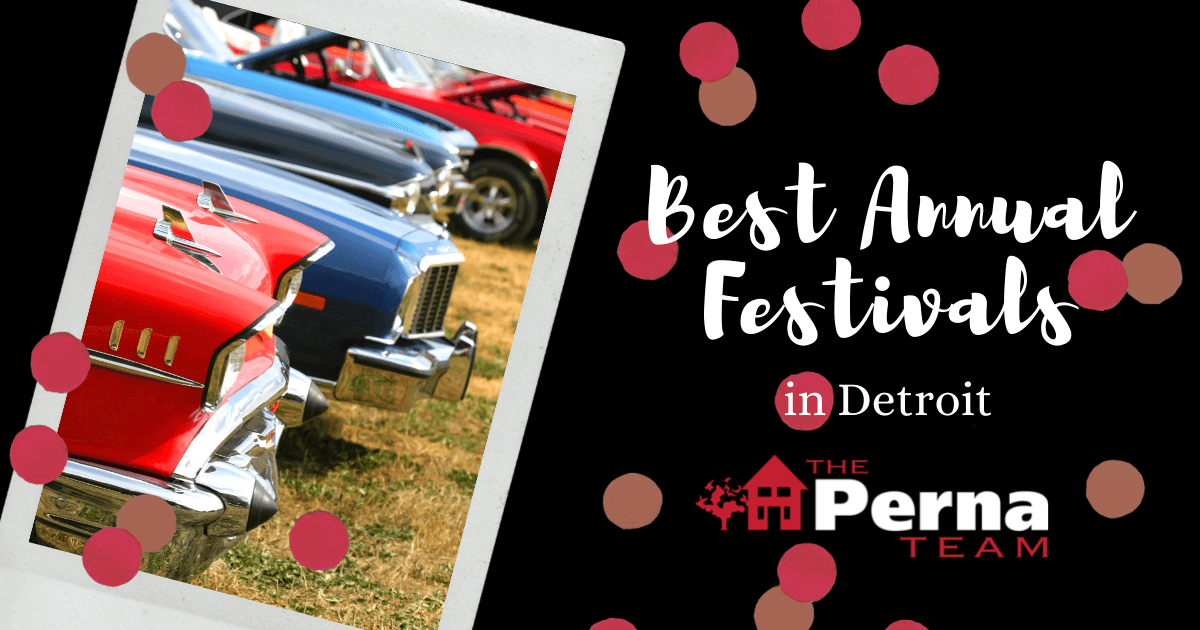 Festivals are incredibly exciting because they bring together all aspects of the themed event for a few days. Visitors looking for fun things to do can fully immerse themselves into the arts, music, food, and performances they have waited all year to see. Local Detroit residents can escape into crowds of like-minded individuals who are just as thrilled to see what organizers have in store this year. Fortunately for those who call Detroit home, every season of the year has more than one festival that awaits them. Keep reading to discover annual festivals in Detroit, MI.
Spring Festivals
Bringin' Back the 80s Festival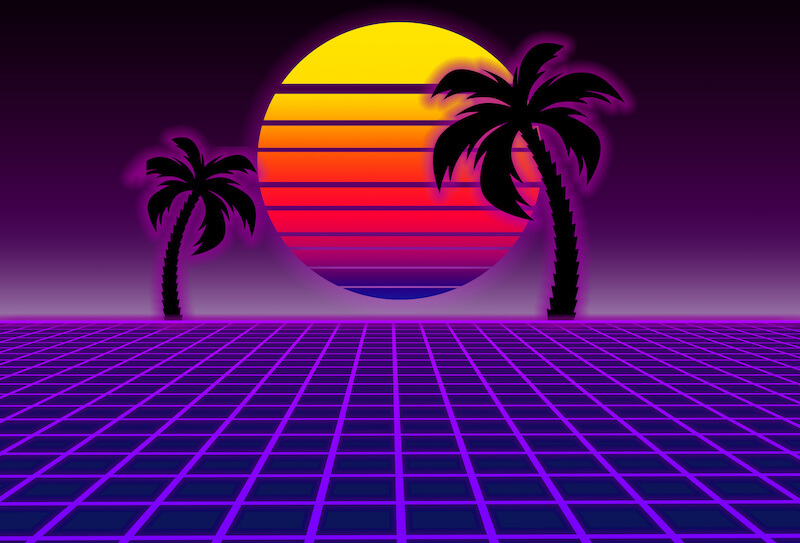 Bringin' Back the 80s occurs in April each year. The weekend itself varies depending on availability for the large outdoor pavilion. Because Detroit weather can be unpredictable this early in spring, the festival accommodates weather conditions by opening the doors or adding heat. With free parking and shuttles for attendees, this festival has grown into one of Detroit's most-loved 80s events!
The festival began in 1999 when the mother of the festival's producers passed away due to cancer. The festival donates many of its $15 ticket proceeds to support those struggling with the hardships that come when a family member has cancer. From wig banks to hospice care and cancer research, the festival helps to make a difference every year.
In honor of their late mother, the festival hosts bring her favorite 80s music back to life annually. Breakdancing competitions and costume contests are held each day of the two-day festival. There are also numerous bands, both local and national.
Bringin' Back the 80s Festival Additional Information
When: Third/fourth weekend of April
Cost: $15 per person
Parking: Free on-site
Movement
Movement Electronic Music Festival occurs every Memorial Day weekend and has since 2006. The event celebrates electronic dance music in a unique location that showcases spectacular views of the Detroit River. Detroit is actually the home of techno music, so attendees can expect many artists to pay tribute to the genre.
The average three-day ticket for the festival is $200+. VIP tickets and express entry passes are usually available. Attendees can dance their way between five different stages and enjoy up to 10 hours of music each day of the festival. On-site attractions change annually to provide a one-of-a-kind experience for those who attend the festival each year. Past attractions include a studio experience for aspiring musicians and a riverside garden.
Movement Additional Information
When: Memorial Day Weekend
Cost: $200+ per person
Parking: Several lots and garages in downtown
Summer Festivals
Woodward Dream Cruise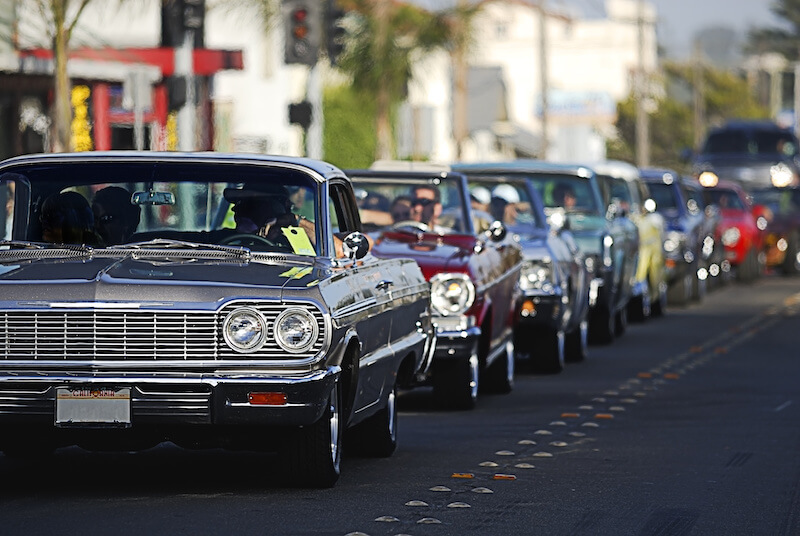 Woodward Dream Cruise has nothing to do with cruise ships and everything to do with classic cars! Held annually on the third weekend of August, Woodward Dream Cruise is the largest one-day celebration for classic cars. Attendees come from across the country to watch over 40,000 muscle cars, street rods, collector cars, and custom vehicles drive.
As everyone knows, Detroit is the home of the American automobile, so it makes sense for the largest classic car celebration to be held here. Over one million visitors make their way to Detroit for this event, which started in 1995 as a fundraiser and quickly became a fan favorite.
The event is completely free for those who wish to drive in the Woodward Dream Cruise or just spectate. Classic cars and street rods lead the way. Collector cars are in the middle, while custom vehicles and new models make up the caboose of the parade.
As the amount of cars continues to grow, so does the parade route. Currently, the route is a 16-mile cruise through nine municipalities throughout the county. Attendees should visit the festival's parking and direction page for more information about the specific municipalities and finding the best nearby parking.
Woodward Dream Cruise Additional Information
When: Third weekend of August
Where: Woodward Avenue, Oakland County
Cost: Free
Parking: Several parking options throughout the county
Detroit Jazz Festival
Detroit Jazz Festival has celebrated Detroit's rich history of jazz for the past four decades. When it began as a small group of musicians coming together to play jazz, the original performers had no idea what the event would become. Now, the Detroit Jazz Festival is a world-class event that attracts attendees from across the nation.
Through the support of sponsors, donors, and volunteers, the Detroit Jazz Festival remains free for spectators over 40 years later. The festival occurs every Labor Day weekend, with at least 60 performances lined up over the three-day event. Rising stars, homecoming artists, and legends wow audiences by performing original pieces and improving classics.
In honor of jazz itself, spontaneous late-night sessions pop up every year. They're not planned, so it's worth it for attendees to keep their ears to the ground. They never know when one of the legends will decide to perform a lengthy performance after the festival has wrapped up for the day.
Detroit Jazz Festival Additional Information
When: Labor Day weekend
Cost: Free
Parking: Several lots and garages in downtown
Soaring Eagle Arts, Beats & Eats
Soaring Eagle Arts, Beats & Eats, also known as just Arts, Beats & Eats, combines three of the best aspects of Detroit: the art, the music, and the food! Every Labor Day weekend, visitors can explore the best of what local artists, musicians, and cooks offer. Soaring Eagle is about embracing and celebrating the local community.
The fine art show features many local artists. The medium is up to the artist themselves, allowing visitors to see the best works of art. Even some national artists find their way to Soaring Eagle.
Those who love music can experience the dynamic local talent across nine stages. Each stage has its own theme, which allows attendees to experience the exact beats that speak to them.
No Soaring Eagle festival would be complete without the food. Classic American dishes, Detroit-style pizza, and unique cultural dishes are all available. Even a few desserts can be found by meandering throughout the festival. Tickets are $3 before 3 p.m., $5 before 5 p.m., and $7 after 5 p.m.
Soaring Eagle Arts, Beats & Eats Additional Information
When: Labor Day weekend
Where: Downtown Royal Oak, 301 W 4th St Suite LL-150, Royal Oak, MI 48067
Cost: $3, $5, or $7, per person depending on the time of entry
Parking: Several lots in downtown
Fall Festivals
Art & Apples Festival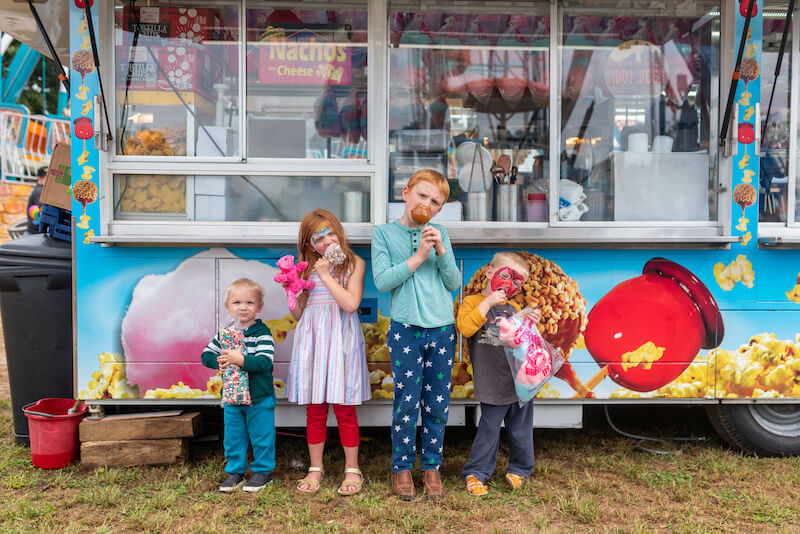 Art & Apples Festival has introduced the local Rochester community to the arts and freshly grown apples in the area for over 55 years. Over 30 acres of land are transformed every second weekend in September into an outdoor fine arts exhibit. Over 200 exhibitors bring their best pieces for visitors to pursue at their leisure.
This completely free event offers food trucks and tents open all day. Additionally, multiple live performers are scheduled across the stage over the three-day weekend. The festival is designed with all ages in mind, so there's even a Kids Art Zone and Creation station.
As the name of the festival implies, apples will be everywhere. From apple picking to enjoying tasty treats made by vendors, the smell of apples is in the air.
Art & Apples Festival Additional Information
When: Second weekend in September
Cost: Free
Parking: Paved lots near the event
Funky Ferndale Art Fair
Funky Ferndale Art Fair brings together 100 juried artists on one street at Nine Mile. Visitors will see live demonstrations and have the opportunity to view several exhibits during their visit. The outdoor fair is free to attend. While the fair has only occurred since 2015, it continues to grow annually and bring together some of the nation's best artists.
Visitors can watch hair and body art demos throughout the day. Attendees will be shocked to see the creations that can be made on a human canvas. Those who want to get their hands a little dirty can participate in the community mural. Each year, a new one is painted at the festival to celebrate the local areas.
The fair also brings together music and food. Local food vendors are strategically located throughout the fair. At several points, DJ booths are playing soul, funk, and disco to set the mood. As the organizers say, the fair is twice as funky as any other festival in Detroit.
Funky Ferndale Art Fair Additional Information
When: Third weekend of September
Cost: Free
Parking: Several options downtown with free shuttle
Hallowe'en
Henry Ford's Hallowe'en in Greenfield Village is an annual tradition in Detroit that has spanned over 40 years. Everyone can visit Hallowe'en to see all the sweets, treats, and frights that await. Every year, the festival expands to offer a better Halloween adventure to guests.
An illuminated jack-o'-lantern path and Hallowe'en Express train are some of the newest additions. Storybook experiences from classics like Alice's Adventures in Wonderland and Peter Pan are available as well. Over 50 costumed characters are throughout the village to add to the Halloween experience. The festival occurs each weekend throughout October, and tickets start at $14.50 for each visitor. Greenfield Village is full of fun and things to do with kids year-round, not just during their Halloween festivities.
Hallowe'en Additional Information
When: Every weekend in October
Cost: $14.50 (member) or $17 (non-member) per person
Parking: Free and paid parking on-site
Winter Festivals
North American International Auto Show
North American International Auto Show brings forth the latest and greatest in car advancement technologies. From safety to performance and style, this is the event where car manufacturers unveil their latest creations.
Held in the last week of January, the week-long event starts with press preview days. From there, industry and charity preview days commence. Finally, the show opens to the public. It's estimated that the North American International Auto Show brings in over $500 million of revenue to Detroit's economy each year.
Hamtramck Music Festival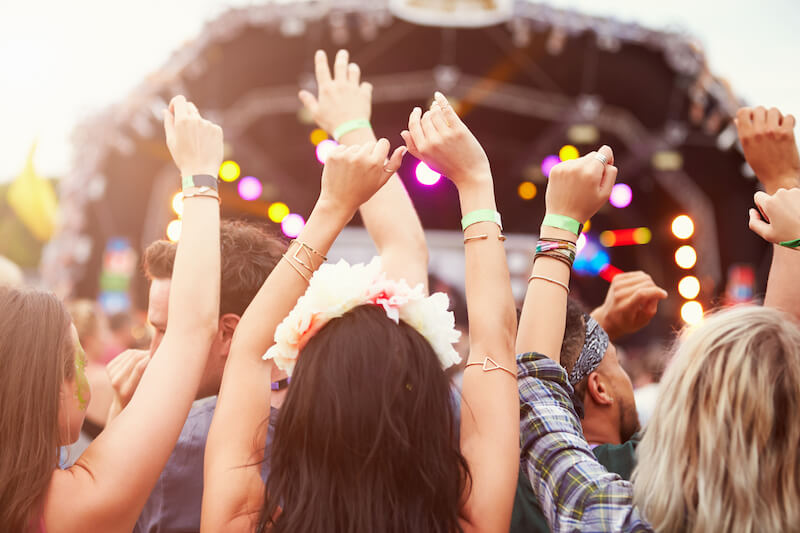 Hamtramck Music Festival is one of the largest local music festivals of its kind throughout the country. Hosted by a non-profit organization, the festival celebrates local Detroit musicians. Rather than inviting big artists, the festival is designed to celebrate and uplift the local community. In fact, most of the proceeds from the $15 ticket provide new school supplies to local public school students.
Often held in late February, Hamtramck Music Festival is a three-day event designed to entertain attendees with cultural heritage music. This includes genres like blues, jazz, soul, R&B, and rock and roll. Every performer and individual running the event is present on a volunteer basis. No one is paid to organize or perform, which adds to the experience and resonates with the festival's mission.
Hamtramck Music Festival Additional Information
When: Late February
Cost: Free
Parking: Street parking available nearby event
Plymouth Ice Festival
Plymouth Ice Festival is a unique event that brings together downtown businesses and ice sculptures. Each year, over 65 ice sculptures are carefully carved and placed in the downtown Detroit area. The event occurs in late January or early February over a three-day weekend, so visitors are encouraged to mark their calendars early.
The sidewalks of downtown are lined with ice carvings by local sculptures. Local businesses participate in the festivities. Many offer discounts and treats that perfectly complement the experience for visitors. The festival itself is free for all to attend.
Because the sculptures are on the sidewalk, they're available to visit 24 hours a day. Until the Detroit weather no longer allows it, the sculptures remain. They'll slowly melt over time, which can also be interesting to view as well!
Plymouth Ice Festival Additional Information
When: Late January / early February
Cost: Free
Parking: Several lots and garages in downtown
Fun Times Await at Detroit's Festivals
Few other cities in the world carry the same cultural and local pride on their shoulders like Detroit. With its rich culture and diverse history, Detroit is the perfect city to host various festivals that entertain locals and visitors alike. Every festival celebrates at least one aspect of Detroit that makes the city so great. When one wants the best music, artwork, and food in one area, they don't need to look any further than this great city and its annual festivals.
If you're planning to move to the Detroit metro area, contact The Perna Team of Keller Williams at 248-886-4450 to get in touch with experienced local real estate agents who can help you find your perfect Detroit home today.