Troy Trails: Find the Best Places For Jogging, Hiking, Walking & Biking in Troy
Posted by Michael Perna on Friday, February 25, 2022 at 2:40 PM
By Michael Perna / February 25, 2022
Comment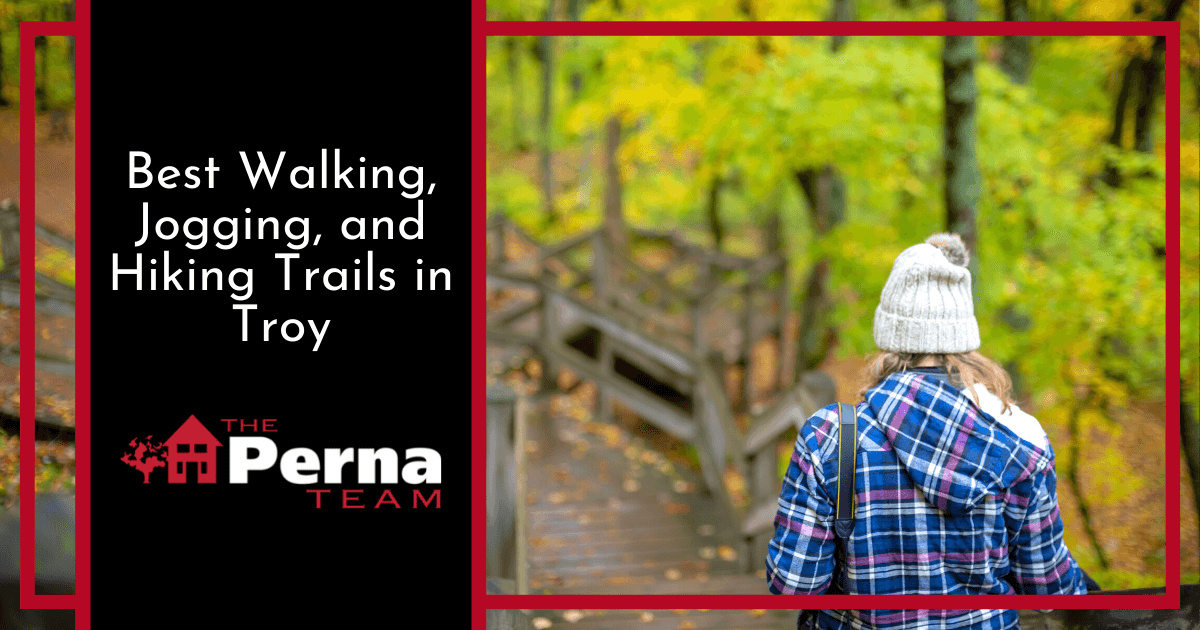 If a leisurely stroll or a day hike through serene, natural trails is one of your favorite pastimes, you'll love living in Troy. This charming suburb is endowed with expansive green spaces, multiple community and neighborhood parks, and some of the most beautiful walking trails and paths in Oakland County. Get ready to lace up your hiking boots and keep reading to discover six of the best trails in and around the city of Troy, Michigan.
Clinton River Trail
The Clinton River Trail is one of the most popular in Oakland County, and for good reason. The 16-mile trail follows a former rail line through multiple suburbs, including the city of Pontiac and the Rochester Hills community, treating guests to a variety of landscapes, including parks and residential areas.
The trail boasts multiple sections near and even crossing the Clinton River, meaning hikers can take a mid-hike dip to cool off. Hikers traverse a variety of surfaces including dirt, cinder to asphalt paving in some sections, and the trail has markers after every half mile to keep hikers or walkers on the right track.
Looking to explore further? Well, the Clinton River Trail connects to the equally-scenic Macomb Orchard and West Bloomfield trails to the east and west respectively. Even better, there's free parking at multiple points on the trail including at Beaudette Park, and S. Livernois Road, making it even more easily accessible regardless of where one resides in Troy. Hiking, running, and walking are popular activities, and bikers are also welcomed, though wide tires are recommended. Visitors can also bring pets as long as they're on a leash.
Robinwood Park Loop
The Robinwood Park Loop is a trail just over a mile long inside the wooded Robinwood Park. It is a moderately trafficked trail with an elevation gain of only two meters, meaning hikers of all skill levels can take it on without much difficulty.
The trail has plenty of shading for a comfortable stroll, and asphalt paving to make it more walkable. It is even wheelchair and stroller accessible, making it the perfect option for laid-back morning and evening strolls for those who live nearby. Even better, dogs and pets on-leash are allowed so visitors can bring Fido here for their much-needed walks and runs.
There are plenty of wildflowers along the route, as well as picnic areas complete with tables and chairs, providing even more relaxation opportunities for visitors. Paved parking is available on the northern end of the trail at Cherry Drive.
After a walk along the Robinson Park trail, visitors will also enjoy spending time at the park, which features a playground with barrier-free play structures and additional picnic areas. The park also features a sand volleyball court.
Troy Trail
The Troy Trail is considered by some as one of the most scenic walks through the Troy area. It's divided into three phases to allow residents an opportunity to explore different natural wonders in different parts of Troy at a leisurely pace.
The first phase is a one-mile asphalt-paved path that starts at the Daisy Knight Dog Park and goes to Wattles Road, making it a great route for bikers and walkers looking to get from the Civic Campus to Troy's historic village, and vice versa. Phase two is a three-quarter-mile paved trail that starts at Rochester Road and winds through Sylvan Glen Lake Park, providing walkers, bikers, and hikers with an incredibly scenic backdrop, and ends at the west of the park. The third phase winds through Jaycee Park, so residents can enjoy walks through multiple natural areas and parks in Troy.
Troy Community Center Trail
Troy residents looking to break out of the gym and enjoy some nature as they work out will love the Troy Community Center Trail. The trail features several fitness stations with outdoor exercise obstacles along the course to encourage physical fitness among park visitors. This wooded trail meanders for a bit over a mile around the famous Philip J Huber Park, rewarding walkers and bikers with lush green landscapes.
What's more, the Troy Community Center trail is relatively lightly trafficked, making it the perfect place to go for those who want to skip the crowds on other trails. At an elevation gain of only four meters, this looped trail is also easy to hike and perfect for all skill levels. It is wheelchair and stroller-friendly and even has seven designated parking spaces in the parking lot off Civic Center Drive.
Stony Creek Metropark
The 6.2-mile trail circling Stony Creek Lake starts at the Stony Creek Metropark and ends at Shelby road. It's asphalt-paved for the best biking experience, but one can also skate or hike the course while enjoying the beautiful views and relaxing atmosphere.
Those who prefer challenging hikes can check out the 14-mile hilly mountain bike trail on the southwest end of the Stony Creek Metropark. Besides being hilly, is heavily wooded with a natural dirt surface, making it perfect for bikers and hikers looking to get a workout. There are another eight miles of trails near the Stony Creek nature center and an additional six-mile trail close to Inwood Lake. All in all, Stony Creek Metropark has over 20 miles of trails to explore.
After hiking, visitors can rest at the park, which features a picnic area with basketball, baseball, and beach volleyball courts, and a children's play area. The Stony Creek Metropark also boasts an ice-skating rink, canoes, kayaks, paddleboats, and rowboats for rent, and an 18-hole disc golf course, meaning whether hikers choose the easy 6-mile paved trail or the difficult 14-mile one, there's still plenty of fun things waiting at the park.
West Bloomfield Trail
The West Bloomfield Trail is one of the oldest trails around Troy. This crushed-stone trail opened in 1993 and is seven miles long, lined with hickory, spruce, oak, and maple trees.
It follows the former Michigan Air Line Railroad, bringing hikers to scenic waterways such as the Clinton River, Orchard Lake, and Sylvan Lake. It also takes users through some pretty scenic overlooks and features picnic areas complete with benches along the course perfect for mid-hike snacks and resting. There are mileage markers after every few miles, bike racks, and seasonal portable restrooms, making it one of the best trails to hike around the Troy area.
Users may also come across wildlife like rabbits, raccoons, deer, and water animals such as turtles and waterfowls at the ponds and waterways along the trail. Part of the trail goes through the West Bloomfield Woods Nature Preserve, meaning visitors are also likely to come across other wildlife such as minks and red foxes.
And if seven miles aren't enough, the West Bloomfield trail links to the Clinton River Trail on the east, offering even more miles to cover. It's a dog-friendly trail, so feel free to bring well-behaved pets.
Explore the Trails in Troy Today
Troy is home to numerous trail networks, with others constantly coming up. This is, however, no surprise to those moving to Troy, as this beautiful city boasts a mixture of open green spaces, waterways like rivers and lakes, and miles after miles of woodland. Walking, hiking, or biking the different trails in and around the area are some of the most popular things to do in Troy, and are an excellent way to explore Troy's beautiful natural landscape.
If you're planning to move to the Detroit metro area, contact The Perna Team of Keller Williams at 248-886-4450 to get in touch with experienced local real estate agents who can help you find your perfect Troy home today.