Best Walking and Jogging Trails in Detroit
Posted by Michael Perna on Friday, April 9, 2021 at 8:19 AM
By Michael Perna / April 9, 2021
Comment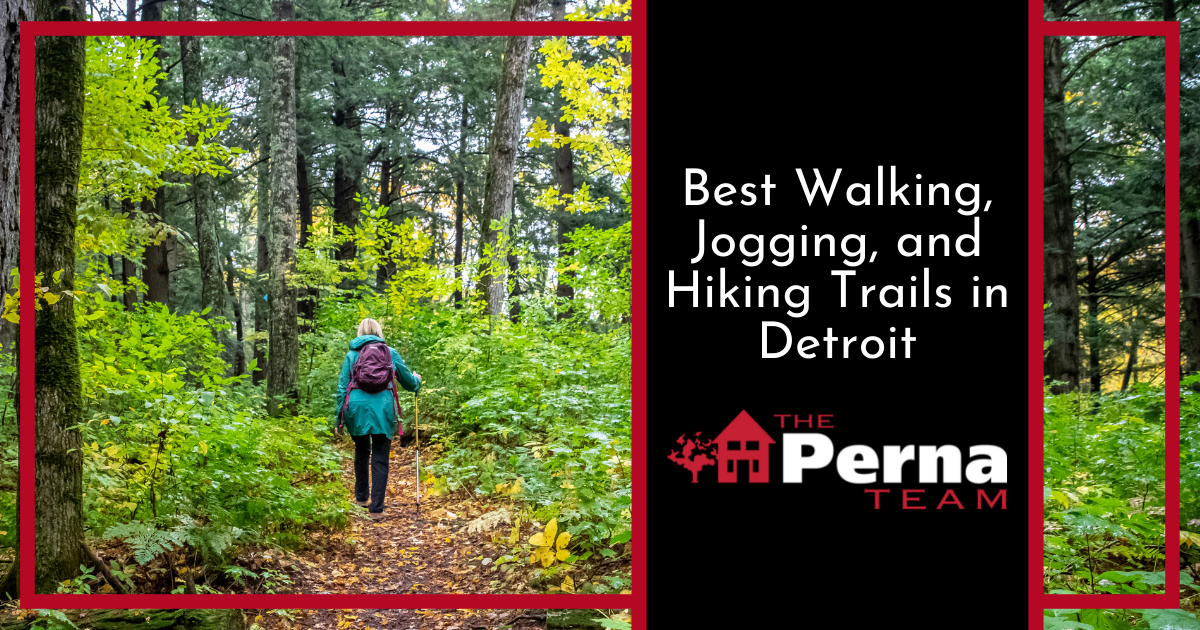 While Detroit, Michigan, is known as Motor City, it is home to more than automobiles. Detroit offers hundreds of miles of walking trails throughout the city and its surrounding neighborhoods, including paved paths and nature trails—some with stunning views. Whether residents are looking for a place near their Detroit home to exercise, walk their dog, or get out of the house, these examples of Detroit's best walking trails are sure to deliver.
Dequindre Cut
Established in 2009, Dequindre Cut was initially the Grand Trunk Railroad line but transformed into a below-street-level greenway. During the walk, visitors will see numerous pieces of urban art. Some pieces are only a few inches in size, while others are large murals.
This 20-foot-wide paved pathway is 1.65 miles long and includes separate lanes for pedestrians and cyclists. In 2016, Dequindre Cut received a half-mile extension. Those walking on the greenway will see buildings on either side that take them back in time to when the railroad was operating. The greenway also offers access to the heart of the Eastern Market. Visitors can bring well-trained, leashed dogs to this popular walking trail.
West RiverWalk
West RiverWalk is part of the longer Detroit RiverWalk. In total, the entire greenway is 3.5 miles. Anyone walking along the greenway is dazzled by the impressive views of the Detroit River and city skyline.
This walking trail is an excellent way for people to get in exercise and explore everything downtown Detroit has to offer. Those who tire of walking can also rent bikes at points along the RiverWalk if they desire.
West RiverWalk contains the Renaissance Center, which includes seven interconnected skyscrapers. Those walking about the greenway can access picnic areas, shoreline fishing, and a 63-foot lighthouse. The entire pathway is paved and maintained after storms.
Carpenter Lake Nature Preserve
Carpenter Lake Nature Preserve is home to over 42 acres of native meadows, woodlands, and wetlands. It is one of Detroit's hidden gems that allow residents to escape the city's hustle and bustle while getting back to nature. With nearly one mile of nature trails, visitors can enjoy walking in the woodlands and taking in the sites. Signs, trailheads, and benches are readily available along the route. Well-trained dogs on leashes are welcome here.
The trail leads to Carpenter Lake, where fishing and viewing platforms are available. With a valid fishing license, people can fish for largemouth bass, channel catfish, bluegill, sunfish, and minnows. This lake near Detroit is popular with fishers, so visitors should arrive early in the day.
Palmer Park
Known as one of Detroit's best parks, 296-acre Palmer Park has numerous sights and amenities, including a lighthouse, historic log cabin, police station, tennis courts, a splash park, and walking trails. The park contains oak trees over 350 years old!
Palmer Park's walking trails have plenty of signage. While workers maintain the trails after snow or rain, many of them can become muddy or icy. Leashed dogs are permitted at the park and on the trails.
Blue Heron Lagoon Trail
The Blue Heron Lagoon Trail, located at Belle Isle Park, is a loop that features stunning lakeside views. This walking trail links up with the Belle Isle Lighthouse trail, and when people walk both routes, the total length is 2.2 miles. The loop sticks close to the lakeshore, which allows visitors to see numerous birds and other wildlife.
Marked but unpaved, a large portion of the trail contains grass, dirt, and rocks. Additionally, this easy loop is heavily trafficked, especially around sunrise and sunset.
Leashed dogs are welcome along Blue Heron Lagoon Trail but are not permitted in the lake or off the path. A bathroom is available at the conservatory.
Bauervic Woods Park
Bauervic Woods Park offers beautiful views of wildflowers for miles. This path is accessible year-round and remains well-marked.
Visitors may bring their dogs to this trail. Leashes are encouraged, but they are not required. However, many small animals roam Bauervic Woods Park, so visitors should keep their pets close at all times.
Because this is a nature trail, the conditions are dependent on the weather. However, the park is regularly maintained to ensure the routes are safe and ready for use.
Rouge Park
Rouge Park offers one of the highest numbers of walking trails of any other park or conservatory in Detroit. Maintained by Friends of Rouge Park, the park's water views and bird species make every visit well worth it. Many people choose to arrive just before sunset to capture a postcard-worthy picture.
The trails available in Rouge Park include Scout Hollow Nature Trail (0.5 miles), Joe Prance Nature Trail (0.3 miles), Prairie Pathway (1.25 miles), Stone Bridge Nature Trail (0.6 miles), and Sorensen Nature Trail (0.4 miles). Rouge Park also features a three-mile mountain bike loop. Because these nature trails are unpaved, winter and summer storms can change their conditions.
Find Your Favorite Walking Trails in Detroit
It's easy to get lost in the hustle and bustle of any city. However, it is essential to get outside and breathe in some fresh air while experiencing the great outdoors. These Detroit walking trails are the best in the city and its surrounding areas. The only thing that remains is determining which one to visit first.
If you're planning to move to the Detroit metro area, contact The Perna Team of Keller Williams at 248-886-4450 to get in touch with experienced local real estate agents who can help you find your perfect Detroit home today.