Best Shopping in & Around Detroit: Detroit, MI Shopping Guide
Posted by Michael Perna on Friday, April 23, 2021 at 1:55 PM
By Michael Perna / April 23, 2021
Comment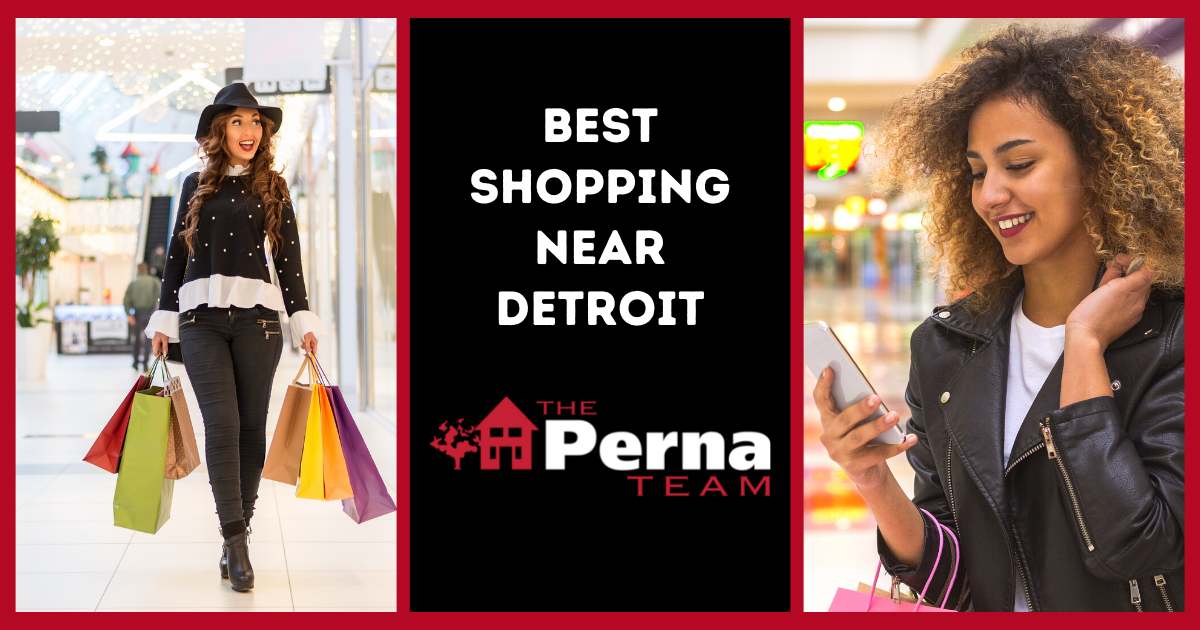 Anyone who has ever visited or moved to Detroit and not taken advantage of the best shopping centers in all of Michigan is missing out. Those who are lucky enough to live within a short drive of these epicenters of retail, fashion, eateries, and attractions have easy access to everything from high-end brands, unique Detroit shops, outlet centers, and regional businesses.
Homes in Detroit have access to an extraordinary epicenter of retail. Here are some of the best shopping spots in and around Detroit.
Fairlane Town Center
Hours: Monday – Saturday 11 a.m. – 7 p.m. / Sunday 12 – 6 p.m.
Fairlane Town Center Shops
Bath & Body Works
The Children's Place
Donna Sacs
Forever 21
Jimmy Jazz
Fairlane Town Center is home to over 125 stores and restaurants. Whether one takes the major expressways, lands in the Detroit Metropolitan Airport, or crosses via the U.S.-Canadian border crossing, visitors to this mall will find their travel to be short and sweet.
Fairlane features JCPenny, Macy's, and a restaurant plaza. People can visit Michigan's largest H&M, a cutting-edge design Victoria's Secret, a classic Macy's, and the first House of Hoops by Foot Locker. Those who find themselves craving a bite to eat during a day of shopping can enjoy al fresco meals and sample fare from around the world.
While the Fairlane Town Center offers many unique designs and architectural aspects in its stores, visitors can find children's play areas, benches, fountains, and stroller rentals throughout the space.
Eastern Market
Eastern Market Vendors (Subject to Change)
Birdie's Something Chocolate
Blue Velvet Detroit
Eastern Market Brewing Company
G.H. Soaps
Gardella Furniture
Eastern Market has been building and growing since the 1800s. Since its humble beginnings as a fresh and nutritious cornerstone for food, Eastern Market has grown to offer seasonal markets that bring the community together. The shopping area is run by the Eastern Market Partnership, a 501(c)(3) organization.
People can visit the markets of their choosing following the below schedule:
Saturday Market: 6 a.m.– 4 p.m. weekly & year-round
Summer Markets: June–Sept
Sunday Market: 10 a.m.–4 p.m. weekly (Street Market)
Tuesday Market: 9 a.m.–3 p.m. weekly (Health & Wellness)
Wholesale Market: Monday–Friday midnight–6 a.m., April–Nov (open to the public, bulk purchases only)
It's common to see food and bike tours through the market. While Eastern Market does not often offer tours, several tour companies are on their website. Between the rich history, tasty food offerings, and shopping delights, any visitor is sure to enjoy a day visiting Eastern Market.
Eastern Market is also open to adding more businesses and partners. Those who live in the Detroit area and feel like they would be a good fit for the market can inquire about joining through the Eastern Market's website.
Somerset Collection
Hours: Monday – Saturday 11 a.m. – 7 p.m. / Sunday 12 – 6 p.m.
Somerset Collection Shops
Apple
Build-a-Bear Workshop
Coach
Eddie Bauer
Fossil
Kate Spade New York
Somerset Collection is home to the world's largest brands all under one roof. Macy's, Sax Fifth Avenue, Express, Bath & Body Works, Louis Vuitton, and more are available for people to pursue. Besides offering the most sought-after brands, visitors can enjoy dining at various eateries.
Besides offering the best shopping and dining one could ask for, Somerset Collection has also expanded into film. The center proudly hosts the Forbes Film Series, focused on exploring the world of fashion. Inspired by each season, the Somerset Collection's largest retailers have collaborated to spread the voice of fashion globally. The film series' holiday guide featured gift ideas that could be combined and purchased in-store.
Those interested in getting their steps in will be delighted to learn the Somerset Collection has calculated the distance. One loop on any North level is .33 miles, while one loop on any South level is .25 miles. A single walk one way across the Skyway is .125 miles. After a day of shopping, it can be easy to complete upwards of five miles!
New Center One
Hours: Monday – Friday 8 a.m. – 5 p.m.
New Center One Shops
Girl Scout Shop
Vera Jane
Brazelton Florists
That Shoe Store, ETC.
New Center One is just three miles north of the heart of downtown Detroit. This commercial hub is home to some of the area's best shopping, restaurants, and galleries. Visitors can shop at Angeles Fashion, Girl Scout Fashion, Prince Men's Wear, Silver Fox Furs, Art Designs Gift Gallery, and more. Covered, weatherproof skyways connect Detroit Fisher and Cadillac Palace with New Center One.
Visitors can spend just a few hours or an entire day exploring all that New Center One offers. Many visitors choose to combine their weekend in downtown Detroit with a visit to New Center One.
Eastland Center
Hours: Monday – Saturday 11 a.m. – 7 p.m.
Eastland Center Shops
Champs Sports
Finish Line
Rainbow
Shoes for Less
Journeys
Visitors regularly note the warmth of Eastland Center as they meander through the 80+ shops. A range of local, regional, national, and international brands have opened their doors over the years. Shoppers World, K&G, Footlocker, Family Dollar, GameStop, and GNC are just some of the stores people can enjoy.
With so many shops to visit, it's easy to work up an appetite, as McDonald's, Charley's, Auntie Annes, Starter's Bar & Grill, and many more dining options are available. Those who have little ones that need to run off some energy can visit the playground area.

Oakland Mall
Hours: Monday – Thursday 11 a.m. – 7 p.m. / Friday & Saturday 11 a.m. – 8 p.m. / Sunday 12 – 6 p.m.
Oakland Mall Shops
At Home
Foot Locker
FYE
Hot Topic
Lane Bryant
Oakland Mall is a traditional mall. With Champ's, Dick's Sporting Goods, Krispy Kreme, Victoria's Secret, Lids, Journeys, ZNR Diamonds, and more, visitors are sure to find whatever they are looking for during their visit. Oakland Mall centers around the traditional mall design, from the shops offered to the cuisine.
Besides offering exceptional shopping and a typical food court, Oakland Mall provides numerous programs to bring the community together. Between the hot summers and cold winters, it can be difficult for some to find time to exercise. The Mall Walkers program is open to anyone who wants to make friends and get their steps in. The Giggle Gang is for children under 10 years old. Registered members receive buttons, special birthday offers, member discounts at various stores, and a newsletter for free events such as character storytimes and interactive shows.
Great Lakes Crossing Outlets
Hours: Monday – Saturday 11 a.m. – 7 p.m. / Sunday 11 a.m. – 6 p.m.
Great Lakes Crossing Outlets Shops
Legoland Discovery Center
Ann Taylor
Converse
Disney Store
Journeys
OshKosh B'gosh
PacSun
Rocky Mountain Chocolate Factory
Great Lakes Crossing Outlets is the premiere outlet mall in Detroit. With over 185 stores, restaurants, and attractions, Great Lakes Crossing Outlets is one of the largest shopping destinations in the entire state of Michigan. The largest brands in the world can be found right here, including Nordstrom, Bass Pro Shops, Legoland, Forever 21, Coach, Helzberg Diamond, and many more.
Anyone visiting this premier shopping center should be prepared to walk, as the outlets span over several acres. Walking from one side of the mall to the other without stopping can take upwards of 10 minutes. Shoppers regularly log a minimum of five miles and easily exceed 10 miles if they spend a whole day exploring.
Aside from world-class shopping, guests can plan many visits to see all the attractions. Sea Life Aquarium, Legoland Discovery Center, Round 1 Bowling & Amusement, and Peppa Pig World of Play are just a small number of the attractions available. The Great Lakes Crossing Outlets also boast a themed food court and a 25-screen, state-of-the-art theater megaplex and IMAX theater.
The center is always looking to expand to retain its title as the largest outlet center in Michigan. People can keep up-to-date with the latest news and announcements by visiting the center's website or following its social media channels.
The Great Lakes Crossing Outlets proudly earned the 2020 Traveler's Choice Award. Better still, those who live within 50 miles of Detroit can take advantage of the Passport to Shopping program. After registering, those in the program can access offers from over 100 retailers. Most offers are limited time only, but repeat visitors find the offers are often refreshed.
Shop to Your Heart's Content in Detroit
Whether someone wants to shop until they drop or visit a shopping mall on certain occasions, the best shopping in Detroit can be found at the shopping centers on this list. The range of eclectic shops, smaller chains, national brands, and international megastores is what makes Detroit shopping so impressive.
If you're planning to move to the Detroit metro area, contact The Perna Team of Keller Williams at 248-886-4450 to get in touch with experienced local real estate agents who can help you find your perfect Detroit home today.