Iconic Restaurants in Detroit, MI
Posted by Michael Perna on Tuesday, August 10, 2021 at 1:50 PM
By Michael Perna / August 10, 2021
Comment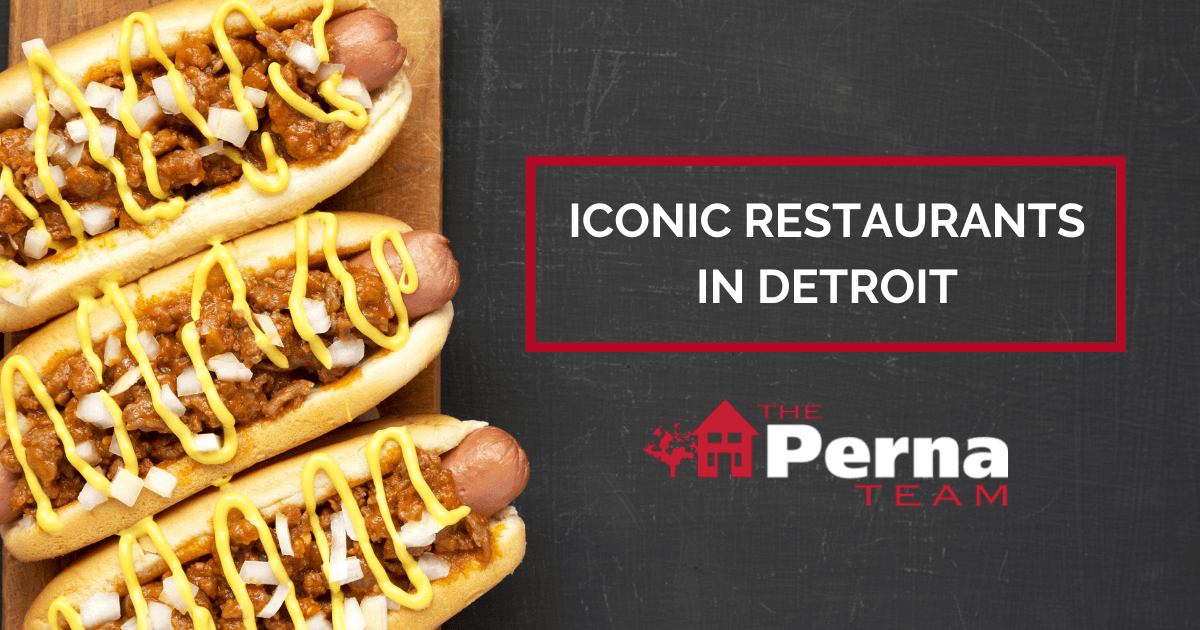 Detroit is much more than Motor City — it's home to local delicacies that can't be recreated anywhere else. New residents of Detroit are in for a treat when it comes to dining in the city, as a range of cuisines at a variety of price points are available. Tourists can dine like locals by bringing their appetites to these iconic Detroit restaurants.
Chef Greg's Soul -N- The Wall
Popular Dishes at Chef Greg's Soul -N- The Wall
Meat Loaf
Turkey Wings & Dressing
Catfish Dinner
Steak Boogaloo Wonderland Sandwich
Papa Burger
Peach Cobbler
Chef Greg's Soul -N- The Wall lays its claim to reviving the locally loved "Boogaloo sandwich." Those new to Detroit may not know what this local delicacy contains. Essentially, this sandwich is a gourmet Sloppy Joe. However, calling it a Sloppy Joe is no different than calling a Coney dog a simple chili dog.
The Boogaloo sandwich is a perfect combination of loose burger and Detroit-style Sloppy Joe. It's a local favorite that makes any local's mouth water.
Chef Greg originally opened his restaurant in 2005 under the name D'Emilis and later changed the name to Soul-N-The-Wall in 2013.
Chef Greg's Soul -N- The Wall Additional Information
Hours: Tuesday–Thursday: 11 a.m.- 6 p.m. / Friday & Saturday: 11 a.m. – 8 p.m. / Sunday 2 p.m. – 6 p.m.
American Coney Island & Lafayette Coney Island
Popular Dishes at American Coney Island & Lafayette Coney Island
Coney Dog
Coney Loose Burger
Chili Cheese Fries
Donuts
Potato Chips
American Coney Island opened its doors in 1917 and has remained family-owned ever since. However, in 1924, one of the brothers dedicated to open Lafayette Coney Island right next door, a decision due to a falling out over how the coney dog was really created.
Both restaurants argue they created the coney dog first and continue to be rivals to this very day. Each restaurant uses the base stable: Dearborn Sausage wieners. However, the difference between the two is the chili. American uses a spicier chili sauce, while Lafayette uses a heartier and beefier chili.
Detroit locals will swear by one restaurant or the other, but not both. It's normal to see long lines, so anyone interested in sampling both coney dogs should get to the restaurants earlier in the day.
American Coney Island & Lafayette Coney Island Additional Information
Hours: Monday–Thursday: 10 a.m.–10 p.m. / Friday: 10 a.m.–midnight / Saturday: 11 a.m.–midnight / Sunday: Noon–5 p.m.
Hours: Monday–Sunday: 8 a.m.–10 p.m.
Slows Bar B-Q
Popular Dishes at Slows Bar B-Q
The Texan Beef Brisket Sandwich
The Yardbird Chicken Sandwich
The Genius Vegan Sandwich
Apple BBQ Chicken Plate
Baby Back Ribs
Carrot Cake
Slows Bar B-Q opened its doors in 2005 in an abandoned area at the corner of Michigan Avenue and 14th Street. Today, the restaurant is a destination for anyone who wants to enjoy the best BBQ north of Mason Dixon Line. The restaurant has been featured in several shows and newspapers over the years.
The interior of the restaurant has been meticulously designed. While dining, visitors can enjoy several locally sourced craft beers with their gourmet BBQ. As soon as one sits down in Slows, they will feel the sense of community and pride the owners have developed in the restaurant over the years.
Slows Bar B-Q Additional Information
Hours: Wednesday & Thursday: 11 a.m.–9 p.m. / Friday & Saturday: 11 a.m.–10 p.m. / Sunday: 11 a.m.–9 p.m. / Monday & Tuesday: Closed
Traffic Jam & Snug
Popular Dishes at Traffic Jam & Snug
Black Bean & Cheese Nachos
Chicken & Basil Egg Rolls
Blazing Red Fish Filet
Catherin's Black Bean Burrito
Jam Angus Burger
Lamb Berlin Doner
Traffic Jam & Snug is more than just a simple restaurant — it's a hidden treasure of Detroit featuring a scratch-made kitchen, an in-house bakery, a microbrewery, and a cheese-making station! Everything that comes out of the restaurant is handmade with the freshest local ingredients.
The cheeses and beers at Traffic Jam &B Snug have won many awards over the years. Patrons can actually witness how the beers and cheese are made from an above balcony. Interestingly enough, the beer and cheese are made with the same equipment!
For those who came to Traffic Jam ready with an appetite, the menu will not disappoint. Homemade bread, cakes, ice cream, and hot fudge are well worth every addition to the meal. The menu does feature seasonal dishes and permanent fan favorites.
Traffic Jam & Snug Additional Information
Hours: Friday: 4 p.m.–8 p.m. / Saturday: Noon–8 p.m. / Sunday: Noon–6 p.m. / Monday–Thursday: Closed
Buddy's Pizza
Popular Dishes at Buddy's Pizza
Buddy's Chicken Tender Salad
Oven-Baked Chicken Parmesan
Grilled Steak Hoagie
6 Mile (Super) Detroit-Style Pizza
Grand River (Spinach Lovers) Detroit-Style Pizza
Lasagna Mac
Buddy's Pizza is the birthplace of Detroit-style pizza. Over 75 years ago, the owners at Buddy's Pizza decided to cook a rectangular pizza in a steel auto pan. The cheese trimmed down the sides and created a caramelized crust that cannot be replicated by any other pizza style. Thus, Detroit-style pizza was born!
Before the early 1980s, it was impossible to find Detroit-style pizza anywhere else. Finally, other cities caught on to this local delicacy and began calling it Sicilian pizza instead.
Buddy's Pizza has remained true to its roots as it expanded to offer several locations across the area. The original location can be found at the corner of Six Mile and Conant.
Buddy's Pizza Additional Information
Hours: Monday–Thursday: 11 a.m.–8 p.m. / Friday & Saturday: 11 a.m.–9 p.m. / Sunday: Noon–8 p.m.
Bert's Marketplace
Popular Dishes at Bert's Marketplace
Aretha Franklin World Famous Fried Chicken
Count Basie Rib Sandwich
Sammy Davis Jr Smothered Pork Chops
Stevie Wonder Whiting Plate
Elvis Presley Veggie Plate
Smokey Robinson Whole Slab Dinner
Bert's Marketplace is a complete entertainment complex with its Warehouse Theater, Jazz Room, and Motown Room. Whether visitors want to stop in for a show or enjoy home-style cooking, they will not be disappointed. The marketplace prides itself on its homemade BBQ sauce and scratch-made dishes.
Open for lunch and dinner, Bert's Marketplace is a perfect area to stop in for a quick bite. All of the dishes are named after famous artists. Some of the dishes even align with the stars' favorite meals! BBQ vegetarian dishes are available because the owners want to ensure that everyone can join Bert's Marketplace for a meal.
Bert's Marketplace Additional Information
Hours: Tuesday–Sunday: 11 a.m.–11 p.m. / Monday: Closed
Pegasus Taverna
Popular Dishes at Pegasus Taverna
Stuffed Grape Leaves
Saganaki
Greek Village Salad
Greek Trio Platter
Lamb Shank
Baklava
Pegasus Taverna continues to carry the title of Best Greek Restaurant in Detroit and has done so for over two decades. The casual, fun environment is sure to create a memorable dining experience for new residents, long-time locals, and tourists. The space also caters to those seeking an intimate date night. Whether dining alone, with a special someone, or with a large group, Pegasus Taverna can accommodate anyone who walks through the doors.
All of the classic Greek dishes can be found at Pegasus Taverna. The restaurant is known for staying open until the early morning hours (despite its posted operating hours), so those enjoying a night out in Detroit can usually top off their night with lamb chops, gyros, and other Greek food. A deli counter also serves up the greatest cheeses and pastries to go seven days a week.
Pegasus Taverna Additional Information
Hours: Tuesday–Friday: 4 p.m.–11 p.m. / Saturday & Sunday: Noon-11 p.m.
Green Dot Stables
Popular Dishes at Green Dot Stables
Truffle & Herb Fries
Grilled Cheese Sliders
Cuban Sliders
Korean Sliders
Fried Bologna Sliders
New England Clam Chowder
Green Dot Stables is an unusual slider joint with an unknown history. Current owner Jacques Driscoll still isn't sure why the entire interior is dedicated to jockeys and the equestrian lifestyle. Local legend says the bar was owned by a horse racing jockey in the past.
The bar is well known by locals for serving up more than affordable beer until the crowd dies down on the weekends. The entire joint is dedicated to sliders. No normal-sized burgers are served here! Patrons can order one, two, five, or more of their favorite sliders. They can even mix and max their sliders to create a platter that is exactly what they want to snack on while they drink with friends. The sliders at Green Dot Stables are inspired by American favorites and worldwide cuisine.
Green Dot Stables Additional Information
Hours: Sunday–Thursday: Noon–8 p.m. / Friday & Saturday: 11 a.m.–10 p.m.
The Whitney
Popular Dishes at The Whitney
Appetizer Trio
Lobster Bisque
The Beef Wellington
Black Peppered Salmon with Whitney Hive Honey Glaze
Herbed Polenta with Patty Pan Ragu
Wild Berry Sorbet with Raspberry Puree
The Whitney is an upscale dining experience within Detroit's famous mansion. Construction was completed in 1894 and quickly became a major landmark in the city. This fine dining experience is perfect for those celebrating a milestone, enjoying a romantic evening, or want an intimate meal with a group.
Served in four courses, diners select from a few available options in each course. Both vegetarian and meat dinner options are available. There are even a few gluten-free options.
Every dish is made to order from the freshest local ingredients. After dining, visitors are encouraged to meander through the mansion's gardens and take in everything this historic landmark offers.
The Whitney Additional Information
Hours: Thursday & Friday: 5 p.m.–10 p.m. / Saturday: 11 a.m.–10 p.m. / Sunday: 4 p.m.–8 p.m. / Monday–Wednesday: Closed
Experience Dining in Detroit
Detroit is underrated when it comes to the iconic dining options available. However, that makes every dish mentioned above taste even better. Each restaurant mentioned provides a unique experience that one will not soon forget. The food is always fresh and consistently meets high expectations. The iconic restaurants of Detroit are a perfect way to supplement a night out on the town or during a vacation/staycation. Combined with all of the wonderful activities this city offers, like outdoor adventures, shopping, and performances, what's not to love about Motor City?
If you're planning to move to the Detroit metro area, contact The Perna Team of Keller Williams at 248-886-4450 to get in touch with experienced local real estate agents who can help you find your perfect Detroit home today.