5 Best Parks in Troy MI: Explore Firefighters Park & More
Posted by Michael Perna on Tuesday, March 22, 2022 at 10:45 AM
By Michael Perna / March 22, 2022
Comment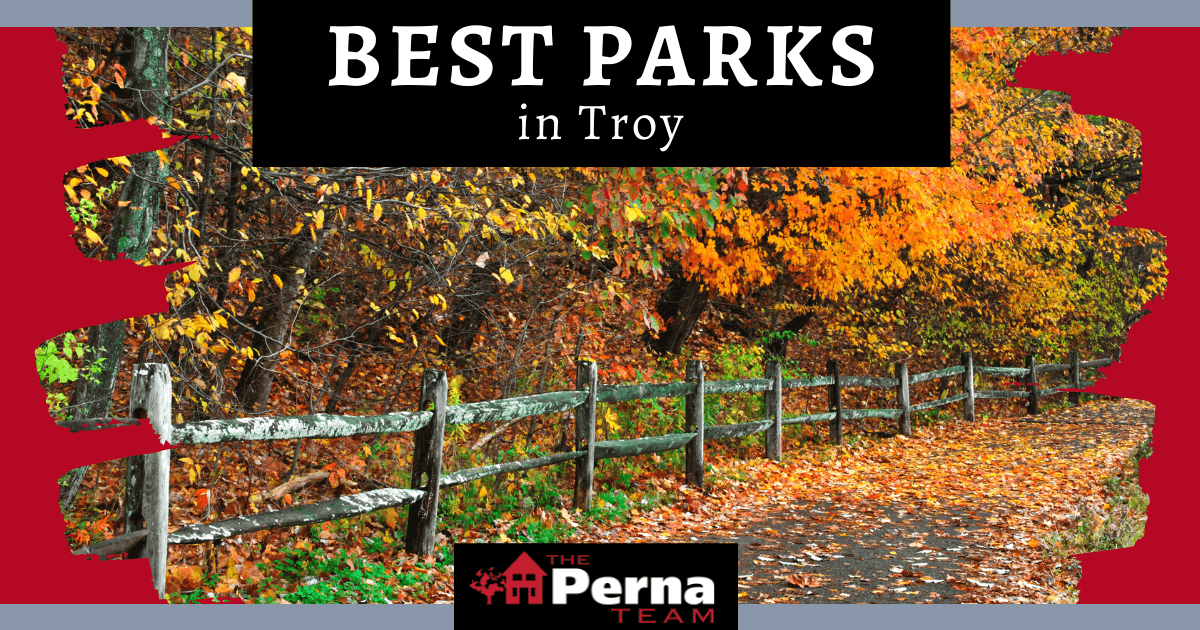 Living near a community park offers easy access to a place where residents can get some exercise, fresh air, and sunshine. Fortunately for residents in the city of Troy, MI, parks are abundant in nearly every neighborhood and corner of the community. Some parks offer year-round activities, but the spring through fall period is when they see the most use. Ready for some outdoor fun? Read on to learn about some of the best parks in Troy.
Firefighters Park
Located in northwest Troy, Firefighters Park has many outdoor activities available for residents. At 96 acres, it's one of Troy's five major community parks, and it has grassy fields and wooded areas for walking or jogging. Amenities at this park include a baseball/softball field, nine regulation soccer fields, two sand volleyball courts, a football field, and a football practice field. The park also has an 18-hole disc golf course; the course runs over both grassy areas and on more challenging holes through the trees. There's a playground area for kids, and the park opens up a concession stand during regulation soccer games.
A shaded pavilion area is available for groups to rent for events. The Rouge River flows through the park, and there are scenic walking bridges that cross the water in several areas. Swimming and boating are prohibited in the river, but anglers are welcome to bring a fishing pole and fish from the shore. Dogs are welcome in the park as long as they are on a leash. The park is open from 7 a.m. to 10 p.m. every day, and it's free. The entrance on W Square Lake Road leads to the parking area.
Jaycee Park
Located in an east Troy residential neighborhood with many new construction homes, Jaycee Park is a 45-acre green space with a lot of outdoor family activities available. Once a visitor drives into the park, the area is mainly surrounded by trees. There are two separate unfenced playground structures available for kids. The entrance to the park is off East Long Lake Road, and there are free parking spaces inside the park.
In addition to some nice paved walking paths, the park has a picnic area, with tables and grills available. Jaycee Park has two baseball fields, two full-sized soccer fields, six smaller soccer fields, and a sand volleyball court. There are also public restrooms available. Parking is on a first-come, first-serve basis, but parking and all the activities available at Jaycee Park are free for residents to enjoy.
Raintree Park
Raintree Park is located across the street from the Troy Boys & Girls Club on John R Road in eastern Troy. It's a 41-acre park equally split between green fields and wooded areas. Raintree Park has two unfenced playground areas for kids and full-sized swingsets near each of those areas. There are free parking spaces along Raintree Park Entrance Road available on a first-come, first-serve basis.
Other amenities at the park include a baseball field, an 18-hole disc golf course, and a sand volleyball court. Raintree Park has some natural dirt paths that wind through the park's wooded areas. Cyclists who set out on these paths will be treated to some small BMX jumps thrown into the mix just for them. For parents bringing kids to the park, plenty of benches and picnic tables are available for seating. The park has restrooms that are available seasonally. There are several barbecue grills available, as well as a shaded pavilion that is available to rent. Raintree Park is open year-round from 7 a.m. to 10 p.m., and admittance is free.
Sylvan Glen Lake Park
One of Troy's neighborhood parks, Sylvan Glen Lake Park is part of a larger green space that includes the 18-hole Sylvan Glen Golf Course. The park area is separate from the course, with the entrance off Rochester Road in north-central Troy. The entrance to the park is along a smooth dirt road, and the parking area has a dirt surface; be advised that it can get slightly muddy after rain. Parking is free and on a first-come, first-serve basis.
The big draw at this park is the 16-acre Sylvan Glen Lake. Shore fishing from the lake is allowed for anyone with a Michigan state fishing license. Early morning is the best time to go fishing in this lake. Anglers primarily catch largemouth bass here, although there are a few bluegill and black crappie. Swimming and boating are prohibited in Sylvan Glen Lake. This park is also an excellent spot for a picnic, as there are several picnic tables available and a barbecue grill. While there is no playground area at Sylvan Glen Lake Park, it offers grassy fields to play in and some benches to sit down on. The park is free and open from 7 a.m. to 10 p.m. daily.
Boulan Park
Located in southwest Troy, Boulan Park is a 63-acre green space with plenty of outdoor activities to enjoy. The primary access to the park is off Crooks Road; take Boulan Park Drive into the park to reach a large parking lot with many spaces available. Boulan Park is primarily a sports-based park, rather than a place to go to experience nature. It has three full-sized baseball fields with modern scoreboards and five full-sized soccer fields. This is one of the premier spots in Troy for tennis players, as the park has eight lighted courts available for play seasonally from spring through fall.
Bouland Park has two playground areas with soft grass artificial turf close to the public restrooms. One of the playground areas is fully accessible. It has two shaded picnic pavilions available to rent, and a few additional picnic tables are scattered throughout the park. For those who want to go for a hike, there is a 1.25-mile walking path. The park is free and open to the public from 7 a.m. to 10 p.m. every day.
Get Outdoors in the Many Troy, MI Parks
Residents who want to enjoy some outdoor activities in Troy and enjoy the weather have plenty of options when it comes to community parks. These are some of the main community parks in the city, and there are also several smaller neighborhood parks. A great way to experience some of the many things to do in Troy is to enjoy an outing at any one of these parks.
If you're planning to move to the Detroit metro area, contact The Perna Team of Keller Williams at 248-886-4450 to get in touch with experienced local real estate agents who can help you find your perfect Troy home today.