Best Parks in Detroit: Detroit, MI Parks & Recreation Guide
Posted by Michael Perna on Tuesday, March 9, 2021 at 12:17 PM
By Michael Perna / March 9, 2021
Comment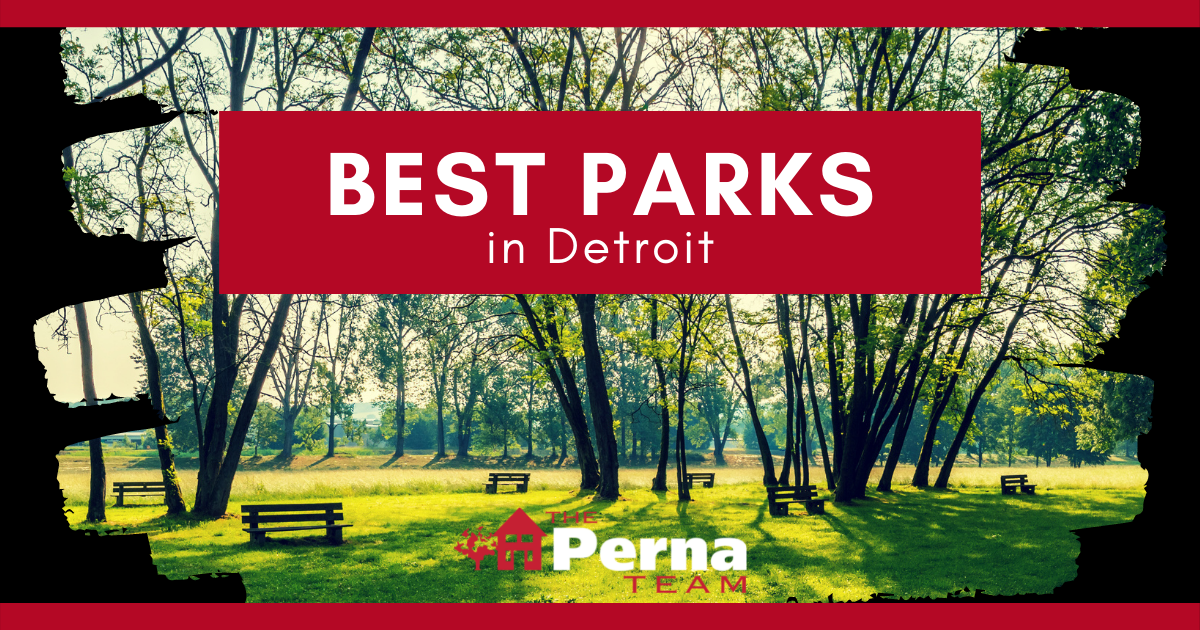 The best parks can be the heart and soul of a city, as they provide a place for residents and visitors alike to gather and enjoy the great outdoors. Additionally, studies have shown that homes situated close to a park are generally worth eight to 20 percent more than homes that are not. Fortunately, Detroit is home to many great parks, including the following six best parks in Detroit.
Beacon Park
Beacon Park Amenities
Dining options like food trucks and an on-site restaurant
Interactive art installations
Farmer's market
Child-friendly activities
Regular concerts
Address: Beacon Park, 1901 Grand River Ave, Detroit, MI 48226
Opened on July 20, 2017, by DTE Energy, Beacon Park is one of Detroit's newest parks. It features a large, circular, and open lawn, where visitors can play, picnic, or just relax. Beacon Park also has several dining options for hungry visitors, including food trucks, mobile carts, and—most notably—Lumen, which is an on-site, full-service restaurant and bar with rooftop dining.
This 1.2-acre park also glows with beautiful LED light displays, such as its holiday-themed Light Up Beacon Park!, and interactive art installations. Beacon Park also offers a full slate of programs and events, including children's activities, concerts, and a farmer's market. The park was named Beacon because it was hoped that it would "bring light, energy, and motion" to Detroit's west central downtown, and it seems to have been successful in bringing new life to the area. This park, which is located on the corner of Grand River and First Avenue, is open every day between 6 a.m. and 10 p.m.
Grand Circus Park
Grand Circus Park Amenities
Viewing gardens with two newly refurbished fountains
Live theatre events and street performances
Dog park with interactive dog programs
Address: Grand Circus Park, 101-157 Witherell St, Detroit, MI 48226
This five-acre park was founded in the 1860s. It is located in downtown Detroit, off Woodward Avenue. The land on which Grand Circus Park is situated was once a swampy area. As a result, the city had to drain, fill, and raise the land in order to develop this park.
Today, Grand Circus Park offers visitors lovely gardens and two fountains that have been recently refurbished by the Downtown Detroit Partnership. The first is the Russell A. Alger Memorial Fountain, which is situated on the east side of the park and was created in honor of Alger, a one-time governor of Michigan. The other is the Edison Fountain, which is located on the west side of the park and was built in honor of Thomas Edison.
Grand Circus Park holds numerous free events each year, including live theater and street performances. In 2014, a dog park was opened, giving canines and their owners a place to socialize. The dog park, which is open from 6 a.m. to 10 p.m., also offers free interactive programs for dog owners.
Lincoln Street Art Park
Lincoln Street Art Park Amenities
Full of beautiful art
Hosts musical gatherings
Hosts poetry readings
Address: Lincoln Street Art Park, 5926 Lincoln St, Detroit, MI 48208
Unique and innovative are two of the words that best describe Lincoln Street Art Park. Located on an abandoned industrial site, this park is dedicated to the creation and sharing of the various art forms. Visitors to Lincoln Street Art Park will find brightly colored murals and unique sculptures. The park, which opened on October 30, 2010, also hosts musical gatherings and poetry readings.
Lincoln Street Art Park has been created through the coordinated efforts of several private parties. Some entities involved in the park's creation and maintenance include the Michigan Council for Arts and Cultural Affairs, Detroit's recreation department, a non-profit group called Make Art Work, Green Living Science, and Recycle Here!.
This popular community space for artists and others to gather is located just west of US-10 in Detroit's New Center area, behind the Recycle Here! building on Holden Avenue.
William G. Milliken State Park and Harbor
William G. Milliken State Park and Harbor Amenities
31 acres to explore
Paved walking, biking, and skating trail
Sports a protected wetland
Wildlife viewing opportunities
Fishing locations
Boat rental options
Picnic areas & laundry facilities
Replica of the Tawas Point lighthouse
Address: William G. Milliken State Park and Harbor, 1900 Atwater St, Detroit, MI 48207
William G. Milliken State Park and Harbor is Michigan's first urban state park. It is located on the Detroit River in the heart of the city, just east of the downtown area. The first phase of this 31-acre park was opened in 2004. At that time, the park was known as Tricentennial State Park and Harbor. However, in October 2009, the park was renamed in honor of Governor William G. Milliken, who was Michigan's longest-serving governor. The second phase of the park, which includes a wetland area, was opened in December 2009.
The main mission of this park is to reengage the local community with the river and surrounding natural environment. It has a paved trail where visitors can partake in outdoor activities, such as biking, strolling or rollerblading, along with places to fish. Some wildlife that visitors might see during their visit here include muskrats, pheasants, foxes, and hawks.
The harbor has 52 slips that can provide transient rental space for boats, in addition to sheltered picnic areas, showers, a laundry facility, and tables. A scaled-down replica of the Tawas Point lighthouse stands at the entrance to this park.
West RiverWalk
West RiverWalk Amenities
22 acres to explore
Play scapes
Walking & jogging trails
Sport house with basketball courts
Play garden for younger visitors
A beach
Lawn for special events
Address: West RiverWalk, 1340 Atwater St, Detroit, MI 48207
West RiverWalk, which is situated on the Detroit River, is a work in progress. The first two pieces of West RiverWalk were completed during the summer of 2020, and it is hoped that the rest of this 22-acre park will be completed by 2023.
Once completed, the West RiverWalk Park will feature play scapes, a water component, a sport house with basketball courts, a play garden for kids, walking and running trails, and a beach. There will also be a large lawn area where special events can be held.
Palmer Park
Palmer Park Amenities
296 acres to explore
Ancient trees 350 years or older
Community garden
Tennis courts
A splash park
Butterfly garden
Historic log cabin
Lake France
Address: Palmer Park, 910 Merrill Plaisance St, Detroit, MI 48203
This 296-acre park contains the largest forest in the Tri-County area, and some of its trees are more than 350 years in age. The park was established in 1893 when Thomas Witherell Palmer, and U.S. senator, donated the initial 140 acres for this park. Palmer Park was originally named Log Cabin Park, but its name was changed in 1897 to honor the senator.
Today, Palmer Park has a lot to offer its visitors, including a community garden, tennis courts, a splash park, butterfly garden, historic log cabin, and Lake France, a small lake in Detroit boasting a tiny lighthouse. The park also offers numerous events and programs, including free yoga and tai chi classes. Active visitors can also take advantage of the park's three miles of mountain bike trails and five miles of hiking trails.
Open 365 days a year, hours at Palmer Park are between 6 a.m. and 10 p.m. during summer. During winter and colder months, the park closes when it gets dark. The Splash Park hours are between 10 a.m. and 8 p.m.
Enjoy Detroit's Best Parks
With the various amenities that Detroit's parks have to offer their visitors, everyone can find their favorite park in the city. From enjoying a full day of picnicking and relaxation to getting active on the trails or attending various events, there is a park in Detroit to fit anyone's needs.
If you're planning to move to the Detroit metro area, contact The Perna Team of Keller Williams at 248-886-4450 to get in touch with experienced local real estate agents who can help you find your perfect Detroit home today.