Outdoor Activities in Troy MI: Where to Swim, Hike, Golf & More in Troy
Posted by Michael Perna on Monday, February 28, 2022 at 2:00 PM
By Michael Perna / February 28, 2022
Comment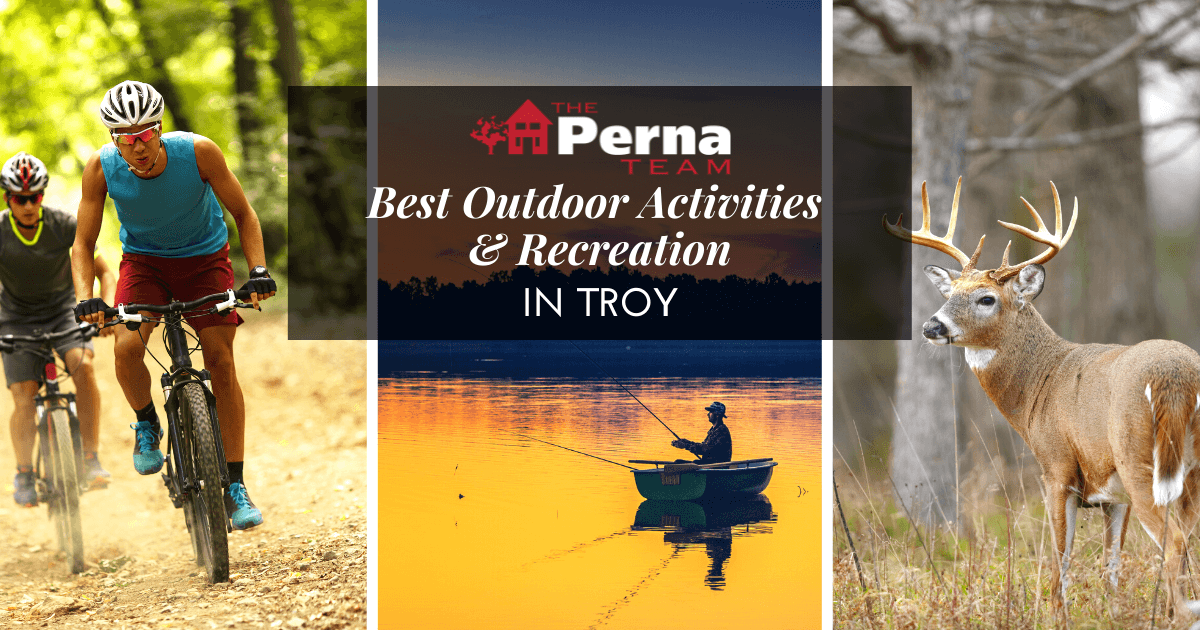 Even though the Detroit Metro town of Troy might be best known for its role in the auto industry, the city is also full of many fantastic outdoor activities.
The list of things to do in Troy includes a vibrant shopping and restaurant scene, multiple community parks, museums, national landmarks, and endless historical attractions. What's the cherry on top? Troy's summers are warm and comfortable, making the city's outdoors an excellent destination for fun-filled sunny days. From water recreation opportunities to hiking and biking trails, outdoor enthusiasts can find exciting activities any day of the week. Keep reading to learn about the best things to do outside in Troy, Michigan.
Water Recreation in Troy
Even though Troy's summers are generally mild, nothing beats taking a dip on warm days. The Troy Family Aquatic Center on 3425 Civic Center Drive is perfect for a refreshing swim. The facility has a massive, 11,000 square foot main pool with zero-depth entry and a general depth of not more than four feet to ensure the safety of swimmers at all skill levels.
The deep end is only five feet with about six swimming lanes, making it the perfect corner for lap swimmers. And for even more water fun, the Troy Family Aquatic Center has two water slides that splash into another pool, a splash pad, a shallow, and a shallow one-to-six-inch-deep pool with splash fountains.
Lifejackets and swimming tubes are available, while lifeguards constantly monitor the pool deck. The Troy Aquatic Center also has a large playground, a sand play area with foot showers, and sand volleyball courts. It opens daily except on special days and holidays. Season passes start at $70 for residents, and $110 for non-residents, while daily resident and non-resident passes go for $10 and $15, respectively.
Seeking water recreation in a natural setting? Head over to the Pontiac Recreation area, about 30 minutes away in Waterford Township. The 3,745-acre recreation area boasts a half-mile beach, marshes, ponds, and lake areas that support activities like fishing and swimming.
The recreation area also has 11 miles of designated trails ideal for hiking, biking, and even horseback riding. There's a picnic area with a reservation-based shelter, a beach house, and a playground. The Pontiac Lake Recreation Area has 176 campgrounds and an additional 24 equestrian campsites for those who'd like to stay and explore.
Hiking and Biking Trails in Troy
Trails in Troy
Stage Nature Center
Troy Community Center Trail
Robinwood Park Loop
Troy Trail
If you cherish hiking or biking, check out the famed Stage Nature Center Loop near the Beach Road neighborhood. It's a 1.5-mile moderately trafficked loop trail that highlights all sections of the Nature Center's trails and winds around the Troy luxury homes in the area.
This kid-friendly trail is located within the Troy Nature Center and boasts beautiful wildflowers and natural vegetation with plenty of trees. Apart from hiking, Troy residents also visit the Stage Nature Center loop for bird and wildlife watching and snowshoeing. If you get tired mid-hike, the trail has benches. Access is free, but dogs, biking, jogging, and skiing are prohibited.
For biking, residents often head over to the Troy Trails and pathway. It is the first biking and pedestrian trail system in the Troy area. It boasts 1.3 miles of asphalt-paved sections where biking enthusiasts tend to flock daily. The trail starts at the Troy Town Center, passes through the P. Terry & Barbara Knight Park, and ends at the Troy Historic Center, making it one of the most scenic trails in Troy and the perfect way to explore the area's serene woody areas.
The 1.1-mile Troy Community Center Trail is also an excellent place to spend the day if you prefer a lightly trafficked hiking trail. It is a nice, short, wooded trail with fitness stations and a paved parking lot at the south end close to the Civic Center Drive. Other superb hiking and biking trails in the Troy area include the Robinwood Park Loop, Bridge to Bay Trail, and Applewood Trail.
Troy Parks
Parks in Troy
Firefighters Park
Raintree Park
Jaycee Park
Boulan Park
Robinwood Park
Stage Nature Center
Troy is home to multiple community parks and countless neighborhood parks that feature picnic areas and pavilions.
Boulan Park is one of the most popular parks. The 63-acre community park boasts eight well-maintained and lighted tennis courts, five soccer fields, three ball diamonds, and sand volleyball courts. There are two picnic shelters, restrooms, and a paved public parking area. If kids tag along, the Boulan Park has a play area with two play structures, and if looking to do more than play or sit around, a 1.25-mile walking path awaits you.
After a day at the Troy Family Aquatic Center, most residents often stop by the Phillip J. Huber Park in the Civic Center Complex, a stand-out amenity in one of the best neighborhoods in Troy. It includes a wooded nature area home to native animals, eight lighted tennis courts, a picnic area, restrooms (at the Troy Family Aquatic Center), and ample parking. The neighborhood park also features a 1.3-mile natural trail perfect for walking or jogging.
Want a public space where you can spend the entire day? Firefighters Park, one of Troy's community parks, is perfect. The 96-acre park has a pavilion, a picnic area complete with tables, and multiple paved parking lots. There's a child-play area with two play structures and various swings, meaning kids can tag along too.
It also boasts an 18-hole disc golf course, soccer fields, and baseball diamond. The Firefighters Park is also the only community park in Troy with a river running through it, and activities like shore and bridge fishing are allowed.
Golf Courses in Troy
Golf Courses in Troy
Sylvan Glen Golf Course
Somerset Golf Course
Sanctuary Lake Golf Course
Golfers of any skill level can enjoy the many courses in Troy! Sanctuary Lake Golf Course is ideal for an afternoon of laidback golfing in the Sylvan Glen neighborhood. The facility features an 18-hole link-style course set on 190 acres of beautiful, lush-green land on East South Boulevard. It's designed for all skill levels and features well-placed bunkers and properly-maintained hitting areas with under lights. The Sanctuary Lake Golf Club has 70 hitting stations and two practice areas with complimentary golf balls and everything they need to hone their golf game for amateur golfers. There's a pro golf shop and clubhouse on-site, and the famous Sanctuary Lakes Resort is also nearby.
The Sylvan Glen Golf Course, one of the oldest in Oakland County, is also popular among golf enthusiasts. It is located on Rochester Road, just six minutes away from the Sanctuary Lake Golf Course, and features 6,700 yards from the longest tees.
The fairways are lined with bunkers, trees, and water features to increase the difficulty and make the game even more exciting. Supplies are readily available at the pro shop. Golfers often head to the Camp Ticonderoga restaurant and grill room for pre or after-game relaxation, which features plenty of casual dining options in a cozy ambiance.
Other Troy Outdoor Activities
The outdoor fun in Troy doesn't end with trails, parks, and golf courses. This charming suburb has its historic village, which chronicles the city's extensive history, features a collection of fascinating 18th and 19th-century buildings, and hosts various pre-planned fun activities for adults and kids.
Visit the Air Time Trampoline & Game Park for some sky-high fun. Put your slam-dunking skills to the test at its wall-to-wall trampoline on the jam session arena or show off your stamina by racing through rope sings, trapeze bars, gym rings, and monkey bars at the 200-foot obstacle course.
During the winter months, residents flock to Mt Holly Ski and Snowboard Resort to enjoy 20 trails for beginners and experts, seven chairlifts, and terrain park obstacles. The park is located in Groveland Township, offering epic ski days from every day of the week when weather permits. The resort also offers classes, contests, and other amenities.
Festival and event lovers will also love living in Troy. The city hosts the Family Daze Festivals, a four-day annual festival to celebrate the Troy community and its accomplishments. The festival attracts over 25,000 people and features carnival rides, games, live and cultural performances, and plenty of food and drinks. Other fun festivals held during the year include Opa Fest, a three-day Greek celebration featuring delicious food and plenty of entertainment.
Outdoor Fun Awaits in Troy, Michigan!
Whether you love spending your days by an on-site pool at one of the condos in Troy or hiking through nature trails with wildlife, Troy has just the spot for you. The Aquatic Family Center, for instance, features multiple pools and gaming courts, making it perfect for water sport enthusiasts. At the same time, the Sanctuary Lake and Sylvan Glen Golf Course are a haven for avid golfers. Simply put, people moving to Troy can find a wealth of outdoor entertainment.
If you're planning to move to the Detroit metro area, contact The Perna Team of Keller Williams at 248-886-4450 to get in touch with experienced local real estate agents who can help you find your perfect Troy home today.