Find Your Perfect Home in Troy: A Guide to the 8 Best Neighborhoods in Troy, MI
Posted by Michael Perna on Wednesday, November 24, 2021 at 8:42 AM
By Michael Perna / November 24, 2021
Comment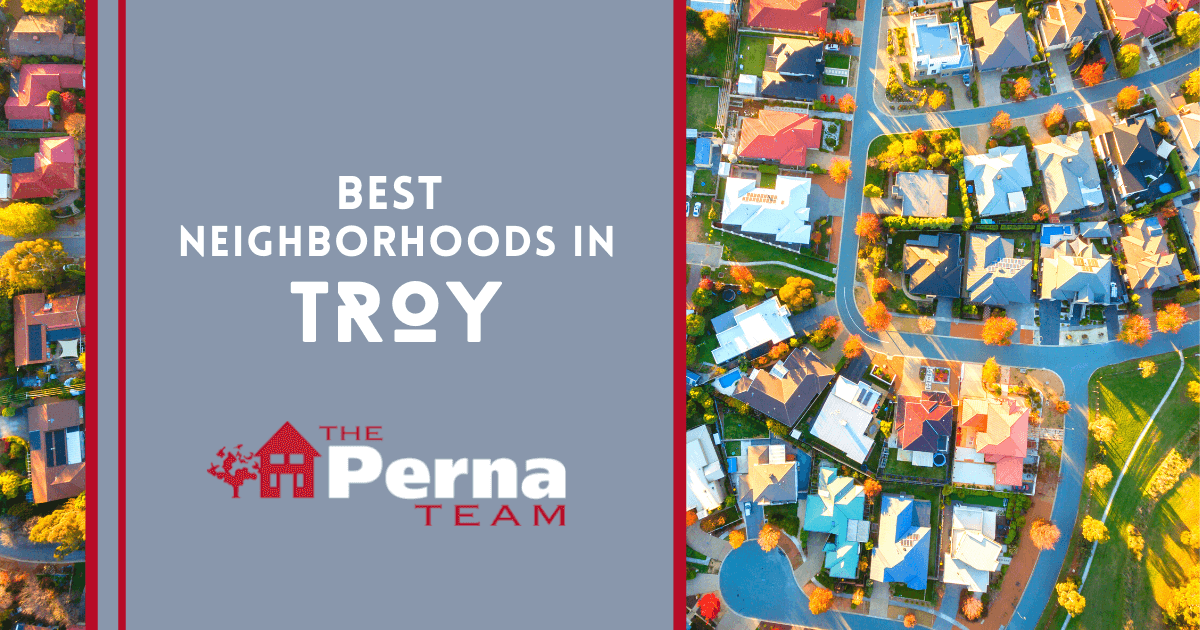 Troy, Michigan, located 24 miles to the north of the city of Detroit, is a quiet suburb that is considered one of the best places to live in the state of Michigan. This is due to its peaceful nature and the many business opportunities available to residents. People love the Troy real estate market because of the neighborhoods found there, including a wide selection of condo communities, new construction homes, and single-family homes. Keep reading to see a list of the best neighborhoods in Troy, Michigan.
Oak River
Oak River Amenities
Beyond Juicery + Eatery
Long Lake Plaza
Papa Romano's Pizza & Mr. Pita
Beach Road Park
Including 230 homes, the Oak River community in Troy, MI, is located south of Long Lake Road, between Beach Road and Coolidge Highway. The Oak River neighborhood has tree-lined streets with accessible sidewalks, making it a top choice among people moving to Troy. In addition, there is plenty of green space in the community, especially along the Rogue River, which runs along the eastern and southern edges of the neighborhood.
Homes for sale in Oak River start at $295,000 and go up to about $770,000 for homes ranging in size from 3-beds and 3-baths to 5-beds and 4-baths. The most common floor plans offer between 2,000 square feet to 3,900 square feet.
Local hotspots include Java N Byte, a small café to the east serving breakfast, lunch, and coffee; The Capital Grille, featuring a variety of delicious appetizers, seafood, and steak, among other menu items; and The Great Greek Mediterranean Grill, with a menu full of savory Greek and Mediterranean cuisine.
When it comes to shopping, Oak River residents can travel to the south for various retailers, including Nordstrom, Macy's, and other stores at the Somerset Collection mall. Neighborhood residents can also get some drinks at CJ Mahoney's Sports Grille to the southeast.
Crescent Ridge
Crescent Ridge Amenities
A Taste of Europe Crepes
The Magic Soiree
Walmart
With over 480 homes, the Crescent Ridge community is a large, quiet neighborhood between Coolidge Highway and Crooks Road, north of West Square Lake Road. The area is filled with beautiful trees, and residents have access to two family-friendly outdoor areas, Stage Nature Center and Firefighters Park.
The prices of homes for sale in Crescent Ridge are between $100,000 and $560,000. Built between 1980 and 1995, many of the homes in the neighborhood feature sizes ranging from 1,500 to 4,700 square feet. The houses in the community include colonial, contemporary, and ranch-style homes.
In addition to outdoor recreation activities available at the two nearby parks, residents can also play a round of golf at Pine Trace Golf Club, an 18-hole golf course open to the public. For shopping, residents can travel to Northfield Commons to the east to find several stores catering to various needs.
Area restaurants include Cedar Grille, a menu filled with Lebanese and Middle Eastern cuisine; Café Immortelle, a family-run establishment selling coffee, tea, and brunch menu items; and Jitt's Indian Fusion Food, with made-to-order Indian and other dishes.
Beach Road
Beach Road Amenities
Rusty Bucket Restaurant and Tavern
White Chapel Memorial Park Cemetery
P.F. Chang's
Saks Fifth Avenue
Found along Beach Road, north of West Long Lake Road, the Beach Road community comprises only ten homes. This makes the whole subdivision extremely private, with tree-lined lots and natural waterfalls. Building in the community started in 1965 and finished in 2015.
When it comes to price, Beach Road real estate starts at around $200,000 and goes up to $1.4 million. Many of the houses in the neighborhood have four bedrooms and two or more bathrooms. Home sizes start at 1,900 square feet and can go up to 4,700 square feet for larger homes.
One prominent area park is Beach Road Park, a 10-acre green space that offers a playground, a baseball diamond, and soccer fields. Other nearby parks include Schroeder Park to the south, which has 10 acres of wooded area within its 12-acre confines, and Boulan Park, a 63-acre park with various sports facilities.
The Beach Road area also has some other amenities to offer. These include J. Alexander's Restaurant, known for its wood-fired cuisine; Sheffield Café, offering fresh coffee and hot tea, as well as Baklava and other tasty treats; and Loccino Italian Grill & Bar, which has a selection of delicious food to choose from.
Beach Forest
Beach Forest Amenities
Java N Byte
The Capital Grille
Bloomfield Open Hunt Club
Firefighter Park
Beach Forest is a community of around 230 homes located west of Coolidge Highway and south of Arlund Way Road, in Troy, MI. Many homes for sale in Beach Forest feature walkout basements and private landscaped yards.
The price for homes in the community range from $269,000 to $1.4 million. Home construction in the neighborhood began in 1988 and finished in 1998, with many two-story, split-level colonial, Tudor, and ranch-style homes being built. Floor plan sizes range from 2,800 to 5,800 square feet.
Area cafes include Café Gourmet, serving breakfast and lunch items, as well as a selection of gourmet coffees; Nordstrom eBar Artisan Coffee, offering espresso drinks, coffee, and locally-sourced pastries; and Sweetwaters Coffee & Tea, featuring coffee, desserts, and light fare.
For people who want something a little more hearty, the Beach Forest area has a lot of restaurants to choose from. Eddie V's Prime Seafood gives patrons a stylish and sophisticated dining experience. Seasons 52 offers four specialty menus each day and food tailored to a diner's needs. For beers, try Granite City Food & Brewery, which has been brewing fresh craft beers since 1999.
Baileys Vineyards
Baileys Vineyards Amenities
The Duke Lounge
Ocean Prime
Beach Road Park
Stonycroft Hills Club
Constructed between 1995 and 1997, the Baileys Vineyards community is located south of Interstate 75 and west of Coolidge Highway, near Troy's border with Bloomfield Hills. Some of the features that many Baileys Vineyards homes for sale share include finished basements with recreation rooms, home theaters, and other room types.
Homes within the Baileys Vineyard neighborhood cost anywhere from $850,000 and $970,000. Home sizes range from five-, four-, and three-bedroom floor plans, varying in size from 4,000 to 5,500 square feet. Homes in the neighborhood are a mixture of two-story, split-level colonials, ranch, and Tudor-style homes.
Restaurants near the Baileys Vineyards community include Lemon Grass Thai Restaurant, featuring dishes made with fresh ingredients and whole foods; Bill's, offering old-world charm in a modern setting; and Red Robin, serving gourmet burgers and more.
Other area hotspots include Cranbrook House & Gardens in Bloomfield Hills to the west; Heathers Club of Bloomfield, a private golf club with a championship 9-hole golf course; and the Frank Lloyd Wright Affleck House, a historical landmark used for educational purposes by the Lawrence Technological University (LTU) and the College of Architecture and Design.
Forest Creek
Forest Creek Amenities
The Original Pancake House
Bakehouse 46
Pine Trace Golf Club
In Troy, MI, the Forest Creek neighborhood sits in the northwest part of the city, east of Coolidge Highway and south of West South Boulevard. The subdivision is set amongst woods and small lakes and is within the vicinity of White Chapel Memorial Park Cemetery, with its tranquil gardens and renowned architecture.
Forest Creek homes for sale range from as little as $170,000 to as much as $725,000. Most of the 276 homes within the community are colonial-style brick homes, with a few cape cod, contemporary, and ranch-style homes mixed in. Home sizes range from 1,600 to 4,700 square feet.
Local eateries include the Yard House, which has one of the best selections of beers in the area; Fogo de Chão Brazilian Steakhouse, offering panoramic views of the area and a 10-foot carving of the Laçador Statue, a historic landmark in Porto Alegre, Brazil; and Maggiano's Little Italy, home of savory Italian dishes.
Area bars and breweries include various locations, such as Tallulah Wine Bar & Bistro, offering a selection of wine and delectable food in a private setting; Blue Skies Brewery, a taproom featuring 16 taps; and the Griffin Claw Clubhouse, serving beers, ciders, and spirits, along with pub grub.
Stoneridge
Stoneridge Amenities
Alfattoush Restaurant
The Edge Fitness Club
McVee's Pub & Grub
The community of Stonebridge in northern Troy, MI, lies between John R Road and Dequindre Road, south of East Square Lake Road. The Stonebridge subdivision has plenty of sidewalks and access to two area parks, Stoneridge Park North and Stoneridge Park East.
The Stoneridge homes for sale range in price from $100,000 to $470,000. Many of the homes within the community are either colonial or ranch-style homes, with a few contemporary and Cape Cod-style houses mixed in. Square footage in homes starts at 1,000 square feet and goes up to 2,800 square feet.
Food locations found in the Stoneridge area include Benito's Pizza, which serves a selection of pizza, subs, and other Italian favorites; Wong's Garden, featuring a variety of Asian dishes; and La Botana Mexican Grill, which has homemade tamales and a menu full of Mexican favorites.
Area cafes and bakeries include Johny Cakes Café, which has breakfast and lunch items, along with coffee; Street Sweets, a bakery, pastry shop, and dessert café; and Fox & Hounds Pastry Den, a walk-in bakery that makes cakes, cookies, and a wide variety of other baked goods.
Windmill Pointe
Windmill Pointe Amenities
Sedona Taphouse
Hibachi Buffet Sushi & Grill
BJ's Restaurant & Brewhouse
Al's Hideaway Bar & Grill
With over 500 homes, the Windmill Pointe subdivision is a large neighborhood in eastern central Troy, MI. Most of the homes for sale in Windmill Pointe are ranch and colonial-style houses. Brick paver entryways and private backyards complement the houses in the neighborhood.
Home prices within the Windmill Pointe neighborhood start at around $90,000 and go up to $360,000. Homes also have anywhere between three and five bedrooms with family rooms, complete with brick fireplaces. House sizes are anywhere from 900 square feet to 2,900 square feet.
Area bars include Joe Kool's Bar & Grill, with 28 beers on tap and a variety of bar food to choose from; Steampunk Tap Room, offering a variety of local and national crafted beers; and the Loaded Dice Brewery, serving a variety of stouts, ales, and other craft-brewed drinks.
The Windmill Pointe community is also close to a variety of eateries and cafes, such as Irena's Pastry & Bistro, which has crepes, Polish dishes, and more; Bahama Breeze Island Grille, featuring music and a substantial island vibe as a part of its atmosphere; and the Old Detroit Burger Bar, serving its signature burgers, along with a variety of other food and drinks.
Discover the Best Neighborhoods in Troy
In addition to having a wide selection of quiet and affordable neighborhoods, Troy has many local hotspots to choose from. This includes impressive area parks, some of the best restaurants, first-class shopping at local retailers, and many other fun things to do in Troy, MI.
The city's proximity to nearby Detroit, MI, to the south means that residents of Troy can find just about anything that they need, including world-class entertainment, dining, and other much sought-after experiences. Area homes offer the best in comfort, style, and affordable prices, making Troy, MI, a very desirable place to live.
If you're planning to move to the Detroit metro area, contact The Perna Team of Keller Williams at 248-886-4450 to get in touch with experienced local real estate agents who can help you find your perfect Troy home today.