6 Best Lakes Near Troy Michigan: Explore Sylvan Glen & More
Posted by Michael Perna on Monday, March 28, 2022 at 10:30 AM
By Michael Perna / March 28, 2022
Comment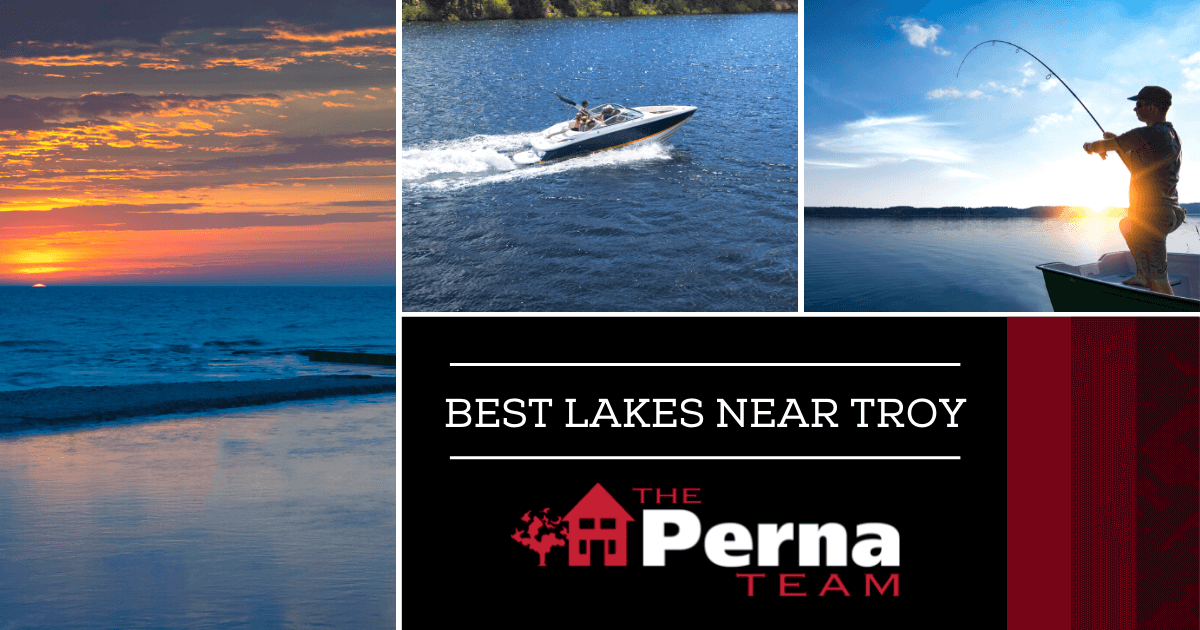 Michigan is known as "The Great Lakes State," so it's no surprise that boating, fishing, and enjoying the water are favored activities here. The city of Troy is no exception, and while it takes a bit of a drive to get to either of the closest Great Lakes, there are fortunately several smaller options much closer. Some lakes are even within Troy's city limits. Keep reading to discover the six best lakes near Troy, Michigan, to spend the day doing fun outdoor activities.
Sylvan Glen Lake
Sylvan Glen Lake Amenities
16 acres
Shore fishing
Largemouth bass
Bluegill
Black crappie
Spotted bass
Pumpkinseed
Sylvan Glen Lake is in the park that bears its name in north-central Troy. There is a dirt road and a small dirt parking lot that visitors can access off Rochester Road. The park has a single barbecue grill, and the main draw is the 16-acre Sylvan Glen Lake itself.
Shore fishing is allowed for those with a State of Michigan fishing license. Early mornings are the best time for anglers to try to reel in largemouth bass. Bluegill are also reasonably common, and anglers have reported catching black crappie, spotted bass, and even the occasional pumpkinseed. Leashed dogs are welcome in the park, but boating and swimming on Sylvan Glen Lake are not. Admission and parking to Sylvan Glen Lake are free.
Thelma Spencer Park Lake
Thelma Spencer Park Lake Amenities
38 acres
Sandy beach
Watercraft rentals
Ice skating rink when frozen
Fishing
Thelma Spencer Park Lake is just to the north of Troy in the city of Rochester Hills. The 38-acre lake is a big draw for people who come to Thelma Spencer Park (locals call them "Spencer Park" and "Spencer Lake"). The lake has a sandy beach that opens for swimming between Memorial Day weekend and Labor Day weekend each year, so long as a lifeguard is on duty. Pets are not allowed in the park or near the lake during summer. However, owners can bring leashed pets to the park and the lake for the rest of the year.
The park has some watercraft available to rent, but visitors cannot bring their boats or watercraft. The lake becomes an ice skating rink during winter once it freezes over. Anglers can rent a watercraft, or they can fish from the shore or the pier. It's free to visit and park near the lake.
Stony Creek Lake
Stony Creek Lake Amenities
500 acres
Sailing
Kayaking and canoeing
Watercraft rentals
Boat storage
Winter ice skating
Fishing
It's about a 20-minute drive from Troy to Stony Creek Lake, located in the 4,335-acre Stony Creek Metropark in Shelby Township. During the summer months, boating, sailing, kayaking, and canoeing are all allowed on this 500-acre lake. Owners are welcome to bring or rent watercraft. The park even offers boat storage for a reasonable fee for those who plan on using the lake often.
There's also a beach for swimming at Stony Creek Metropark, with a waterslide for kids over 42 inches tall. The waterslide fee is $2 per ride or $10 for an all-day wristband. Stony Creek Lake has a designated area roped off for ice skating during winter. Fishing is allowed from the shore, boat, or pier.
Orchard Lake
Orchard Lake Amenities
800 acres
Boating
Fishing
Apple Island wildlife sanctuary
Lake estates
Orchard Lake is about a 25-minute drive directly west of Troy. Long Lake Road from Troy is a faster route than I-75 during rush-hour times. Orchard Lake is nearly 800 acres in size, and the Orchard Lake Village community surrounds the lake. The lake is a favored spot for boating and fishing.
Anglers primarily catch bluegill and largemouth bass, but the lake also has northern pike, rock bass, smallmouth bass, and a few yellow perch. Apple Island, located in the middle of Orchard Lake, is a designated wildlife sanctuary.
The Orchard Lake DNR Boat Launch is on the southeast side of the lake, off Orchard Lake Road. Boaters also appreciate the many lake estates here, especially along the north shore.
Cass Lake
Cass Lake Amenities
1280 acres
Boating
Swimming
Fishing
Pontiac Yacht Club
Observation pier
Waterfront homes and condos
Cass Lake is an even larger lake located directly north of Orchard Lake, with a surface area of 1,280 acres. It is a popular boating, swimming, and fishing destination. The best public access boat launch for the lake is along the north shore, at Dodge #4 State Park. The Cass Lake Dry Dock Marina is next to the boat launch for those who want to store their boats nearby.
Cass Lake is also home to Pontiac Yacht Club. This park has an observation pier for sightseers and anglers and a beach for swimming during summer.
This large lake is 123 feet deep at its deepest point. Those fishing from the shore or a boat can try their luck for lake trout, walleye, largemouth bass, and other species.
Several local communities surround Cass Lake, so the shoreline features many beautiful waterfront homes and low-rise condos providing excellent water views.
Sylvan Lake
Sylvan Lake Amenities
458 acres
Good 4th of July fireworks views
Two beach areas
Fishing
Boating
Sylvan Lake is west of Troy and connects directly to Otter Lake in the north. Cass Lake is west of Sylvan Lake, but a dam separates the two. Sylvan Lake and Otter Lake combined make up 532 acres of surface area.
Sylvan Lake is a favored spot for fireworks every year on the Fourth of July. There are two beach areas where swimming is permitted, although there are no lifeguards on duty. Anglers can hope to catch black crappie, panfish, walleye, largemouth bass, and several other species here.
Boaters must have a permit from the City of Sylvan Lake. When registering their boat with the city, boat owners are issued a Boat Ramp Key and a Launch Pass sticker that must be on the boat. The cost is $25 per year for the key and launch pass.
Enjoy the Lakes Near Troy
Most of the lakes around Troy are open for activities year-round, although those activities might be limited to ice skating during winter. Unless noted otherwise above, most of the lakes are also free to visit. Remember, the list here contains just a few of the best lakes near Troy; there are other bodies of water in and around the city to explore as well!
If you're planning to move to the Detroit metro area, contact The Perna Team of Keller Williams at 248-886-4450 to get in touch with experienced local real estate agents who can help you find your perfect Troy home today.