Best Lakes Near Detroit: Detroit, MI Local Lakes Guide
Posted by Michael Perna on Friday, December 4, 2020 at 11:55 AM
By Michael Perna / December 4, 2020
1 Comment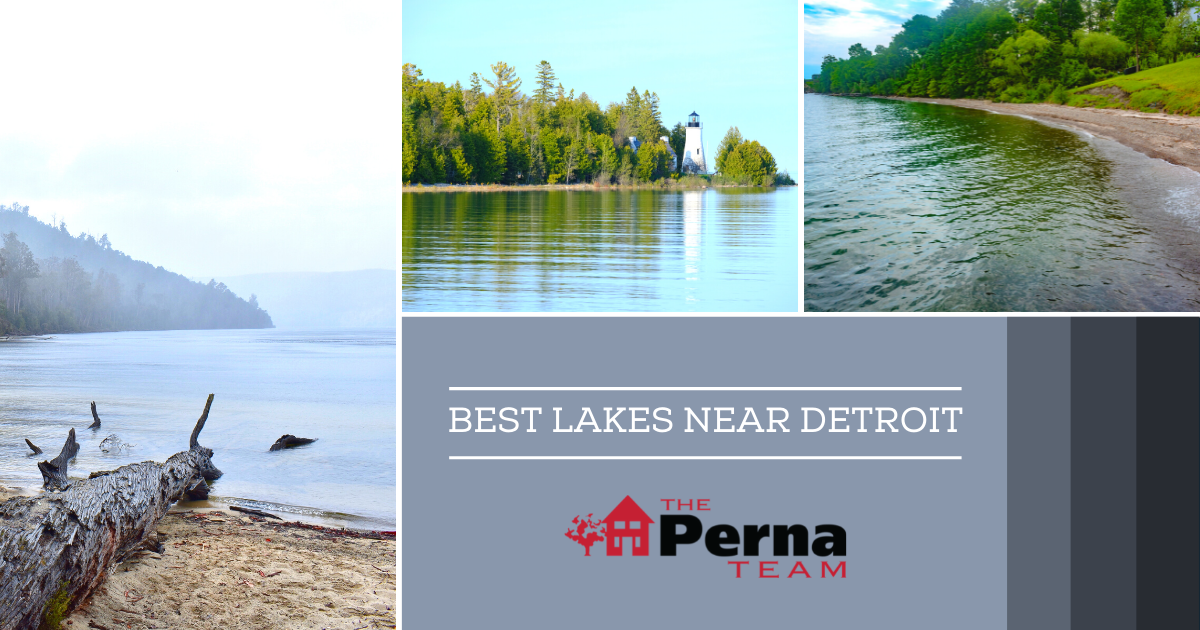 Michigan is known for its Great Lakes, but it's actually home to more than 11,000 different inland lakes spread across its two peninsulas. In fact, while in Michigan, it's impossible to be more than six miles from a body of water. Homes in Detroit have some amazing lakes nearby to visit and explore. If you live in the area or are thinking of visiting or moving to Detroit anytime soon, remember to set aside time to see some of the best lakes near Detroit—whether it's for fishing, boating, or just relaxing on the shores and taking in the beautiful views.
The following are five of the best lakes near Detroit that are well worth visiting when in the area.
Lake Huron
Lake Huron Parks
Lake Huron Roadside Park
Lighthouse Park
Fort Gratiot County Park
Lakeport State Park
Lakeside Park
Lake Huron is one of the five Great Lakes, bordering Michigan and Ontario, Canada. With a surface area of 23,000 square miles, it is the second-largest Great Lake by surface area. Originally called La Mer Douce, or "the freshwater sea," by the French explorers who discovered it, this lake has some of the most brilliant blue colors compared to some of the other Great Lakes. This vibrant blue seen in Lake Huron is said to be from the sediment that is brought to the surface from strong winds churning the lake. Later named Lake Huron by the Huron people who lived along this lake's shores, this body of water forms the "thumb" of Michigan's mitten shape.
Many port towns can be found along Lake Huron, and there are many water activities to participate in around and on this lake. One of the most historic parks in the area, Lighthouse Park, spans 900 feet of waterfront and beach upon the lake. It also houses Fort Gratiot Lighthouse, Michigan's oldest lighthouse. Not too far away, the Annual Great Lakes Lighthouse Festival is held in Alpena.
Because Lake Huron is so large, there are many places to access it, including several state parks. Many of the Lake Huron access points offer boat rental facilities for those who love kayaking and canoeing.
Lake St. Clair
Lake St. Clair Parks
Pier Park
Windmill Pointe Park
Riverfront-Lakewood East Park
Veterans Memorial Park
Harrison Township Waterfront Park
Similarly to Lake Huron, this lake also lies between Ontario and Michigan and was named by French explorers. Named in 1679 after Saint Clare of Assisi, an Italian saint who wrote the first set of monastic guidelines known to have been written by a woman, this lake is a part of the Great Lakes system with Lake Huron to its north and Lake Erie to its south.
Lake St. Clair Metropark, a popular park with a paved trail taking visitors along a one-mile paved pathway along the lake, is a great destination for those who want to take in the sights of this lake. With a nature center, trails, miniature golf course, and more, this park is also a well-known spot for some great birdwatching. The lake shoreline combined with wetlands attracts many waterfowl that visitors love to enjoy seeing.
Additionally, there are various more activities to enjoy on Lake St. Clair, including boating, fishing, golfing, hiking, picnicking, biking, geocaching, and much more. Lake St. Clair is also an excellent choice for those who are looking for lakefront properties.
Orchard Lake
Orchard Lake Activities
Jet skiing
Boating
Fishing
Swimming
Located in Oakland County, Michigan, this 795-acre lake is located about 25 miles from Detroit. This lake is surrounded by Orchard Lake Village, a town that has a population of approximately only 2,500 people and is home to many places and organizations, such as Orchard Lake Country Club and the Orchard Lake Nature Sanctuary.
Orchard Lake Country Club, a lakefront country club and golf course, offers members great dining by an award-winning chef with a beautiful view, racquet courts, sailing, events, and even a nationally recognized wine list. Orchard Lake Nature Sanctuary is a 50-acre wooded tract of land that offers plenty of wildlife and plants to see.
In the middle of Orchard Lake sits Apple Island, a 37-acre island formed 10,000 to 12,000 years ago. Officially known as Marjorie Ward Strong Woodland Sanctuary, this island is uninhabited by people and protected as a nature reserve by West Bloomfield School District. The island offers tours annually through Apple Island Tours, where the public can visit the island a couple of times a year. Home to over 400 species of trees and plants, this unique ecological system sure is a sight to see.
For those who want to live near this beautiful lake, there are luxury homes in the area and on the lakefront that provide the ultimate lakefront-living experience.
Lake Erie
Lake Erie Parks
William C. Sterling State Park
Erie Rd. Public Beach Access
Grace Connolly Erie Park
Lake Erie, another one of the five Great Lakes and the smallest of the four Great Lakes that touch Michigan's shores, is another one of the best lakes near Detroit and is known for its sport fishing. Popular for walleye and yellow perch fishing, there are many fishing boat charters available in Lake Erie to choose from for your sport fishing desires. At 9,910 square miles, Lake Erie is also the smallest of the Great Lakes that directly touch Michigan.
One of the best places to experience Lake Erie is William C. Sterling State Park. This 1,300-acre park offers a mile span of beach, boating, and fishing on the lake. It also is a great place to camp, see wildlife, and go hiking with its seven miles of trails. Similarly, a slightly larger park spanning 1,607 acres, Lake Erie Metropark also features an abundance of wildlife and waterfowl. This park is another great spot for families to enjoy, featuring fun activities such as a wave-action swimming pool, 18-hole golf course, boat launches, a marina, and the Marshlands Museum & Nature Center.
Another popular event known amongst those in the community is Hawkfest, an annual two-day event for people of all ages to see birds of prey such as owls, eagles, falcons, and of course, hawks!
Cass Lake
Cass Lake Amenities
Beach and swimming
Boat launch
Concessions
Picnic tables
Named after a former Michigan governor Lewis Cass, Cass Lake is the largest and deepest lake in Oakland County and covers 1,280 acres. This lake is so large that it touches four cities: Orchard Lake, West Bloomfield, Keego Harbor, and Waterford Township.
Dodge #4 State Park has both summer and winter activities to enjoy on its 1-mile shoreline along the lake and is maintained as a public park. It has a fishing pier, boat launch, picnic area, volleyball court, and even a small playground for kids, so there's plenty to do at this park while enjoying Cass Lake.
Otherwise, for fishing aficionados, Cass Lake offers both warm-water fishing and ice fishing. There are options for fishing from the shore, the fishing pier, or even by boat. With family-friendly fishing waters, you can fish for many types of fish at Cass Lake, including carp, catfish, largemouth bass, smallmouth Bass, walleye, yellow perch, and many more.
Whether spring, summer, fall, or winter, Cass Lake a great destination to visit for any vacation. Visitors can swim, fish, ski, golf, ice fish, or simply take in the views and enjoy nature while visiting Cass Lake.
Spend a Day on the Lake
Detroit and its suburbs have some of the best lakes in Michigan, and this is just a small selection of them. Whether moving to Metro Detroit or just visiting, be sure to leave time to spend at one of these beautiful lakes. With activities to pursue such as boating, fishing, camping, swimming, and more, the lakes near Detroit will provide adventure and beauty to all who visit.
If you're planning to move to the Detroit metro area, contact The Perna Team of Keller Williams at 248-886-4450 to get in touch with experienced local real estate agents who can help you find your perfect Detroit home today.