Best Golf Courses in Detroit: Where are the Best Golf Courses Near Detroit?
Posted by Michael Perna on Tuesday, December 1, 2020 at 11:45 AM
By Michael Perna / December 1, 2020
Comment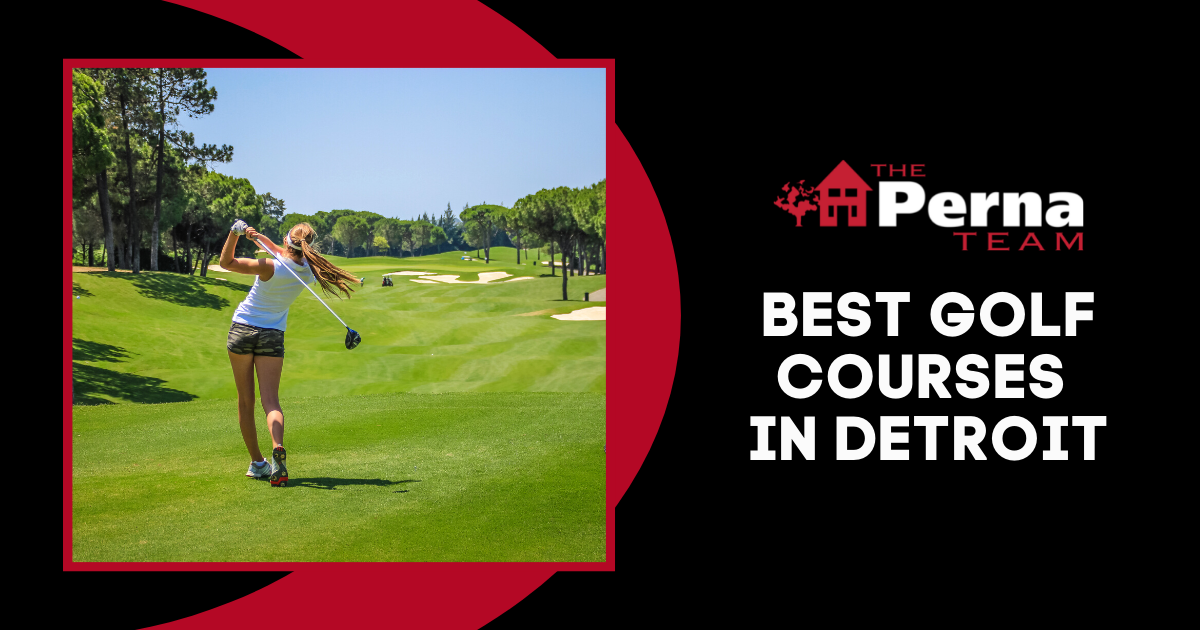 The state of Michigan is home to over 650 public golf courses designed by some of the world's best golf architects. Fortunately for those with homes in Detroit, some of Michigan's best golf courses are less than an hour away in Detroit's surrounding suburbs. With long summer days, it is easy to get out and enjoy a couple of extra rounds. Some golf courses even stay open year-round due to Michigan's habit of warming up enough for the snow to melt, so passionate golfers can sometimes even play in January. Let's tee up and learn more about the best golf courses near Detroit.
Northville Hills Golf Club
Arnold Palmer is one of the most famous golfers in the sport's history. He designed many Arnold Palmer Signature Design golf courses in his lifetime, and this course in Northville is one of them. With over 7,000 yards of challenging and enjoyable fairways, greens, and tees, golfers of all levels can enjoy playing at this golf club. Golfers will find a variety of rolling slopes, woodlands, and wetlands as they complete the course.
Northville Hills Golf Club is adamant about pace of play. It should take a group of four about 4.5 hours to complete all 18 holes. While the game is not meant to be rushed, rangers are stationed throughout the golf course to help all parties maintain the pace of play.
Season passes for seniors, adults, college students, and minors are available for purchase in addition to individual and group golf lessons. Additionally, those who wish to have corporate outings can inquire about the cost and what is covered through the golf club's website. Aside from corporate outings, the golf club also welcomes weddings and other events.
The Northville Hills Golf Club is located 27 miles west of downtown Detroit. It can be easily accessed via I-96 W. Without heavy traffic due to congestion or an accident, golfers can expect to arrive in around 30 minutes.
Moose Ridge Golf Course
Rolling topography can make a golf course incredibly challenging and exciting. Fortunately for golfing enthusiasts of all skill levels, the Moose Ridge Golf Course is perfectly situated to challenge their skills. Multiple tee locations are available on each hole to ensure every golfer can enjoy the game and test their abilities.
After a long day on the course, golfers can enjoy a few drinks and light meals at the Moose Grille. Located inside the Montana-lodge-style clubhouse, the dining facility can be transformed into a perfectly catered event. Parties, weddings, and receptions are always welcome at the Moose Ridge Golf Course.
Memberships are available at various rates for those who want unlimited golfing every day of the week or just the weekend. Additionally, memberships are available for those who simply want to hit the range. College students and minors may be eligible for discounted memberships.
Rather than providing lessons at Moose Ridge, lessons are available through the Ryan Erxleben Golf Academy. This golf club is located 44 miles northwest of downtown Detroit. Golfers can access this course in South Lyon by taking the Lodge Freeway.
Fox Hills Golf Center
While most golf clubs only have one course, the Fox Hills Golf Center offers three golf courses (Golden Fox, Fox Classic, and Strategic Fox) with separate clubhouses and a total of 63 holes. This golf club is situated on 500 acres of beautiful countryside in Plymouth, MI. The beautiful scenery and exceptional views have made the Fox Hills Golf Center an essential destination for weddings and corporate retreats. Parties can choose from any of the three golf courses.
In addition to golf courses with various challenges and perfect wedding backdrops, the Fox hills Golf Center is the first golf club in Michigan to partner with The American FootGolf League. FootGolf combines soccer and golf into one exciting sport. Players kick a soccer ball into 21-inch golf cups at the Strategic Fox Course.
Daily rates are reasonable at Fox Hills and include a cart with each reserved tee time. After wrapping up on the back 9, golfers can join in the fun at any of the clubhouses. Fox Hills has won numerous awards for its brunch offering and continues to earn awards for its courses and wedding venues. Whether you want to go for a full 18 hole game or play the front 9, golfers can easily get to Fox Hills by driving 32 miles west of downtown Detroit. By following I-96 W, visitors can arrive in around 30 minutes.
The Orchards Golf Club
Few golf courses in the world are given the honor of being deemed championship golf courses. The Orchards is one of the few in Michigan that have been given the honor and is open to the public (outside tournaments, of course). The Orchards is situated on 525 acres of courses and includes a residential community. Designed by Robert Trent Jones Jr., an internationally acclaimed course architect, The Orchards offers 18 holes and multiple levels of challenges to golfers of all skill levels. The Orchards even offers a state-of-the-art practice facility that is over 27,000 square feet.
When golfers are not putting on the green of the practice facility, they can be found mingling in the clubhouse. Offering seating for 100 individuals and room to entertain up to 165 people, the clubhouse is well-situated for daily meals along with memorable weddings and receptions. Views from the clubhouse include the first fairway and a panoramic view of the Detroit Skyline.
Seasonal passes along with daily fares are available for purchase. Those who would like to improve their skills or even get started with the sport can purchase private lessons for $100 per hour.
Golfers who are ready to challenge their skills on this championship golf course can head 37 miles north of downtown Detroit. The Orchards is located in Washington, MI, and easily accessible via I-75 N and M-53 N.
Boulder Pointe Golf Club
The Boulder Pointe Golf Club allows golfers to put together their own 18-hole course. This unique golf club offers three 9-hole courses that are each distinct and offer their own challenges. Based on how golfers choose to set their tees, they can create an 18-hole game that is between 5,000 yards and 7,000 yards. However, golfers can choose to combine playing on the Bluffs, the Peaks, and the Dunes courses, making a unique experience every time.
Situated on a reclaimed gravel mine, the courses feature elevation changes that are unlike the surrounding area of Oakland County. Golfers can enjoy gazing upon 15 beautiful lakes as they wait to tee up and drive their ball down the range.
Memberships are available for individuals, couples, and families. Memberships allow unlimited access to the courses, locker rooms, practice facilities, and clubhouse. The clubhouse is modern and features delicious meals that cannot be beaten. Up to 300 members can drink and dine at the clubhouse at one time.
Located in Oxford, MI, golfers can reach Boulder Pointe in under an hour. The golf club is only 44 miles north of downtown Detroit. All visitors need to do is hop on I-75 N and enjoy the drive.
Shepherd's Hollow Golf Club
Ranked as the 42nd best golf course in the entire country, Shepherd's Hollow Golf Club is certainly a course that cannot be missed. With over 7,200 yards for golfers to enjoy and a challenging par 72 course, this golf club is dedicated to creating enjoyment and excitement on every visit. Hardwoods, valleys, and sand traps create a unique drive on every hole.
In addition to offering some of the best golf in the area, Shepherd's Hollow provides members and guests a full-service driving range and practice center. Should anything be missing from your golf caddy, the Pro Shop has everything one could possibly need to have their best round of golf.
Just opened in the summer of 2020, the Banquet Venue is designed to provide guests with the best landscape and backdrop from private parties. Brides, grooms, and guests alike will be dazzled by the incredible venue. With over 5,900 square feet of entertainment space, the venue can be created by the dining team at Shepherd's Hollow.
Golfers and event attendees alike can easily find this golf club in Clarkston, MI. All they need to do is head 45 miles northwest of downtown Detroit on I-75 N. In just under one hour, everyone will arrive and be able to enjoy the golf club.
Golf Across Southeast Michigan
While golf courses and clubs may not be the first thing that comes to mind when you think of Detroit, some of the best rounds of golf are within an hour of the city. From championship holes to a combination of golf and soccer, Detroit has a golf course to suit everyone's taste. Golf enthusiasts always have a place to go when looking for something to do in Detroit. Which golf course will you be booking your tee time at first?
If you're planning to move to the Detroit metro area, contact The Perna Team of Keller Williams at 248-886-4450 to get in touch with experienced local real estate agents who can help you find your perfect Detroit home today.