Best Dog Parks in Detroit: Where Are the Best Dog Parks in Detroit?
Posted by Michael Perna on Monday, June 21, 2021 at 9:55 AM
By Michael Perna / June 21, 2021
Comment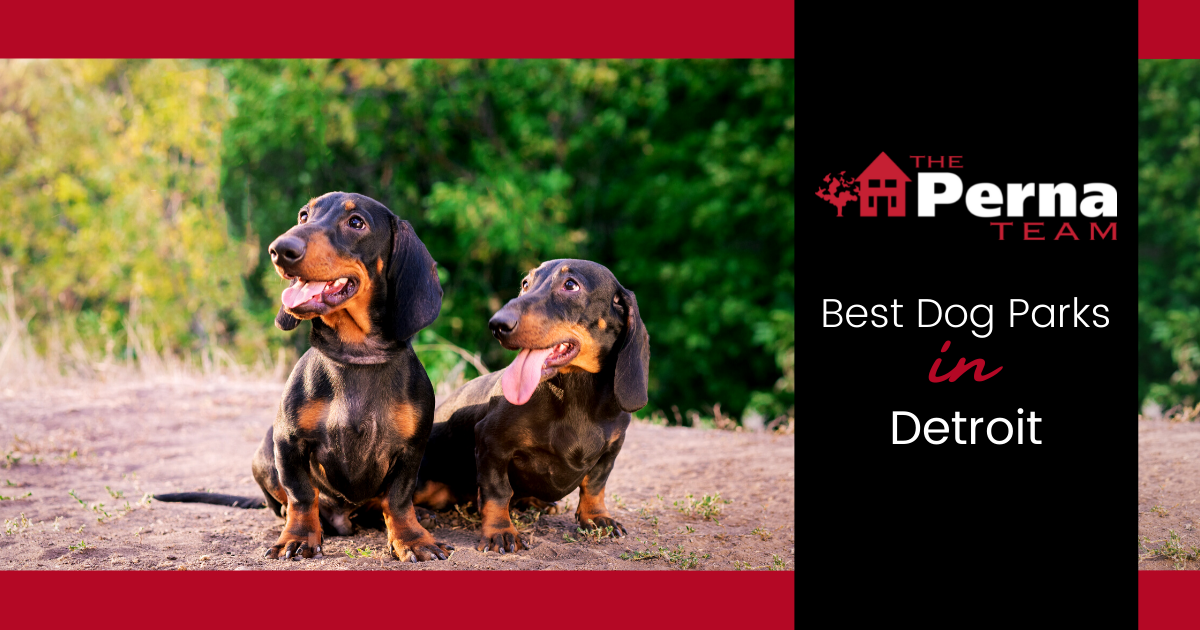 According to MarketWatch, one feature that can make a community or home attractive to a prospective buyer is its proximity to a dog park. That probably shouldn't be too surprising, given that dog ownership has been on the rise. For example, the number of households with dogs has grown by 36% since 2009. That's why many planned communities now include dog parks. For pet owners who don't have a dog park near their Detroit home, there are several excellent places for dogs to play in and around the city. Keep reading to discover the best dog parks in Detroit, Michigan.
WOOFhaven Dog Park
WOOFhaven Dog Park Amenities
Two acres
Separate areas for small and big dogs
Tables and benches
Waste bags available
The WOOFhaven Dog Park is a two-acre, fully fenced facility offering two separate areas: one for big dogs and another for smaller or less active canines. It's located in the south end of Civic Center Park and has tables and benches where owners can relax and watch their canines romp about. WOOFhaven also has doggie waste bags available for those who may have forgotten to bring their own.
The memberships required to use WOOFhaven Dog Park can be purchased at the city clerk's office, located at 21869 West Road. Memberships are available to Woodhaven and Trenton residents and cost $25 for one dog. Additional dogs are $5 each. Residents who pay for the membership will get a KeyFob, which will give them access to the park. The park's maximum is two dogs per person at a time.
Brownstown Dog Park
Brownstown Dog Park Amenities
Separate areas for big and small dogs
Shaded spots and benches
Water available during warm months
Opened in April 2012, this dog park can be found in Brownstown, roughly 20 miles northeast of Detroit. The Brownstown Dog Park is a good-sized facility with two separate areas, one for big dogs and another for small dogs. This dog park, located next to the Brownstown Animal Shelter, has shaded spots and benches where owners can relax. The footing in the park is a combination of pea gravel and grass, and water is available for dogs during the warmer months.
Owners must register through the Brownstown Water Department at 21313 Telegraph Road to access the park. The fee for the annual pass, which is good for up to three dogs, is $25 for residents. For non-residents, the cost is $35. Additionally, owners must provide proof of vaccinations and license to register their dogs.
Red Oaks Dog Park
Red Oaks Dog Park Amenities
5.2 acres
Four separate areas
Double gated
Water-filling stations
Canine owners living in or near Madison Heights will enjoy taking their pooches to this 5.2-acre dog park. Just a quick drive north from Detroit, the Red Oaks Dog Park offers not one, not two, but four separate fenced runs where dogs can cut loose. Three runs are for dogs of all sizes, while the fourth area is restricted to smaller canines. This dog park is double-gated to prevent escapes and has water-filling stations.
The Red Oaks Dog Park also has picnic tables where pet owners can sit and relax. This facility, which is part of the 163-acre Red Oaks County Park, also has paved parking. A daily or annual Oakland County Parks vehicle permit is required.
Pet owners may want to bring a towel, as this park can get muddy after a good rain or snow. All canines entering the dog park should be properly vaccinated, licensed, and wearing their tags.
Grand Circus Dog Park
Grand Circus Dog Park Amenities
Free
Double gated
Tables and chairs
Water available in warmer months
Opened in 2014, this off-leash facility is located in the eastern half of five-acre Grand Circus Park. There is no fee to use Grand Circus Dog Park, which is fully fenced and has a double-gated entry to prevent canine escape artists from fleeing the enclosure. There are several tables and chairs for owners, and water is available during the warmer weather for pups.
The park also has doggie waste bags available for owners who may have forgotten to pack their own. The community of dog owners who frequent Grand Circus Dog Park are fairly active and have held numerous fun events over the years, including a canine costume party at Halloween and dog proms. The park has also been the site of free interactive programs for dogs and their owners.
Midtown Detroit Dog Park
Midtown Detroit Dog Park Amenities
Separate section for small dogs
Double gated
Picnic tables
Waste bags
Water available in warmer months
In 2014, Shinola, a luxury goods retailer based in Detroit, partnered with Midtown Detroit, Inc, a nonprofit community development organization, to open Midtown's first dog park. Although its official name is the Midtown Detroit Dog Park, this facility is also sometimes referred to as the Cass-Canfield Dog Park or the Shinola Clock Dog Park, for a large street clock installed in the park.
The Midtown Detroit Dog Park is fully fenced, has artificial turf, and has a separate section for small dogs. The enclosures are double-gated to prevent wily canines from escaping, and both sections have picnic tables and doggie waste bags. The park also has water access during the warm weather months. A big bonus: this park is located close to several pup-friendly restaurants and bars. To utilize the Midtown Detroit Dog Park, canines must be licensed and vaccinated.
Detroit Dog Park
Detroit Dog Park Amenities
Double gated
Waste bags and trash cans
Benches
Shady areas
Free
The PetSmart P.U.P's Detroit Dog Park is located in Corktown on a former play lot. It's a fully fenced-in space with a double-gated entrance. Doggie waste bags and trash cans are available in the park for owners to clean up after their pets. However, while there are typically bowls at this park, it's a BYOW (Bring Your Own Water) facility.
The footing in this park is mostly dirt with some patches of grass, so it does tend to get muddy after rain or snow. The Detroit Dog Park also has a few creature comforts for humans, including benches and shady areas. Children under 12 years of age must be supervised while in the dog park, and handlers can bring no more than four dogs. There is no admission fee to use this park.
Wagner Park Dog Run
Wagner Park Dog Run Amenities
Free
Off-leash in designated area
Open space and trees
Wagner Park Dog Run is located in Royal Oak, a suburb of Detroit about four miles north of the city. This dog run area can be found in 13.66-acre Wagner Park, close to the disc golf course. While the run is unfenced, canines should only be off-leash in the area that has been designated for the dog park. It's also important that all canines visiting the Wagner Park Dog Run be well-trained, non-aggressive, and have perfect recall.
There are no amenities specifically for the dog park, so handlers should bring their own water, bowls, and waste bags. Handlers may also want to bring something to sit on, as there are no benches or tables in the dog run.
Balduck Dog Park
Balduck Dog Park Amenities
Free
Fenced forest area
Open fields
An "unofficial dog park" with a fenced forest area and large open fields can be found behind the wooded end of Balduck Park. The area also has nice trails where owners can walk their dogs. There are no fees to use the "dog park" or the trails.
In addition to the canine area, Balduck Park also has some nice features, including gardens, playgrounds, a giant chess set, and onsite parking. Owners should bring water for their pups if they work up a thirst, as there are no doggie fountains in Balduck Park. Pet owners should also bring waste bags and clean up after their pets.
For the health of all dogs, it's important that all canines enjoying Balduck Park be properly vaccinated.
Have Fun With Four-Legged Friends in Detroit
It's always nice for pups to play with other dogs, even if they have access to a yard at home. For pet parents concerned about not having a space to keep their "fur children" active and healthy, dog parks are an invaluable resource. With all the excellent off-leash parks in the city, those moving to Detroit can rest assured that having the right amenities for their canine companions isn't going to be a worry. Whether new residents are moving in with pups or established residents are looking for a new addition to the family, Detroit's got dog-friendly accommodations covered.
If you're planning to move to the Detroit metro area, contact The Perna Team of Keller Williams at 248-886-4450 to get in touch with experienced local real estate agents who can help you find your perfect Detroit home today.