5 Best Suburbs Near Detroit, MI
Posted by Michael Perna on Tuesday, September 15, 2020 at 9:55 AM
By Michael Perna / September 15, 2020
Comment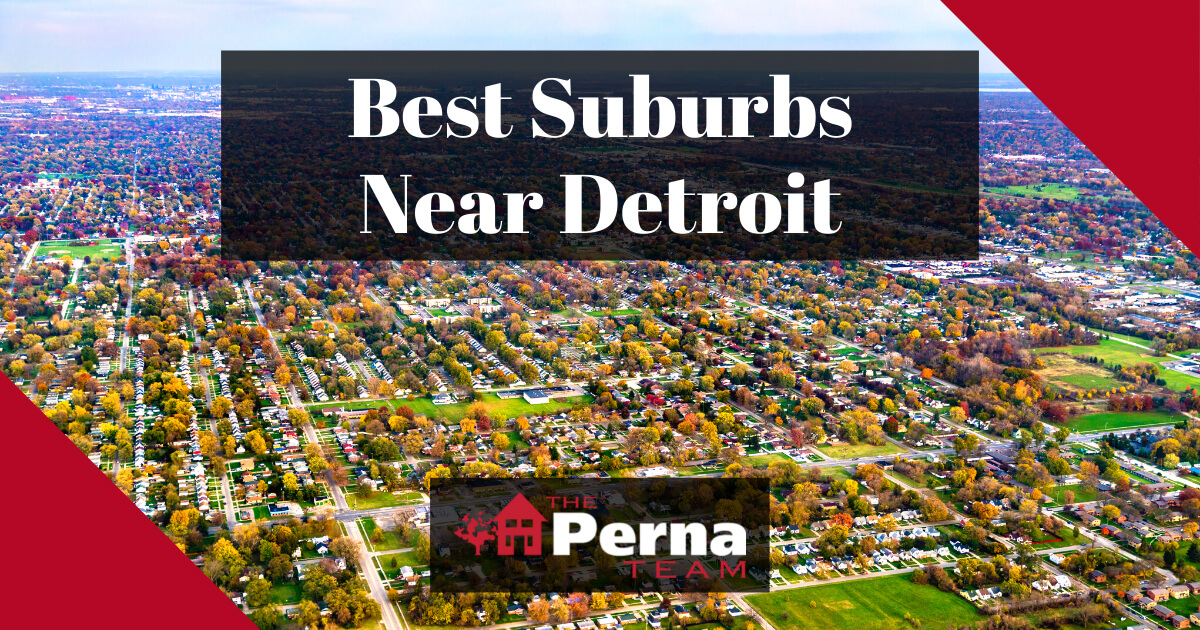 Outside the sprawling, largely industrial city of Detroit homes, you'll find a bevy of more than 59 suburbs. These range from larger cities to small towns and villages. Based on the variety of places to live, even the most discerning of newcomers looking for the city's best neighborhoods will find somewhere that they love. The suburbs of Detroit often offer many of the amenities found in the nearby metropolis with the added bonuses of varied housing options, fewer people, and a lower cost of living. Here are some of the best areas to live near Detroit, MI.
Novi
Novi Amenities
Suburban living
Located on Walled Lake
3 Major Freeways converge here
Major shopping destination
Beautiful parks
The suburb of Novi is located near four major expressways, making it easily accessible to the healthcare, technology, and automotive industry jobs around Detroit. Only eight miles northwest of Detroit and 16 miles northeast of Ann Arbor, Novi is close enough to benefit from these big cities, but far enough away that it doesn't feel like it's living in their shadows.
Novi was originally organized as a township from land taken from the township of Farmington. The Tollgate Farm, owned by the Americana Foundation, is located in Novi. The farm is currently leased and operated by Michigan State University as an agricultural extension site. Lakeshore Park, one of the largest municipal parks in southeast Michigan is also located in Novi, and city leaders have recently acquired additional parkland in an environmentally sensitive area of the city within the Rouge River watershed. There are more than 55,000 people currently living in Novi.
Grosse Pointe Park
Grosse Pointe Park Amenities
Suburban living
2 Waterfront Parks
Bordering Lake St. Clair
Community Theater group
Grosse Pointe Art Center
Often called "GPP" or "The Park," Grosse Pointe Park is only located six miles east of downtown Detroit on the banks of Lake Saint Clair. Within the group of Grosse Pointe suburbs, Grosse Pointe Park is located farthest to the west. Grosse Pointe Park has approximately 11,000 residents with a median income of $112,384. The unemployment rate is low at 3.3%.
GPP was originally a village but reincorporated as a city in 1950. Within the city, houses are laid out in a traditional grid pattern, echoing that of Detroit. Many of the homes in the area were built prior to World War II by popular architects. These houses sat on larger lots that were later divided. As a result, large, architecturally noteworthy homes now sit next to ranch-style homes built after World War II. The most notable neighborhood in Grosse Pointe Park is located on Windmill Pointe. This area marks the entrance to the Detroit River and the end of Lake Saint Clair. Residents of this area can enjoy an immense lakefront park including a gym, pool, movie theaters and outdoor green space.
The shopping district, known as "the Village", is located on the eastern edge of the city's total land area of 2.17 square miles. This district contains many retailers and restaurants. The city's size lends itself to walkability, and its upscale nature earns it the title of a luxury Detroit neighborhood.
Grosse Pointe Park Hotspots
Birmingham
Birmingham Amenities
Suburban Living
Golf Course
Parks and greenspace
Quarton Lake
Cranbrook House & Gardens
Birmingham is situated in the middle of a group of urban cities between Detroit and Pontiac. The land on which Birmingham sits was part of land acquired in the 1807 Treaty of Detroit. The settlement of the area was delayed by the War of 1812, and a report by the Surveyor-General stating that the land was too marshy for settlement. The city was founded in 1818 by Elijah Willits, Benjamin Pierce, John Hamilton, and John West Hunter. However, it was not officially incorporated as a village until 1864. In 1933, Birmingham was reincorporated as a city.
Named one of the nation's Top 20 Most Walkable Communities, Birmingham's city motto bills it as a "Walkable Community." In addition to being walkable, over 10% of Birmingham's total acreage is parkland. This relatively small town, at a population of just over 20,000 has over 20 parks.
High property values in Birminham contribute to the cost of living in the city, but its high walking score lets homeowners save on automotive expenses. You'll also find a variety of retailers with a concentration of exclusive shops and services in Birmingham, many of which are within walking distance.
Troy
Troy Amenities
Suburban Living
Farmers Market
Stage Nature Center
Golf & Parks
Vibrant & diverse International Community
Low property tax rates
Named after a city in New York, Troy is twenty minutes north of Detroit on I-75. With a population of 80,000 people, Troy is the 13th most-populated municipality in the State of Michigan. Troy is larger than most of the other suburbs of Detroit, with a total area of almost 34 square miles. Troy was ranked the fourth most-affordable city in the United States in 2008 by Money magazine. The median family income is $113,640.
Troy is a great place to work, with many important businesses in the automotive and financial worlds like Behr America, Dupont Automotive, and J.D. Power and Associates calling Troy their home. Because of the wide variety of industries in the area and its proximity to Detroit, Troy has the second-highest cumulative property value in all of Michigan.
Troy is recognized as a shopping destination in Michigan. You'll find several shopping centers including Somerset Mall, a luxury shopping destination with retailers like Prada, Gucci, and Neiman Marcus. There are also two golf courses in Troy. The wide variety of activities and businesses, along with its location, make it easy to see why Troy is such a great place to live.
Huntington Woods
Huntington Woods Amenities
Rackham Golf Course
Historic District
Suburban Living
Cotton Family Wolf Wilderness
Many Clubs & Organizations
In 2020, the results of the Census and FBI data ranked Huntington Woods as the best suburb in Detroit. With just 6,340 residents, Huntington Woods is a cozy community. The city is located north of Detroit and commonly referred to as the "City of Homes." Huntington Woods is only 1.47 square miles, and 20% of the city is part of Rackham Golf Course, a public golf course that was established in 1924. Huntington Woods is also home to part of the Detroit Zoo, one of Michigan's largest family attractions. The zoo boasts over 1.5 million visitors each year and is located on 125 acres.
The median income of Huntington Woods is over $130,000, and the unemployment and poverty rates are 3.9% and 2.2%, respectively. Homes in Huntington Woods average around $350,000. The Berkley School District controls the public school system in Huntington Woods because of its small population, however, there are a few private schools as well.
Huntington Woods Hotspots
Is Living in a Detroit Suburb Right for You?
Living in a large city is not ideal for everyone. Metropolitan Detroit has over 4.3 million people, and with a multitude of people come traffic and higher cost of living. Luckily, there are a plethora of suburbs just a short driving distance to Detroit. From small towns to larger suburbs hopping with industry, there is certainly a place that almost anyone could call home.
If you're planning to move to the Detroit metro area, contact The Perna Team of Keller Williams at 248-886-4450 to get in touch with experienced local real estate agents who can help you find your perfect Detroit home today.