18 Best December Events in Detroit — New for 2021!
Posted by Michael Perna on Friday, December 3, 2021 at 10:35 AM
By Michael Perna / December 3, 2021
Comment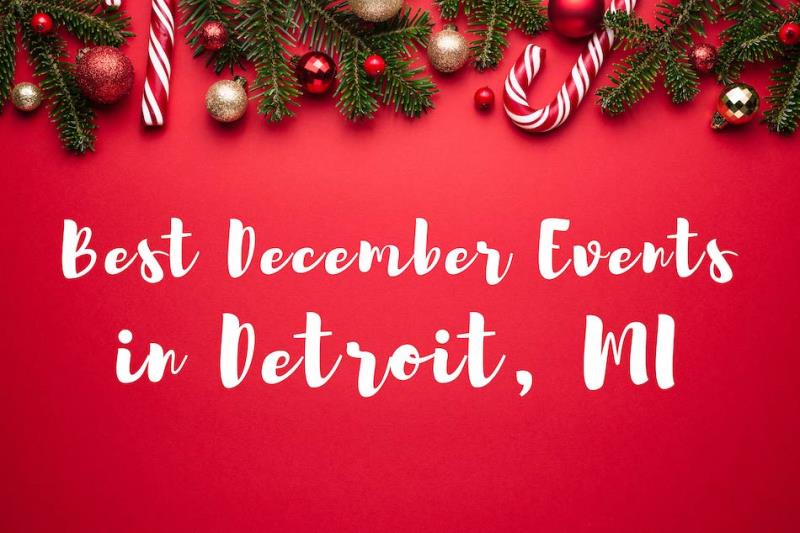 Winter is in the air, and there's no time like now to get out, enjoy the snowy weather, and enjoy what Detroit has to offer! Detroit is full of many fun activities and events year-round, but winter is especially exciting, with holiday festivities, shopping, and more. If you want to get out and enjoy some winter fun this year, look no further! Here are some of the best December events happening in Detroit for 2021.
#1 Magic of Lights
The DTE Energy Light Show is a thrilling drive-through Holiday light show that illuminates the night sky over Clarkston, Michigan, October through December. The popular Drive-Thru Light Show returned on October 22 at DTE Energy Music Theatre in Clarkston with a spectacular light show sure to thrill visitors of all ages.
Detroit's newest holiday tradition returns with thousands of attendees at DTE Energy Music Theatre for the 2021 season. The spectacular drive-through light show uses cutting-edge LED technology and digital animations to create holiday-themed vignettes and characters, including the all-new Mega Tree and Prehistoric Christmas displays.
The drive-through Blizzard Tunnel, 12 Days of Christmas, Winter Wonderland, and The Night Before Christmas are all popular returning attractions. As you journey down the sparkling road in your own car, enjoy the Magic of Lights to help you get into the Christmas spirit.
#2 Detroit Winter Market
Stop by the Detroit Winter Market at Cadillac Square for shopping and sweets from local businesses! Bigger and better than ever, The Winter Market in Detroit is a fantastic location to finish your holiday shopping and have a night on the town.
2021 Detroit Winter Market vendors include the following:
Bow-Aholoic Bowtique
Ferosh the Label
K E P T Jewelry
New Millenium Books
Nuts About Detroit
People's Pierogi
The Vintage Wick
Whimsy & Wine
Waffle Cabin
Bea's Detroit
... and several more!
The Winter Markets are back from November 10 through December 31 in collaboration with the Rocket Community Fund, Bedrock, and the Downtown Detroit Partnership. Get on down and have fun while supporting local businesses!
#3 Royal Oak Holiday Market & Tree Lighting
Make a trip to Royal Oak on December 2 from 4:00 p.m. until 9:00 p.m. for their distinctive Royal Oak Holiday Market and Tree Lighting Ceremony! Check out all of the other fantastic boutiques while you're there, as well as one of their great restaurants.
All throughout the City Tree Lighting Ceremony, the Royal Oak Farmers Market will host a Holiday Marketplace so you can find the perfect gifts for your loved ones. Local artisans and local crafters will have their booths set up in the courtyard with collectibles, crafts, antiques, and more.
#4 Glenlore Trails
For a fantastic mile-long walk through an illuminated forest, visit Glenlore Trails in Commerce! The trail is a one-mile painted pathway that has interactive, narrative segments and other entertainment. New elements are added on a regular basis!
This is sure to be a favorite, but be sure to dress accordingly! Glenlore Trails Aurora is open Thursdays through Sundays starting November 26, at 3860 Newton Road, Commerce Township, MI 48382.
#5 Midnight Madness
Visit Ann Arbor on December 3 from 7:00 p.m. until 11:00 p.m., when stores and vendors will be open for Midnight Madness, a late-night shopping excursion. In addition, street entertainment and many stores showcasing decorated storefronts will make the night an experience to remember.
Local merchants will be decked out in holiday decorations, storefronts will be glittering, and the sidewalk will be filled with performers! Over 40 shops and vendors will be open for visitors, from salons to crystal dealers, to coffee & tea shops, to toy stores. Don't miss out on the start of this year's exciting Ann Arbor holiday season!
#6 Greenfield Holiday Nights
The annual Holiday Nights event in Greenfield Village is always popular, so get your tickets now! The Village will be jam-packed with shopping, live music, visits from Saint Nicholas, and much more.
In this sparkling nighttime celebration of Christmas, discover more than 80 acres of Greenfield Village open for crowds. Main Street is lined with Christmas decorations, restaurants, and shops selling all things Christmas. For a relaxing stroll or an exciting ride on a classic Model T or horse-drawn carriage, Greenfield Holiday Nights is sure to excite.
Early entrance is given to members beginning at 6 p.m. on Holiday Nights, before doors open to the general public.
#7 Superhero Christmas Parade
From 5 to 9 p.m. on December 4, 2021, take the quick trip to Milan for the city's annual Superhero Christmas Parade, with Santa and some special live superhero guests!
The Milan Area Chamber has been responsible for organizing the Christmas Parade in Milan for over 20 years, drawing a large crowd and making a fantastic evening for people of all ages to enjoy the season.
Take a look for additional things to do in Tolan Square, starting with a festive performance by Unkle Lay Lee's Moonshine All-Stars at 5 p.m. At 6 p.m., the celebration begins with a special appearance from some real-life superheroes!
#8 Armada Christmas Parade
The Armada Christmas Parade will also be held on December 4 at 6:30 p.m.! The tree lighting will start prior to the parade, and the high school choir will be there to help ring in the festivities!
The Christmas Parade is organized and operated by the Armada Lions Club and is sure to excite anyone looking forward to the holiday season.
#9 Romeo Historic Christmas
Hop on over to Romeo on December 4 from 2–8 p.m. for the Romeo Historic Christmas, a self-guided tour of some beautiful historic homes fully decorated for the holidays!
This year's homeowners participating in the R.H.S 2021 Christmas Home Tour are going all out when it comes to decorating for Christmas. Their homes are open to you, so you can explore several beautifully decorated spaces rich with traditional Christmas decor.
One of the coziest places to spend the holidays is at home, and our journey through several historic Romeo homes will leave you feeling the warmth from head to toe.
#10 Santacon Bar Crawl
SantaCon is a worldwide sensation that has taken off in major cities around the world, including London, Boston, New York City, Chicago, and beyond! Thousands of pub-crawlers attend the Santa Pub Crawl every year to start their holiday season off right, and this year you can head on down to Royal Oaks to participate in a SantaCon close to home.
This 21+ event is sure to be a blast! Attendees will receive a free Santa hat or holiday headband, a lanyard for beer, cocktail, and shot specials, and get to participate in free drawings for prizes. Visitors can also participate in Christmas Carol Karaoke, Face Painting, a Keepsake Photo Station, and pictures with Santa.
Don your best Santa, elf, or holiday costume and join the fun in Royal Oak on December 4 from 2–7 p.m.!
#11 12 Bars of Christmas
If you live in or around Ann Arbor, Michigan, check out the 12 Bars of Christmas on December 4 from noon to 8 p.m. at Ann Arbor's own 21+ event, the 12 Bars of Christmas!
Put on your favorite holiday onesies, Santa suits, ugly Christmas sweaters, and elf costumes! It's the most wonderful crawl of the year! Attendees will get color-changing Santa-themed stadium cups, wristbands for entry, and no cover fees as they travel from bar to bar to try the Santa-themed drink specials at participating establishments. The first 250 registrants will get a free Santa hat, so don't dawdle!
#12 Rochester Christmas Parade
In its 70th year, the largest Christmas parade in MI will bring the whole family to downtown Rochester!
The Rochester Area Hometown Christmas Parade is Michigan's largest Christmas event, with over 100 entries parading down a one-and-a-half-mile route.
Beginning at 2 p.m. on December 5, you won't want to miss this! The parade rolls down Main Street every year and is brought to you by the Rochester Regional Chamber Foundation.
#13 Jurassic Quest
If you need a break from the holiday theme, visit the Suburban Collection Showcase between Dec 10–19 for a limited run of Jurassic Quest! This event features over a hundred true-to-life dinosaurs and will be coming soon to Grand Rapids.
Kids may ride on the backs of unique animatronic dinosaurs, with a number of species to select from. Young paleontologists may also dig up massive dinosaur fossils or get tattoos of their favorite prehistoric creatures!
This event is sure to be a roaring good time, but tickets are going fast, so get them before they're gone.
#14 Holly Jolly Riverfront
Stop by the Holly Jolly Riverfront in Detroit Dec 10-12 for the best of all things Winter! Bonfires, sleds, Santa, and more!
Enjoy all of the typical Winter at Valade activities, including massive fires, marshmallows roasting, curling, sleds, and more. There will also be free photographs with Santa, life-sized ice sculptures, a holiday dance party for children, carolers and live music, free Arts n Scraps wreath-making for youngsters, and create-your-own wreaths for purchase for the entire family.
#15 Bad Santa Trivia
December 16, from 7 p.m. to 9 p.m., join us at Aberrant Ales (7 p.m. – 9 p.m.) for a night of Bad Santa Trivia with your friends and family! The focus of the evening is holiday films.
The event organizers will be raffling off great presents, so don't forget to bring extra cash! You should also bring your holiday cheer—there will be a prize for the most festive holiday spirit and best-dressed during the holidays!
For $40 per person, you can expect a fun-filled evening with good food and laughs.
#16 Highland Tree Lighting
On December 13, stop by Highland at 7 p.m. for the Highland Tree Lighting and a holiday sing-along! The annual Christmas tree lighting is a fun family event that includes caroling, food, crafts, and a visit from Santa Claus. Activities will be going on across the street at 205 W Livingston after Santa's arrival.
#17 Wayne County Lightfest
The Wayne County Lightfest will be held in Westland from November 18 to December 31! This is a fantastic way to go out and see some lights for just $5 per car!
On Wednesdays, Toy Night, which allows guests to give a brand-new unwrapped toy instead of paying the vehicle entrance fee, will be held. Wayne County is also working together with Detroit Harmony to improve music education opportunities for youngsters in the city. On November 24 and December 1, visitors can bring a new or used musical instrument to this location and donate it to a local student.
The Lightfest entrance is at 7651 N. Merriman Road in Westland, 2 1/2 miles south of I-96 and north of Wurzel Dr. on Merriman Road between Ann Arbor Trail and Warren Avenue.
#18 Trans-Siberian Orchestra
The Trans-Siberian Orchestra returns on December 28! This incredible show is one you must experience. Celebrating their 25th year of concerts, the Trans-Siberian Orchestra will be performing Christmas Eve and Other Stories as they make their traditional winter tour across the country. With events in Grand Rapids and Detroit, there are plenty of options for people to get their fix of Rock-Opera Christmas music. Get your tickets now, and thank us later!
Visit Detroit to Experience the Best December Events Today
Detroit is full of so many great winter events, and 2021 is going to be no exception! Visit our great city this month to discover the best December events in Detroit and create holiday experiences worth remembering.