Agent Financials by the Book
Posted by Michael Perna on Friday, October 23, 2015 at 9:28 AM
By Michael Perna / October 23, 2015
Comment
Good morning agents!
It has been a while since I've shared a new video or post! I'm sitting here this morning working on our 2016 Business Planning Meeting Outline for our meeting next week and saw a great Top Coach email featuring an info-graphic on how agents should spend or save their money.
If you know anything about me, I LOVE info-graphics and was very curious about what it had to say. I wanted to see if it was something great I could share with everyone. I thought it was a fantastic and simple way to guide the flow of income for Realtors. Here's a rendering of it here: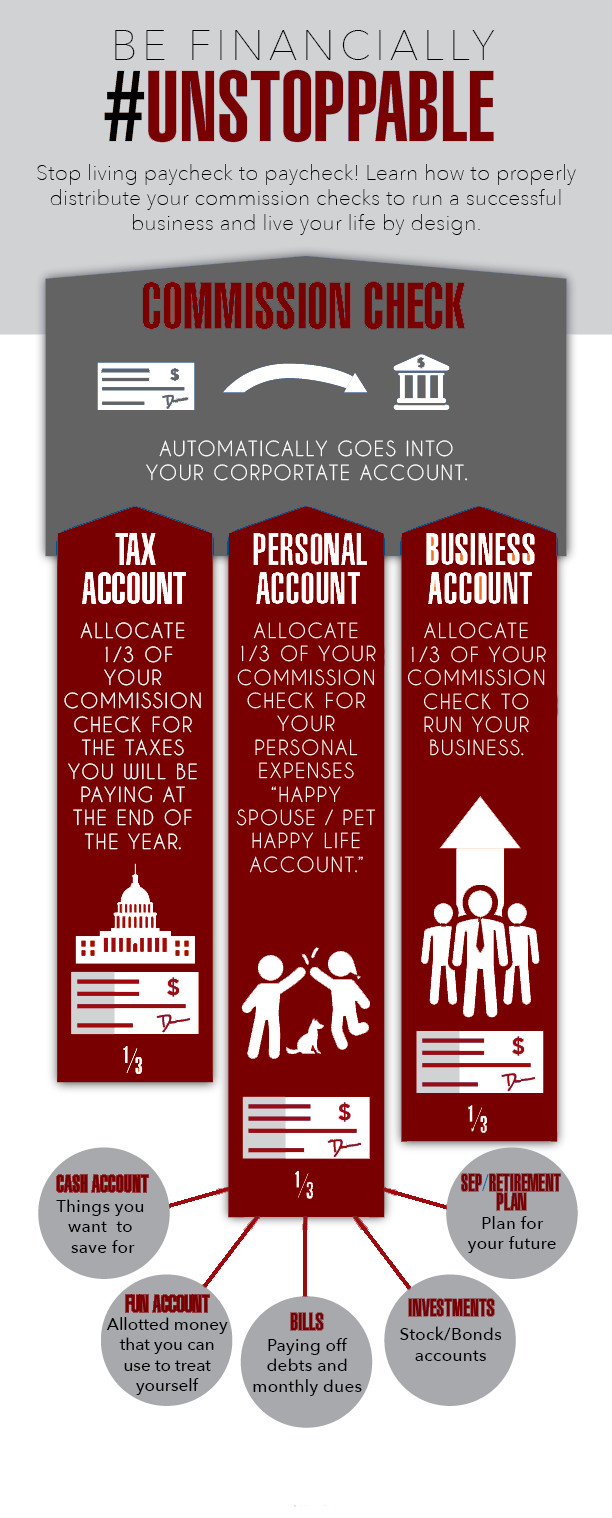 To be honest, I thought it's effective, simple and quickly made it's point (although I would've chosen different verbiage for part of it).
With that said, I'd like to shift the focus for a moment to column number three, "Business Account" and it's importance. I read and research weekly looking for any edge to move my business forward for myself and my agents and in that endeavor I've come across several studies over the years that basically report the same two facts:
1. The average Real Estate Agent is two years behind in their taxes and at any point in time
2. The average Real Estate Agent has exactly 68 days of reserve funds.
On the second point, reserve funds were being counted as the cumulative of an agents checking account, savings account, retirement account, and other investments.
So while I love the focus on columns One and Two, number Three needs to be a priority. According to this info-graphic 33% of each dollar generated should be spent on the business. But where? What's the time tested best practices around this? How does one hold those dollars accountable?
Page 157 of the Millionare Real Estate Agent is a fantastic place to start. Here it is here: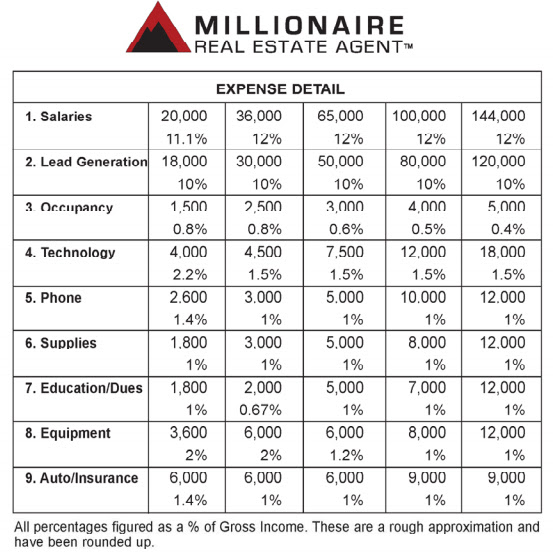 Ok, I have a chart, I'm starting to divide things into the right spots, how do I trend it month over month? How do I make sure the dollars I send out into the world comes back with friends? How do I hold my business accountable so that I CAN save for retirement, pay my taxes and have a life worth living and a business worth owning?
It says at the bottom that this course is for anyone that sells 24+ homes per year. Sorry MAPS and Matt, I have to respectfully disagree:
This class is for anyone that doesn't want to be broke in real estate.
What are Matt's credentials? He owns a $100 million team, is OP of multiple offices (including one in England, yes England) and has been asked by every region in the United States and beyond to fly out and teach this course.
Here's a video of Matt talking about the course a bit:
I'll leave you with this: If you look at each commission check as the bridge to the next, if you check your bank account to see if you can afford the $398 cost of this class, or just want to increase the NET you put in our pocket. Sign up. It's one hour per week for a short 8 weeks.
The time will pass anyway.
Last thoughts! Running the business like a business! Business planning for 2016 should be done now so we can get moving with a bang!
My yearly business planning clinic in Northville has surpassed the size of the room! This year we've secured the Troy Community Center on the 29th from 9-3 and are actively looking for a location in Northville and Novi (any suggestions please email me!).

As always these are free courses, however please donate what you believe the course to be worth to a local food bank, let's help some local families that aren't as fortunate as us out (take this word out) this year.?